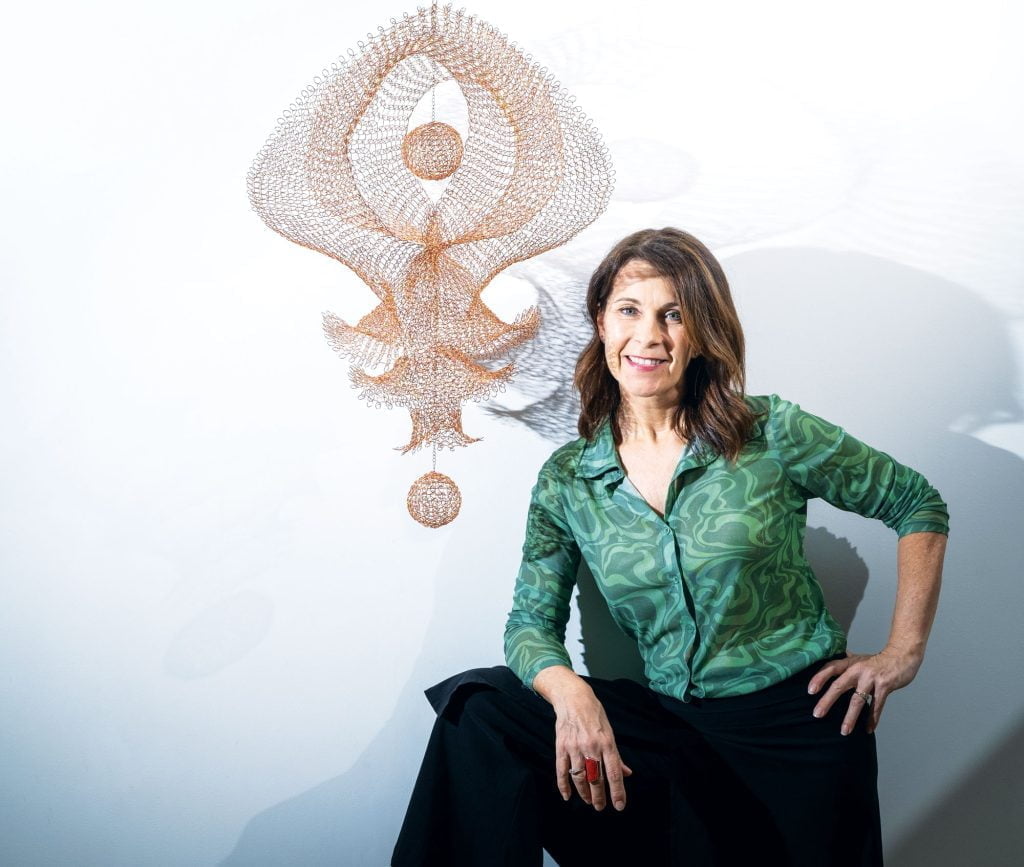 Carmen Kelly is a full time artist from Melbourne. She lives in Singapore with husband Anthony and daughter Avril.
Your art is stunning! Please tell us about it …
My art pieces are hanging hand woven wire sculptures. I've always been drawn to art that plays with light and shade, and positive and negative space. These suspended forms are created with open loops which give a sense of light passing through a solid form.
How are your pieces different?
They take shape when wire is looped and woven, the forms evolving through plan and process, addition and subtraction of loops as they progress. What makes these unique is that the shadows are as important to the sculpture as the sculpture itself. The shadows that are cast on walls and ceilings are an integral part of its form.
"Having moved countries a lot, art is the one constant"
– Carmen Kelly
When did you first discover your skills?
They always seem to have been there! I recall as a kid, taking car trips to my grandmother's house, looking at the cloud shapes and drawing the objects that I saw developing as they crossed the landscape. As for sculpture, I unexpectedly came across this medium during an expat stint in Northern California. I discovered the amazing art of Ruth Asawa (ruthasawa.com), a Japanese American artist, and was in awe. 
How did your talent develop over time? 
Experimentation, trial and error … and drawn out Covid lockdowns (I'm from Melbourne remember!). Unable to find anyone to teach me the weaving technique, I researched and studied images of Asawa's work, then experimented with galvanised wire until finally understanding the looping technique. I then moved on to copper wire which is softer and holds more beauty in colour.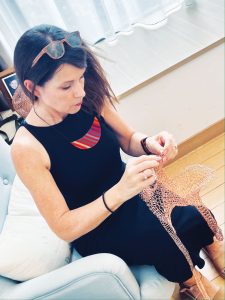 What's your creative process? 
I start with a rough drawing of what I intend to weave. This can change along the way when I feel that the aesthetic balance needs to be adjusted or an additional piece added. It's rare that I will discard a piece, but I have definitely 'undone' a few rows of weave, much like a knitter would do if it's not quite right.
What creative challenges have you faced?
I've spent the last three years developing this skill. In terms of creative challenges, the humid environment in Singapore is a factor which plays into working with copper. The biggest challenge however, is to find new ways of creating complexity in the works. And each piece takes patience; a large artwork can take over 30 hours, which brings me to the physio bills! One big challenge is the tension in my neck and back, and wear on my fingers. 
Where do you get inspiration?
I discovered an artist, Racso Jugarap who lives in Belgium and I love his sculptural pieces. I also get inspiration from everyday things including décor that might prompt me to think of the shape working well in woven wire. Lovely friends also send photos to me when they see something interesting.
What does your passion for art bring to your life?
Fulfilment and continuity. Having moved countries a lot and experiencing change through my life, art is the one constant. It gives me a sense of achievement, feeds my creative self and along with my family, it is my happy place.