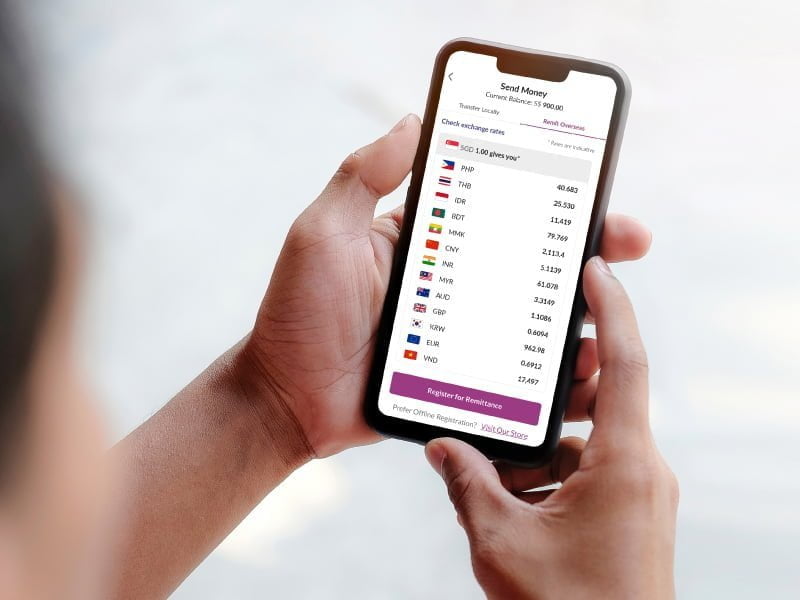 We know, relocating isn't easy. Neither is managing your finances in two different countries. Whether you're new to Singapore or already comfortably settled, you'll probably need to transfer money abroad or back home to pay for overheads and expenses such as school fees, loans, allowance, or contribute to your Superannuation or investments.

Most expats friends we know either use the traditional bank transfer methods, or multi-currency accounts that enable users to hold different currencies in one digital wallet, make international transactions relatively quickly and affordably including sending, receiving and withdrawing money in multiple currencies.
While those methods are all well and good, they may not offer you the best value in the long run.
In addition to considering the applicable currency conversion rates which fluctuate according to market conditions, the user usually bears a transaction fee for each transaction, which can vary according to the amount of transfer each time.
Manage & transfer money with ease
Here's an alternative to converting and moving your money internationally!
Singtel Dash Remit offers an attractive and secure solution for those who need to send money overseas. Provided by SingCash Pte Ltd, licensed by Monetary Authority of Singapore and a subsidiary of Singtel (Singapore's largest telecommunications provider), its international fund transfer service Dash Remit provides competitive exchange rates and fast transfers, and notably – with a low fixed fee.
For overseas money transfers to Australia and supported European countries (including United Kingdom), a fixed fee of only SGD4 per transaction is applicable. This means you can transfer any amount you wish (within the daily and monthly limits, of course)1 without worrying about paying more.
We like that the exchange rates and fees are shown in real-time on their app too, so you know exactly what you'll be getting. For New Payment Platform enabled accounts to Australia, you can even receive your funds within the day, talk about efficiency!
To start remitting on Dash, simply register for a remittance account, add recipient2, and hit send! New users enjoy SGD3 cashback3 on the first remittance transaction – no minimum amount required.
For more information on how to register for and use Singtel Dash, visit their website. Thanks to their scale, Singtel Dash offers multiple support touchpoints if you need assistance, you can reach their customer service on WhatsApp, their hotline, email or at their physical shop in Orchard Road.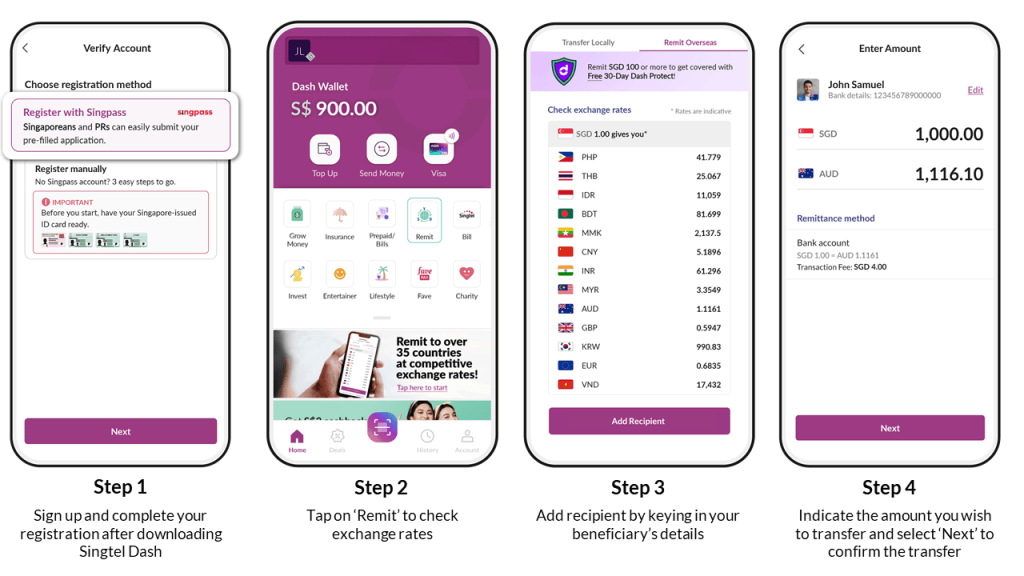 1 Upon account verification, you may remit up to SGD5,000 a day and SGD10,000 a month for non-Work Permit-holders with app versions 6.2.0 and above. Work Permit-holders may remit up to SGD3,000 per day and per month. The total Dash wallet debit transactions, including remittance, cannot exceed SGD30,000 in a year.
2 For transfers to Australia, you will require the following information from your recipient: First and last name, Mobile number, Bank account number, BSB code, Date of birth, Nationality, Address (in Australia), Postal Code (in Australia)
3 SGD3 cashback is available for (i) new users who sign up for Dash during the promotion period and perform a first minimum remittance transfer via the Dash app within the first 60 days of sign-up and (ii) existing users who make a first minimum remittance transfer via the Dash app during the promotion period. Exclusions apply. Subject to terms and conditions.