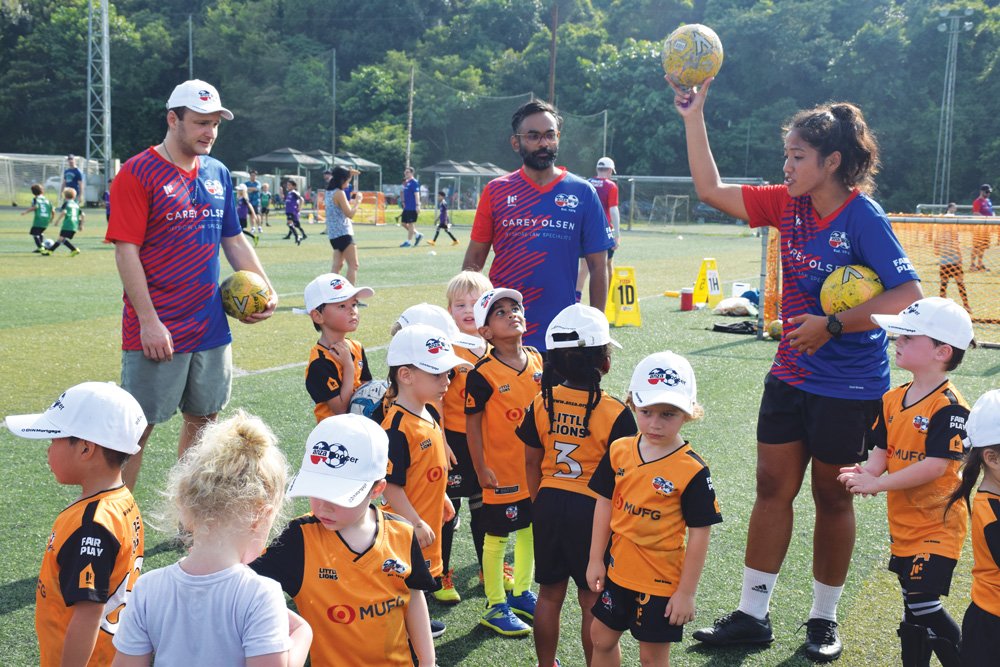 The bright sunshine at ANZA Soccer's Finals Day on 22 April 2023 seemed appropriate. Afterall, this was the season we were finally able to resume regular sessions, run meaningful age-group leagues, and hold ANZA Cup tournaments again after the long, difficult years of pandemic restrictions. Throughout the season, players, parents, organisers, and coaches had a special appreciation for the simple pleasures of kicking a ball with friends, hugging teammates after a goal, and sitting together as coaches summarised the game and congratulated Players of the Match. With the resumption of ANZA Soccer's traditional Awards Ceremonies and lots of special activities, our "carnival" Finals Day capped off a season to remember.
Buzzing with energy
Families arriving at The Cage, Turf City were greeted by enthusiastic cheering from larger-than-usual crowds. Each session started promptly, with some age groups holding fun parent–kid games while others had the excitement of league finals or ANZA Cup championship games. With parent-run and sponsor-provided fun activities and freebies in other spots around the venue, the sports park was buzzing with energy. During the awards ceremonies, glittering medals and trophies, along with sweet treats, cold drinks, and lots of high-fives, gave everyone mementos and memories to treasure.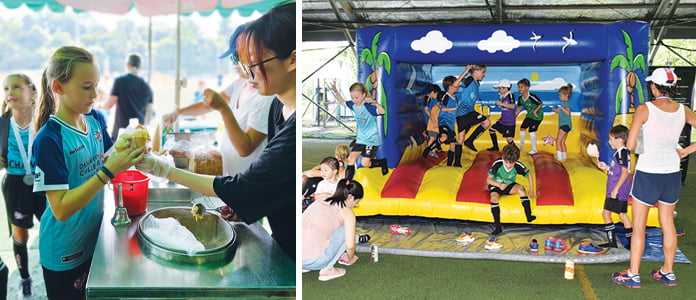 Parents of our smallest players marvelled at their improvement, with many who could barely kick back in August now passing, shooting, and even (sometimes) maintaining positions. For players in the older age groups, league standings and ANZA Cup competitions offered the chance to put their skills to the test. Close results in many age groups reflected the hard work of the Age Group Coordinators (AGCs), who focus on keeping teams balanced as players come and go. Excited spectators encouraged players to give their all despite the heat, and many games came down to the last few minutes, or even penalty shootouts. Games ended with handshakes, team cheers, and end-of-season congratulations among parents and players who had developed friendships within and between teams.
After the final whistle blew, each age group gathered for their Awards Ceremony. AGC's thanked all those who made the season possible, particularly the volunteer coaches, team parents, and committee members without whom ANZA Soccer could not exist. Each team then had its moment in the spotlight, with coaches handing out medals, trophies, and special awards to players who showed exceptional progress or leadership. One team per age group was also awarded the Foreman Fair Play Award, named after one of our founders and determined through team votes.
"With parent-run and sponsor-provided fun activities, the park was buzzing with energy"
Positive results
We commend all ANZA Soccer players and adults who contribute to our programme's strong reputation for building character as well as soccer skills in our boys and girls. Whether you stuck with us through the pandemic – masks, distancing, entry lanes and all – or joined us this season, we appreciate your support and invite you to register for the 2023-24 season. As our Finals Day sessions finished with sincere congratulations between players, parents, and coaches, we saw once again the positive results of ANZA Soccer's focus on football, friendship, fair play, and community at all levels.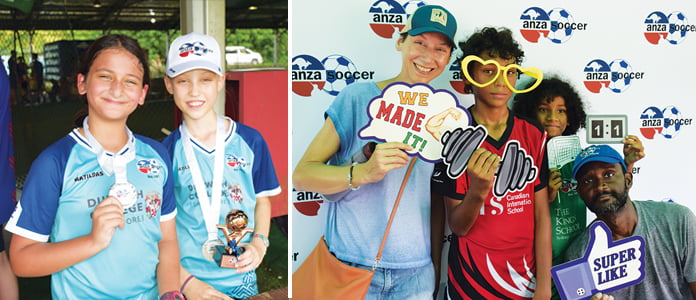 Our 2022-23 soccer year ended with celebrations for all, not least for ANZA Soccer itself, which celebrated a successful 47th season. Players, parents, and volunteers are to be congratulated for their commitment to the programme week in and week out over the eight months. We also recognise our grounds staff and weekday coaching staff, led by Head Coach Yakob, who work tirelessly each practice and game day to keep things going smoothly for all involved. We sincerely thank our sponsors, whose support makes ANZA soccer available and affordable for a wide range of families. Here's to another great season starting in August!
Registration for the 2023–24 soccer season is now open, so sign up quickly to reserve your player's spot! See anza.org.sg for details.