"We've faced similar challenges and unique experiences"
Megan Scott & Gen Godwin from Australia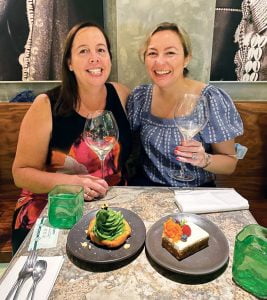 "I moved to Singapore 11 years ago and have been friends with Gen for almost the same amount of time. We met at an ANZA New Members Night at Hogs Breath Café, Chijmes and the rest is history. The time we spend together is always valued, whether it's solving all of life's problems over a drink (or 10) on a rooftop in Singapore, trying SUP together, or holidaying in Dubai as we did earlier this year.
Gen has an understanding of the expat experience. We've faced similar challenges and had access to unique experiences and a lifestyle quite different to the moments we shared with friends from our previous lives. We also have a joint love of wine, a similar sense of humour, and a passion for adventure – we always have something to do, talk, laugh or cry about. One of my favourite memories is when we went sea kayaking in Portugal. We were consistently 20 metres behind the rest of the group and heading in the wrong direction!
Gen was my first friend in Singapore and I cannot imagine my time here without her. We may not meet up as frequently as we'd like, but we've always been there for each other with a listening ear, sage advice or fun as needed. I look forward to what's ahead for us in the next chapter."
Gen says: "Megz, you're an absolute star and a truly fabulous woman. I'm so lucky to have you as a friend!"
"It's nice to have someone to share the good and bad times with"
Rae Moller from New Zealand & Sue Elliot from Australia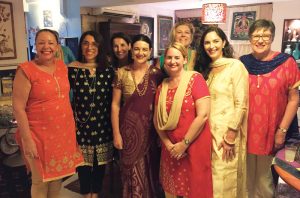 "I moved to Singapore a decade ago and met Sue at the ANZA Ball a year later. We were on the same table and ever since then we've tried to meet up every couple of weeks when our schedules allow. Our friendship works because we have shared values and life experiences – I like to think that we complement each other too!
During the pandemic we made an effort to circumnavigate the island on foot. As well as keeping fit and getting out in difficult times, we had a lot of fun doing it. We also enjoyed being on the ANZA Tours committee together and coming up with new and exciting ways to explore Singapore.
My friendship with Sue enriches my life. It's nice to have someone to share the good and bad times with – expat friends understand the nuances of life as an expat which many 'home' friends cannot. I often think how amazing it is that Singapore offers you the chance to meet up with people with whom your paths would never otherwise have crossed."