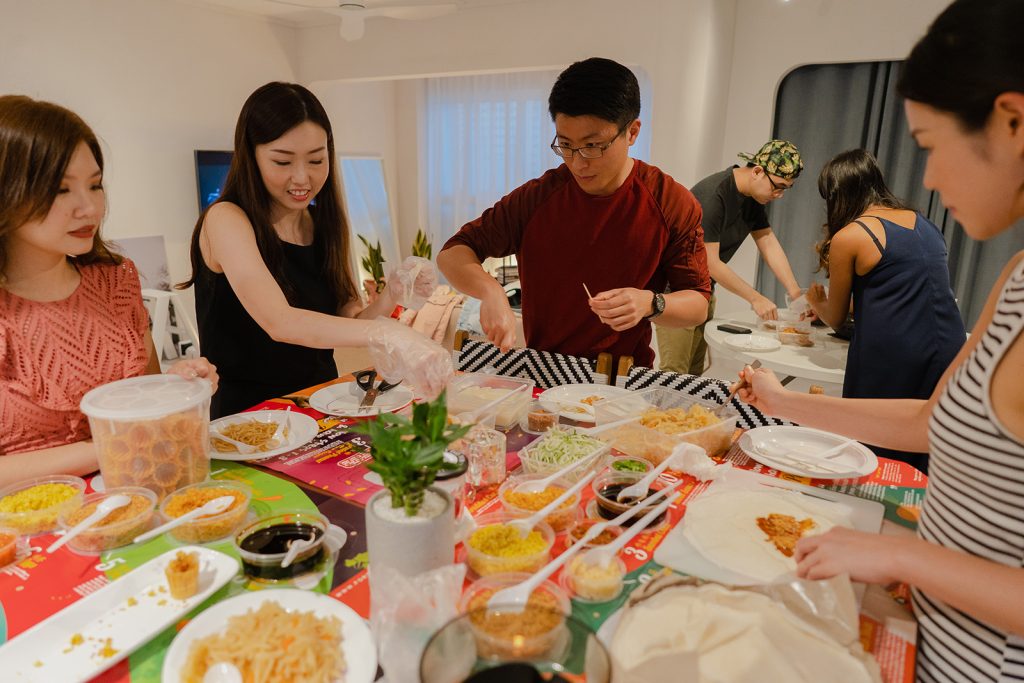 Planning a memorable gathering can be both exciting and overwhelming, especially when it comes to catering. Whether you're hosting a small get-together with friends or throwing
a grand celebration,
when you use a party food delivery service you can say goodbye to stress and hello to having a great time together with inventive recipes.
DIY Popiah – Fresh and flavourful hand-rolled delights
When it comes to DIY party food delivery, few dishes are as enjoyable and customisable as popiah. This fresh and flavourful hand-rolled delight is perfect for small party catering, allowing your guests to create their own personalised popiah rolls.
With Popiah delivery, you'll receive essentials to set up a fun popiah station. It includes paper-thin popiah skins, fillings like jicama, carrots, sambal chilli, eggs, and various condiments and sauces. Lay out the ingredients on a colourful spread, and let your guests embark on a culinary adventure, hand-rolling their popiahs.
The DIY popiah experience brings out the inner chef in your guests and fosters camaraderie as they gather around the popiah station, sharing stories and laughter—an ideal icebreaker for your party, encouraging mingling and creating lasting memories. As a light and easy local food, it doesn't get better!
DIY Kueh Pie Ti – Mini cups of delicate perfection
For an elegant addition to your small party catering, consider a DIY Kueh Pie Ti station. These mini cups of perfection are a delightful Nyonya delicacy that guests will adore. The station includes crispy pastry cups and an array of finely chopped vegetables, eggs, sauces, and garlic chili. Customisation is key, making it a personal and enjoyable treat for guests, impressing them with the combination of flavours and textures.
DIY Laksa – Humble bowl of epic flavours!
Bring the comforting flavours of laksa to your party with a DIY laksa bar. Guests receive the aromatic laksa broth, a selection of toppings like prawns, fish cake slices, tofu puffs, fresh vegetables, noodles, and condiments. Crafting their own bowls of laksa adds excitement and creativity, tailoring each bowl to perfection and catering to various taste preferences.
DIY Peking Duck Wraps – A regal and flavourful delight
Impress guests with a regal DIY Peking Duck station. It includes succulent roasted duck, thin pancakes, Peking duck sauce, fresh cucumber, and spring onion slices. The self-serve station allows guests to assemble their own Peking Duck wraps, savouring the crispy skin, tender meat, and flavourful condiments. It adds sophistication and a hands-on experience to small party catering, providing a regal feast.
DIY Muah Chee – Chewy delights of fun! 
End the party with a playful DIY Muah Chee station, a delightful Malaysian and Singaporean snack. Guests receive freshly prepared glutinous rice, sesame seeds, crushed peanuts, and sweet and savoury sauces. Rolling and coating warm and chewy rice balls with favourite toppings create personalised Muah Chee delights, engaging guests in a unique culinary adventure and leaving them with sweet memories.
An extraordinary experience
Throughout the article, we have explored various options for small party catering that offer convenience, customisation, and interactivity, with a focus on popiah delivery in Singapore. DIY food delivery ideas allow hosts to enjoy the festivities while guests experience exceptional and personalised culinary adventures. These DIY delights embody the essence of small party catering, where convenience meets creativity, making every party in Singapore unforgettable.
Elevate your party 
When hosting a remarkable party with the best DIY food delivery ideas in Singapore, Fortune Food is a wise and delightful choice. From fresh Popiah delivery to delicate Kueh Pie Ti cups and the interactive DIY Muah Chee station, Fortune Food offers delectable delights that cater to every palate. Their commitment to convenience, customisation, and top-quality ingredients ensures an exceptional and unforgettable culinary journey for hosts and guests alike. Embrace the spirit of DIY party food delivery and indulge in the culinary expertise of Fortune Food to make your celebration a true feast of flavours and fun.