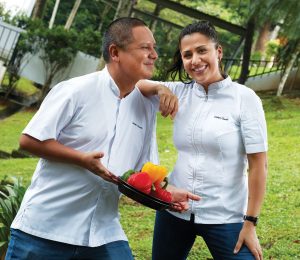 If you're craving the European summer vibe, Tinto, the brainchild of Chefs Daniel and Tamara Chávez, is a new Spanish restaurant well worth saying hola to. Chef Daniel's culinary credentials are well-known in Singapore and include Canchita, a nod to his native Peru. Now, together with his wife, they embark on Tinto, named after the Spanish term for red wine.
Showcasing regional dishes from across Spain, we had the pleasure of checking it out. Our gastronomic journey commenced with the traditional Andalucian Gazpacho ($10). Perfectly suited to Singapore's weather, this classic soup blended tomatoes, Japanese cucumber, and olive oil, garnished with small cubes of Japanese cucumber and heirloom tomatoes. Tinto's rendition offered a unique twist, replacing the customary sherry vinegar with raspberry vinegar.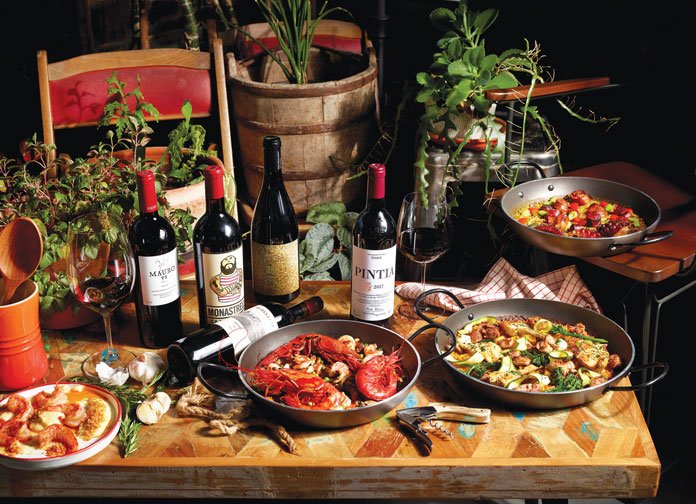 The following appetiser was the Cangrego ($18), a Crab and Avocado Salad with Lime, Green Apples, Fine Herbs, and Sour Cream, reminiscent of the popular Ensaladilla Rusa. Chef Tamara's version, combined sweet crab meat, creamy avocado, crunchy green apple, and salmon caviar, dressed with lime and a hint of basil. Her creation drew inspiration from Spain's abundant coastlines, presenting a light and Mediterranean-infused dish without overwhelming richness.
We tried the iconic Gambas Al Ajillo ($28) and Pulpo A La Brasa ($32). The tasty Gambas coated in roasted garlic oil and dried chili were served on velvety potato puree and topped with crispy garlic chips. The Pulpo A La Brasa was sous-vide and grilled for a smoky scent and topped with Mojo Rojo.
Fragrant & tangy
For the main course, the Fideua Carabineros & Setas ($62 / $118) is a traditional Catalan delight using angel-hair noodles instead of bomba rice. The Fideua absorbs the richness of lobster broth infused with dried sherry wine and chestnuts. Crowned with Mediterranean carabinero prawns and grilled organic mushrooms, the dish was elevated by a decadent creamy truffle aioli, culminating in a luxurious indulgence.
Equally captivating was the De Pulpo & Chorizo ($36/$68), Tinto's signature paella. Using saffron-flavoured Bomba rice, the dish achieved the coveted crispy socarrat at the bottom layer. Accompanied by piquillo pepper aioli, this Valencian classic was a harmonious blend of fragrant and tangy.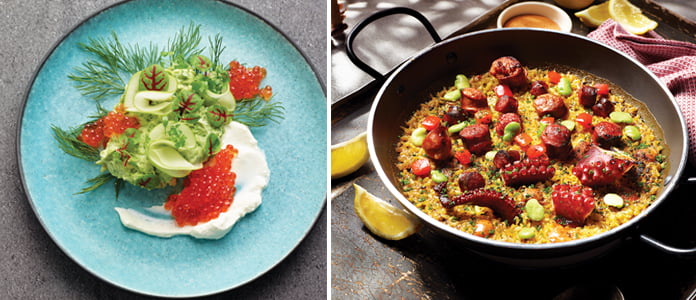 From the middle of the country came the Cochinillo (Leg – $60 / Loin $64), expertly roasted piglet with a delicately crispy skin, served alongside a velvety potato puree and brightened by an orange reduction. A refreshing touch from a petite salad balances this dish.
To conclude, we indulged in traditional Churros con Chocolate ($18). Handcrafted from choux pastry dough, the churros boasted crispy ridges and a warm, pillowy interior. Crowned with sugar and drizzled with a glossy chocolate sauce, they were perfectly complemented by Tinto's airy vanilla pastry cream, a true finale of sweetness. In addition, Tinto's impressive and extensive wine list offered an exceptional variety of Spanish wines beyond the well-known Rioja or Ribera del Duero, throughout the meal.
VERDICT: Chef Daniel and Chef Tamara's menu passionately honours Spanish cuisine. Tinto succeeds in delivering an unparalleled gastronomical experience which, while not the most budget-friendly, transcends cost through taste and memories.