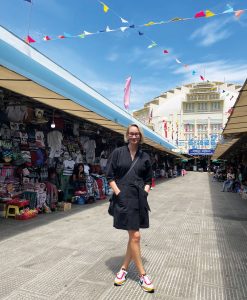 My first and only visit to Phnom Penh was twelve years ago. I was a determined solo traveller keen to push myself out of my comfort zone, and Cambodia's capital city certainly delivered.
Since that trip, I've avoided wearing all-in-one-jumpsuits on 13 hour bus journeys; always book reputable accommodation so as not to find myself stranded at midnight at an unknown location; and urge everyone to visit the Tuol Sleng Genocide Museum and Killing Fields (sites associated with the Khmer Rouge atrocities of the 1970s), so viscerally confronting as
they are.
Given this slightly traumatic introduction to Phnom Penh, I felt excited and little nervous about returning. I was scarred by memories of stripping off to pee in roadside bushes, yet intrigued by stories of a stronger beating heart emanating from the city's emerging scene of dynamic change. 
Temples & tipples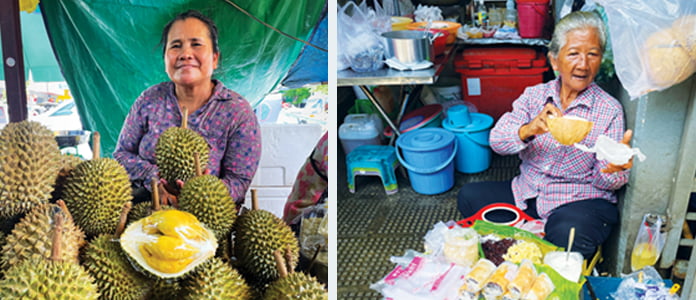 When you live in Singapore, quick getaways tend to include Bali, Thailand and Cambodia's other famous bolthole, Siem Reap. However, we've been wildly overlooking Phnom Penh where an influx of creativity, fresh ideas and increased confidence is now putting it firmly on the map. Less than two hours from Changi airport, it's a no-brainer for an easy escape offering a vibrant new look for tourists and expats. 
 The Royal Palace remains a must-see with its yellow and red turreted buildings and silver pagoda. Wat Phnom temple, the National Museum of Cambodia and the Independence Monument should also be on your radar. For those with time to venture out, a trip to Phare The Cambodian Circus, where the performers hail from underprivileged backgrounds and use Cambodia's history for their storytelling, is entertaining and awe-inspiring.
The city's Central Market, resplendent in art-deco design and bulging with food, apparel and sundries, transports you straight into the community. Meanwhile, neighbourhood bakeries heave with pastries to rival those in France, and charming coffee shops still emulate architectural design from a bygone era.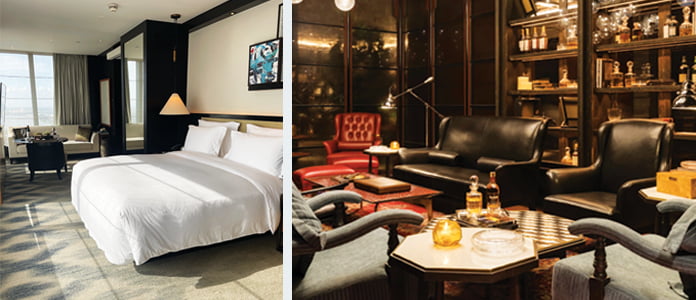 In contrast, Phnom Penh's vivacious bar scene is developing at such a pace that we recommend eschewing your local kakfei for the new innovative cocktails, mocktails and more being shaken and stirred at every turn. From chic rooftops to speakeasy hideouts and premier Cambodian distilleries, cosmopolitan drinks menus are reflecting the city's resilience and youthful energy – and they're just waiting for you to sample them.
Sora Sky Bar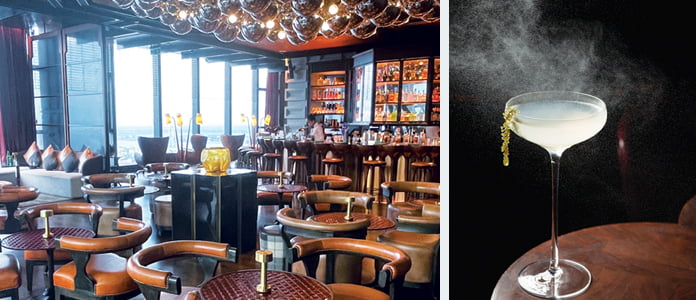 It's impossible to miss Rosewood Phnom Penh, the big-hitter skyscraper hotel in the city centre. Perched at the top, 39 storeys up, is Sora Sky Bar (Sora means "sky" in Japanese). It's not only a glitzy go-to serving aerial views and the highest seats in town, but this popular spot has also just unveiled a fabulous new drinks menu, The Book of Yokai.
Leading the pack when it comes to the capital's burgeoning drinks culture, Sora's 12 new cocktails come with one aim in life: to showcase the complexity of quintessential Cambodian ingredients (think rice, palm sugar, and the world's most aromatic pepper, Kampot pepper), while paying homage to local life and Japanese folklore. To reach this goal, Sora enlisted the help of Singapore's award-winning beverage experts Proof & Company, whose projects include 28 Hong Kong Street, Manhattan Bar, Atlas, and Raffles Hotel.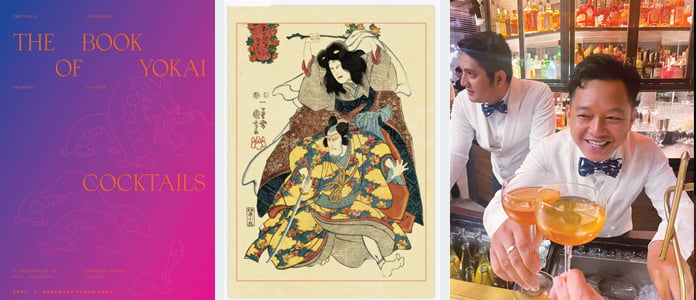 The Book of Yokai is divided into four chapters, each one offering three beautifully-crafted drinks (including one non-alcoholic option), influenced by Japanese mythology, celestial stories and the supernatural. 'The God of the Seas' combines brown rice-infused London Dry Gin with dry vermouth, rice vinegar and a funky sea smoke spray, providing a twist on the classic Dry Martini. 'The Crow Collins' sees Plantation rum infused with banana flower, resulting in a refreshing (and bang-on-trend Barbie-esque) pink number. 
On that note, if it's spicy Kenergy you're looking for, Sora 75 is their take on the classic French 75 cocktail combining passionfruit sherbet, red Kampot pepper aromatics, sparkling sake and Kampot pepper sugar dust to finish. The pepper lends a zesty kick to this vibrant concoction that transforms into an aperitif-style option. Every drink offers a glimpse into tales of yore and honestly, you don't know whether to sip or just stare at them when they arrive gorgeously garnished and in a rainbow of punchy colours.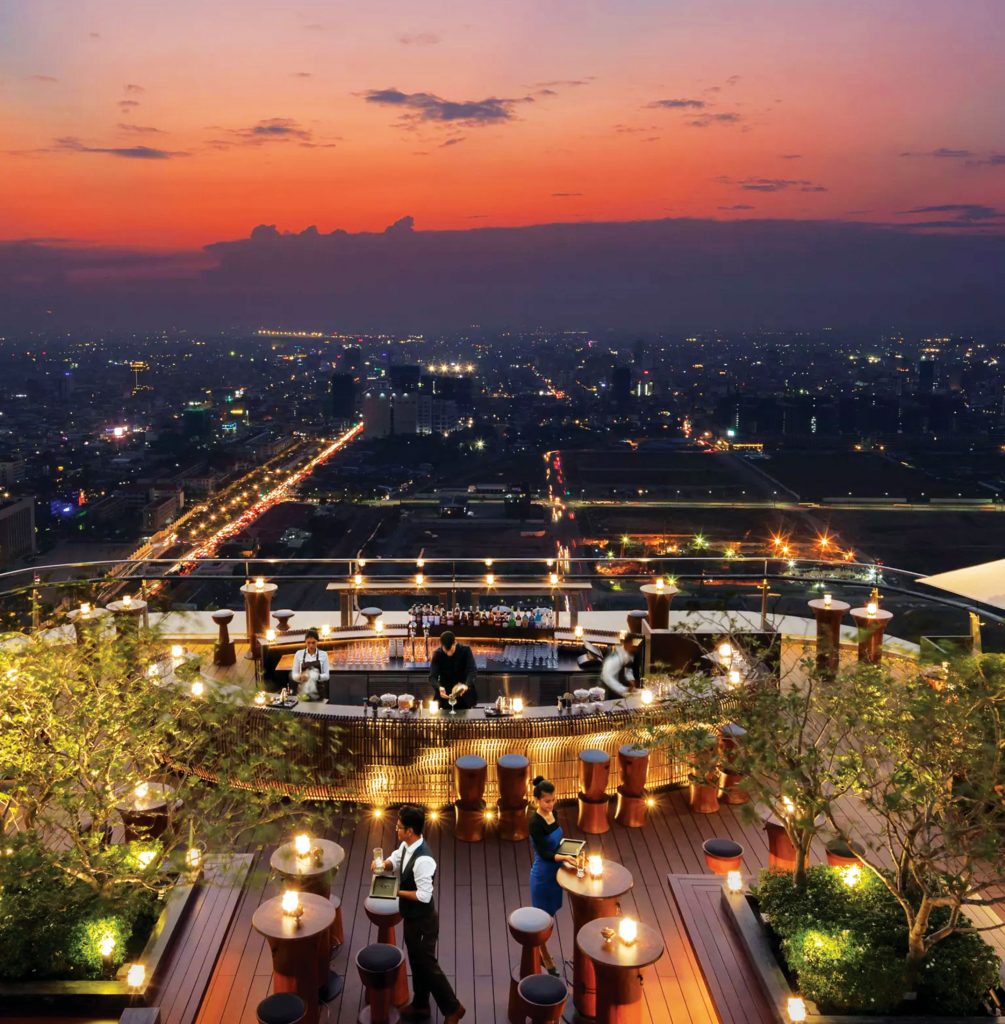 Naturally, Sora Sky Bar is the place to be at sunset so you can drink to the dance of Phnom Penh's shimmering night lights, but bagging a seat at the bar inside can be equally as thrilling as you kick back and chat with the staff. 
Still thirsty? The stylish Whisky Library on floor 37 of the hotel houses the widest selection of single malt whiskeys in the country, including some real rarities. Keeping up with the revamped menu at Sora, the offerings here have also been reworked with six new cocktails paying tribute to the swords of Japanese samurai warriors. We recommend 'The Imperial' which comes with dry figs infused in Scotch whisky, Campari, Japanese umeshu, and a splash of ponzu. 
Of course, it would be rude not to stay at Rosewood Phnom Penh after they've kept you so happily hydrated. The corner Mekong Suites offer panoramic views with electronic blinds that slide up and down depending on your penchant for sunlight, huge bathtubs, the comfiest beds, and small lounge area. 
A morning dip in the 22-metre spa pool will be just what's needed to wake you up for another day of culture and cocktails ahead. 
Rosewood Phnom Penh, Vattanac Capital Mall, Monivong Boulevard, 66, Phnom Penh 12021, Cambodia
CAMBODIAN CRAWLIN'
Essentials for your bar-hopping travel itinerary
Odin Bar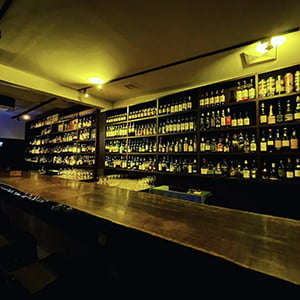 What looks like a locked garage door hidden behind some unruly shrubbery, is actually a delightful drinking den. Odin Bar comes with a focus on expertly crafted cocktails, craft beers and premium wines alongside sultry lighting, wall-to-ceiling bottles and a twist of the mystical. Great for a nightcap.   instagram.com/barodincambodia 
Seekers Spirits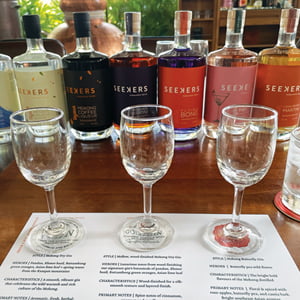 Long-term Cambodian expats Tania and Marco used their background in F&B to bring local ingredients to the forefront through bold and beautiful gins. Their new spirit house, located in a former textile factory, offers the first garden-to-glass distillery and tasting room in Phnom Penh. Guests are invited to see the distillery in action, join workshops, attend a super club or occasional all-night rave, or simply chill out in the garden which showcases over 70 native flora from the region. It's no surprise that Oz Prime Minister Anthony Albanese paid Seekers Spirits a visit earlier this year. We wonder if he liked their signature Mekong Dry Gin, big on spice notes of cinnamon, coconut and vanilla, as much as we did?  seekersspirits.com
Mawsim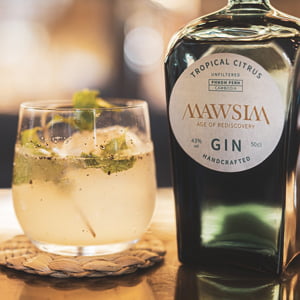 Climb the stairs of this dilapidated building to the gem that is Mawsim, a hidden speakeasy with a decidedly Japanese feel. Dimly lit, with large tables for groups of friends, it offers gin-based cocktails and distills its namesake range of micro-gins on the premises. It just picked up a gold trophy at World Gin Awards 2023 so you know something good's going on. facebook.com/mawsimkh
Samai Distillery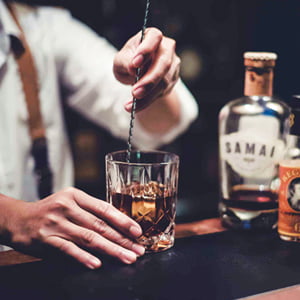 Samai, the Khmer word for modern, is the perfect moniker for this, Cambodia's first and only premium rum distillery and bar offering four stellar options. White Rum comes smooth and expressive, Gold Rum with a dash of organic honey, PX Rum Liqueur blends rum and refined Pedro Ximenez sweet wine, and Kampot Pepper Rum brings together fine Cambodian molasses and an exotic spiciness which tastes like Christmas-in-a-cup. Each rum is handcrafted onsite and stocked in bars across the city, but we think the best place to try it is on the premises – a cooler-than-cool warehouse with NYC vibes. On Thursday nights, doors are open to a hip crowd of expats, locals, artists and (from now on!) savvy ANZA readers. samaidistillery.com