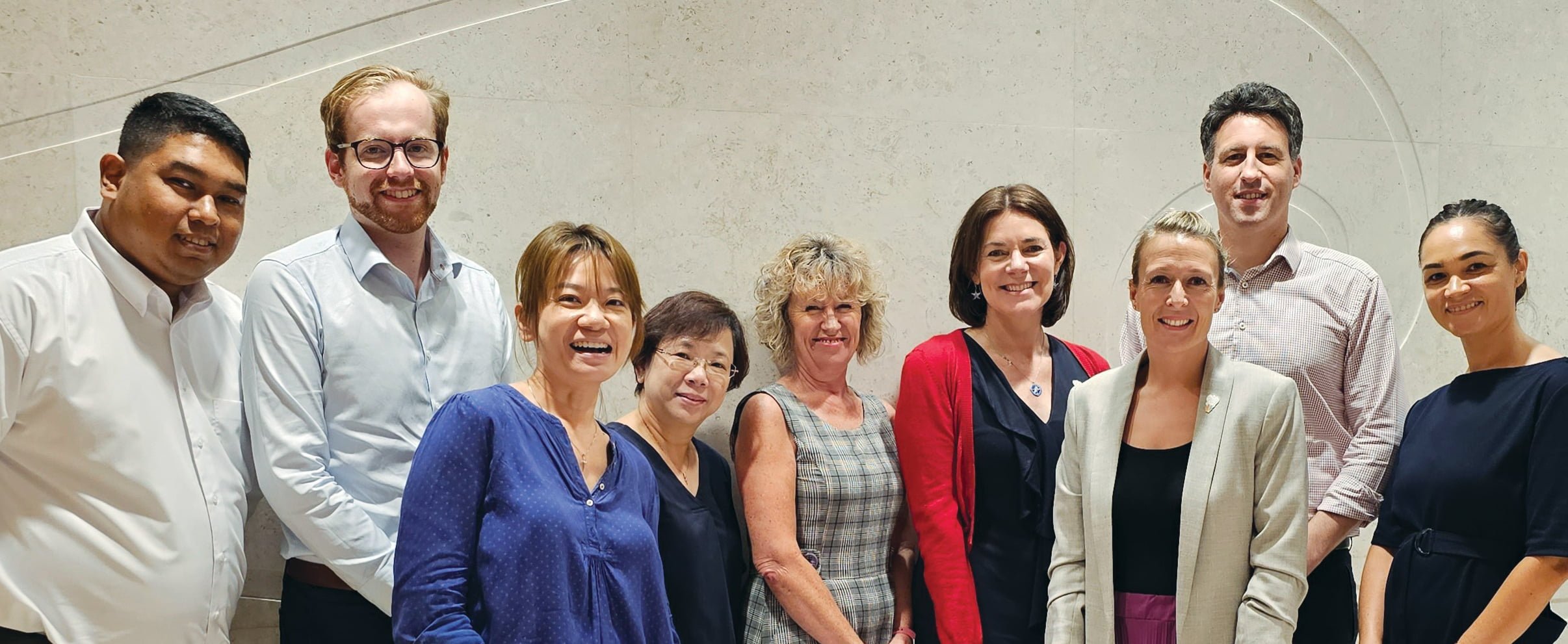 A yearly Round-up with High Commissioner Gabby Rush
"2023 has been a big year for the NZ High Commission with some significant visits and policy achievements. We were delighted to host Minister Mahuta (Foreign Affairs) in February, both Minister Little (Defence) and Minister Tirikatene (Trade and Export Growth) in June, as well as the Asia NZ Foundation's Honorary Advisers Group Meeting in March. We were also pleased to support the visit to New Zealand by Singapore's Minister Gan (Trade and Industry) where he met with Minister O'Connor (Trade and Export Growth) and visited some of our world-leading businesses. The sharing of ideas and strengthening of trade and investment links is a key feature of the NZ-Singapore relationship.
Our two countries also recently signed a Memorandum of Understanding on Scam and Spam, highlighting the importance we both place on accessible digital technology that is safe for all to use. We continue to progress initiatives in the Green Economy and Supply Chains under the New Zealand-Singapore Enhanced Partnership to help enable our sustainable, low carbon futures.
For the High Commission, 2023 has also seen some staff changes. Since my arrival in January, we've said goodbye to Peter Kemp and welcomed our new Deputy High Commissioner, Keith Conway. Hannah Adams, our Second Secretary has welcomed the arrival of twins! Thaddaeus Cobb covered Hannah's role in her absence. We farewelled Disha Gurnani and Jenny Loveday in July and were pleased to welcome Catherine Soper and Rebecca Kremsky in Policy and Consular roles in August. Our team is now looking forward to a full programme in 2024 but for now, Mere Kirihimete and Happy Holidays!" 
Gabby Goes Out!
Sport, education and culture.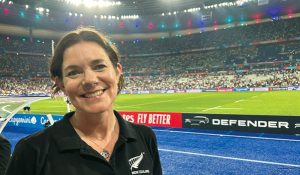 HC Gabby Rush was lucky to attend the opening ceremony and game of the Rugby World Cup between New Zealand and France in Paris. She enjoyed the sights and sounds of 78,000 very passionate (mostly French) fans. While the result didn't quite go the way us Kiwis hoped for, it was a fantastic event, demonstrating the power of sport to bring people together.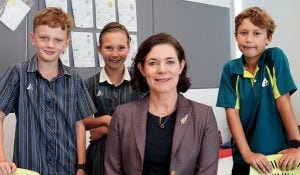 As High Commissioner, Gabby gets the opportunity to meet a lot of interesting people, and none more so than these Kiwi kids at Singapore's Australian International School. They asked a wide range of questions, from what it means to be a High Commissioner and what Gabby was hoping to achieve in the role, to whether she'd tried durian and who her favourite All Black is! Head to our Facebook page to watch videos of the interviews created by the NZ Chamber of Commerce.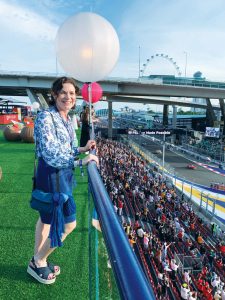 Back in Singapore, Formula 1 in September was an incredible spectacle. From the lead-up events to the food, lights, music and finally the actual racing, HC Gabby Rush enjoyed her first time in attendance. Our very own Kiwi driver, Liam Lawson, made his Singapore debut for the AlphaTauri team placing ninth. Lawson revealed that when he played Formula 1 games online as a child, this night race was his favourite track!