"Unity and bonding is what I enjoy the most"
Gayathri G. Sharma is the Artistic Director & Founder of Gayathri Dance Academy. She's choreographs many Deepavali performances around Singapore on and off the screen.
As an artist in Singapore, I'm known for my signature style in Contemporary Indian Dance that's largely based on Bharathanatyam. This Indian classical dance form originated in Tamil Nadu. Bha means emotion (Bhava), Ra means music (Raaga), Ta means rhythm (Taal), and Natyam means dance, therefore it encompasses music, rhythm and expression.
Due to being formally trained and dancing since I was four years old, I've performed in many major productions around the island. My team and I are often part of the events taking place in Little India during the run-up to Diwali. You can also see us live on the Deepavali Countdown Show on television. (Amarkala Deepavali airs at 10pm every Deepavali Eve on Mediacorp Vasantham Singapore).
Rehearsals take place about three times a week for at least a month ahead of the show, but no matter how much I practice, I never feel like I'm ready. Sometimes we're given very short notice from conception to performance, so it can get pretty chaotic, but it's extremely rewarding when it all comes together.
Primarily, there are two famous tales behind Deepavali and this is noticeable during performances throughout the season. You'll see dancers and theatre artists dressed as the characters of these stories: the iconic peacock feather tucked in the hair of Lord Krishna, or the ten heads of Raavan for example. The costumes are often colourful as it's a celebration and specific to the characters. When it comes to hair and makeup for these performances, there are no-holds-barred. However, it's tradition to stick to the iconic style of dressing and costuming so the characters are easily identifiable.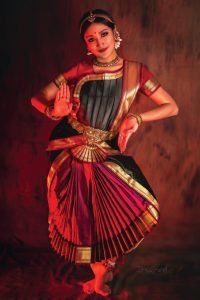 Making memories
Besides Bharathanatyam, I also studied the ancient classical Indian dances of Odissi and Kathak, and I use my collective knowledge throughout my dance choreography. I opened Gayathri Dance Academy (GDA) in 2005 when I was teaching a handful of students at temple spaces around the island. I slowly migrated my classes and taught under the People's Association as a community club for over 15 years. The closure of all non-essential jobs during the pandemic devastated many art practitioners including myself, but in 2022 I incorporated GDA as a fully-fledged performing arts company.
We primarily teach Bharathanatyam and classes are open for all ages and genders. We also have a performing wing for professionals where we explore both traditional and experimental work. Everyone is welcome and I believe anyone can dance if they truly enjoy it. While dancing is my passion and profession, my favourite part of Deepavali is making memories with family and loved ones. This includes all the preparations that begin at least one month before the festival begins including making sweets, decluttering, cleaning, decorating our homes, and shopping for new clothes. Everyone works as a team and this unity and bonding is what I enjoy the most. Oh, and there's nothing like feasting together!
gayathrig.sharm & gayathridanceacademy
 Gayathri G. Sharma & Gayathri Dance Academy
 gayathridanceacademy.com
"Family reunion dinners are my favourite part of the festival"
Singaporean Chef Annil Ravin highlights traditional Indian cuisine across his social media channels and with his pop-up food stalls.
From a young age, my mother welcomed my brothers and I into the kitchen to experiment with food and recipes. Indian food used to really intimidate me with its many ingredients and flavours, so I preferred cooking Italian dishes! Cooking together was how we bonded as a family and my skills and knowledge grew along the way.
It became clear that food was my true passion. I started my career training in Italian cuisine and as a host in a cooking studio which I loved, however, when the world was disrupted by the pandemic my work ground to a halt and my self-esteem plummeted. Thankfully, I had good friends who kept reminding me that I had so much to offer. They encouraged me to set up Chemmeen, a company where I sold a 'Seafood-in-a-Bag' concept which was trending at the time. I infused crab with an Indian-style masala and it became an instant hit!

Popular street snack
Spurred on by lots of attention on social media, I was inspired to try new things. During a trip to India in January 2022, I noticed a lot of hype around Pani Poori, a popular street food snack of crispy, fried dough ball stuffed with potato, onion, or chickpea. I hated it, but everyone there raved about it!
I decided to come up with my own recipe for Pani Poori using a savoury potato filling, curry flavour and sweet onion gravy. In addition, I created some gourmet sauces using high-quality yoghurt and dates instead of sugar. My business, Party Poori by Chef Annil, went viral on TikTok and – in true Singapore style – queues began to form. My food is cooked in both central kitchens and my home kitchen depending on the scale. I call my dad and brothers my 'procurement officers' as they go to Marsiling wet market to get ingredients. Today I partner with six other brands including Ayam, and you can order my food through Grab and Food Panda.
Diwali is one of my busiest seasons. This year I'll be working at many events around Singapore which I advertise on social media. It's very much a family-run operation where my mum is the unsung hero – she makes sure I don't bite off more than I can chew. I love serving my online community and representing good quality Indian food on the red dot. So many Indian dishes here are heavily commercialised and stereotyped, and I'm proud to prove that there's so much more to Indian cuisine than just standard curries and masalas.
When it comes to my own Deepavali celebrations, family reunion dinners are my favourite part. This is when we just unwind together, crack jokes and catch up. Biriyani is an essential dish that we always look forward to. Every family has a different recipe and method of cooking; my recipe is passed down from my mum. It's completely natural with no flavour enhancements; she freshly picks her spices and sends them for milling. I might try and sell it myself in the future if she allows me to!
 linktree/chemmeensg
 chefannil.com
 chemmeensg
"Tanjore paintings are auspicious and prominently displayed during Deepavali"
Shalini Gupta is from Rajasthan, India, and moved to Singapore 10 years ago. Formerly an accountant, she is now a full-time art teacher and artist.
Tanjore art, also known as Thanjavur painting, is a classical South Indian art form often depicting intricate and vibrant paintings of deities, saints, and scenes from Hindu mythology.
Tanjore paintings are often considered auspicious and are prominently displayed during Diwali celebrations. Their rich colours, intricate gold leaf embellishments, and vibrant depictions of deities or mythological scenes add a special touch to the festive decor. In some households, the paintings depicting Hindu gods and goddesses, especially Lakshmi (Goddess of wealth and prosperity) and Ganesha (God of wisdom and new beginnings), are hung or placed in prayer rooms as a symbol of reverence and to invoke blessings for wealth, knowledge, and spiritual growth.
It's difficult to say exactly when I became an artist. As a child I was always interested in doing artistic things and would paint and draw as a hobby. I'd often get praised for my artwork, but as with many Asian families, mine put more focus upon 'traditional' professional qualifications. So I took up painting formally much later in life.
I spent many years studying, including doing a Diploma in Fine Arts from Chand Shilp Shala, Jaipur and courses on Indian traditional paintings at The Prince's Foundation School of Traditional Arts in London. This was a fantastic experience, as I not only learnt about the traditional art form practiced in India, but also how it evolved in other parts of the world, particularly Iran and Pakistan.
Visual storytelling
Depending on the size and complexity of the composition, one Tanjore art piece can take anything from a few days to a few weeks. They're typically done on wooden panels and stand out due to their embossing, rich use of gold leaf, semi-precious stones and bright colours. The gold leaf over the embossing gives the paintings a unique three-dimensional effect and adds a sense of radiance to the subjects. It's a form of visual storytelling. Like most traditional arts, it's important to approach them with patience to achieve a higher level of detail and quality.
This festive season is going to be really exciting for my journey in Tanjore and other traditional art as I'll be holding beginner workshops for Tanjore painting at Singapore's Indian Heritage Centre. I'll show participants the steps of creating Tanjore art, like preparing the board, embossing, using gold foil, and decorating with special Jaipur gemstones. Hopefully, my workshops will inspire others to learn more about this art form in the future.
Back in my hometown in Jaipur, my extended family spend several days preparing for Deepavali. We try to recreate this here in Singapore in a smaller way. We start a couple of weeks in advance, spring cleaning the house, preparing it for Goddess Laxmi's (the Goddess of Wealth) arrival. We make rangoli (handmade intricate patterns and designs on the ground using coloured powders, rice, flour, sand, or flower petals), and traditional sweets and snacks that are shared with friends who visit. On the day itself, we wear new clothes and offer traditional prayers at home. Then we gather with friends to light oil lamps and fire-crackers, and enjoy an elaborate traditional vegetarian meal together. The festivities continue until late, with lots of music, dancing, the exchanging of gifts, and card games.
 indiaminiatures.com
  indiaminiatures by Shalini Gupta
 indiaminiatures
Distinctive features of Tanjore Art
Embossing: Limestones are mixed with a binding agent like Arabic gum for a 3D look
Gold leaf: Gold foil or leaf adds a luxurious quality
Embellishments: With semi-precious stones/ Jaipur stones/ glass beads
Rich colour: Vibrant colours create a visually striking contrast against the gold and contribute to religious depth
Religious & mythological themes: This spiritual focus sets Tanjore art apart
Longevity: Durable materials ensure preservation over time
Traditional techniques: Specific techniques are passed down through generations, preserving the authenticity and uniqueness of this art form