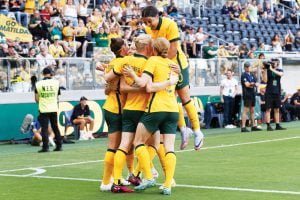 The 2023 FIFA Women's World Cup may have taken place a few months ago, but the tournament inspired a new generation of athletes and supporters, and transformed the way women's sports are seen around the world. Australia's Matildas rode a wave of green and gold to the semi-finals and many firsts were achieved:
The 2023 FIFA WWC was the first co-confederation-hosted tournament. It was also the first time the WWC was held in the Asia-Pacific region, and the first ever WC held in the southern hemisphere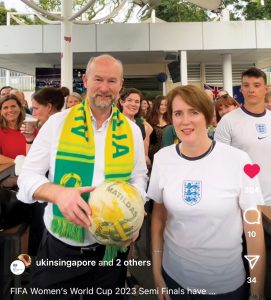 A record 1,715,000 tickets were sold throughout the month-long tournament
Australia's Sam Kerr scored the longest goal of the World Cup against England in the semi-final from 29 metres out
From kick-off on 20 July 2023 until the final on 20 August 2023, women from 32 nations showed the world the very best of skilled competition. Supporters held their breath through penalty shoot-outs, cried at missed penalties, and cheered and hugged at impossible goals.
The Matildas, Australia's national team, made their nation very proud by reaching the semi-finals for the first time ever. Sam Kerr, Mary Fowler and Mackenzie Arnold become household names.  "I want to be a Matilda when I grow up" echoed across playgrounds throughout Australia (and no doubt in many international schools too!).
Indigenous representation
Indigenous cultures of Australia and New Zealand were highlighted throughout the tournament, with all nine host cities referred to in both English and Indigenous terms. They were: Tarntanya (Adelaide), Meanjin (written as Meaanjin; Brisbane), Naarm (Melbourne), Boorloo (Perth), Gadigal (Eastern Sydney; for Sydney Football Stadium), Wangal (Western Sydney; for Stadium Australia), Tāmaki Makaurau (Auckland), Ōtepoti (Dunedin), Kirikiriroa (Hamilton), and Te Whanganui-a-Tara (Wellington).
Indigenous representation in the FIFA WWC would not be possible without the appointment of a six-person cultural panel (featuring three First Nations Australians and three Māori from Aotearoa New Zealand) to provide advice to ensure that First Nations and Tangata Whenua voices were included.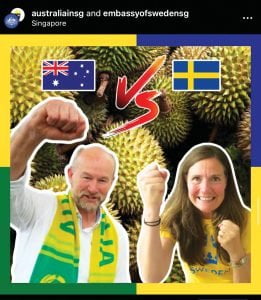 Here in Singapore, the FIFA WWC matches drew crowds together at homes, local pubs, embassies and high commissions. It brought out our competitive side with the Swedish chargé d'affaires to Singapore H.E. Jenny Egermark and Australian High Commissioner H.E. Allaster Cox betting on the outcome of the Sweden-Australia semi-final. This resulted in our High Commissioner polishing off a plateful of Singapore's favourite fruit – the durian! Australia and the UK also collaborated in an Instagram reel to promote friendly rivalry over soccer while reinforcing the strong AU-UK friendship through our economic and trade partnerships.
The month-long tournament was a triumph for sport and we're looking forward to the Matildas' next opportunity to compete for the Cup.