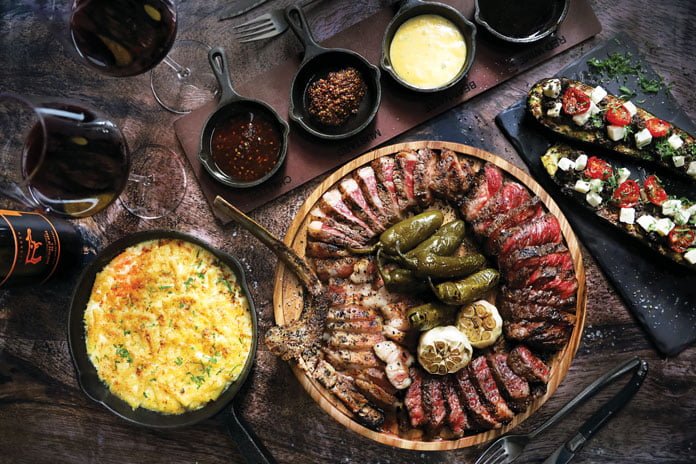 Choosing a favourite steakhouse in Singapore is a matter of personal taste, but what's indisputable is Bedrock Bar & Grill's unwavering reputation as one of the finest spots for steak on the island. It also scores high on my list of great grilled beef experiences.
Established in 2008, Bedrock has earned numerous awards for its commitment to timeless dishes crafted with the finest cuts of meat from around the world. Now, as Bedrock celebrates its 15th anniversary, it's unveiling two exciting new platters. The menus, both $299++, are available until 30 November 2023: in its Somerset location the "Steak Connoisseur's Platter" and its Sentosa restaurant the "Fields & Oceans Feast".
Since we were at the original Bedrock Bar & Grill, I had the pleasure of sampling the "Steak Connoisseur's Platter," a meticulous selection of cuts including Irish Grass-Fed Salt-Aged Ribeye, a tender succulent 28-day salt-aged ribeye sourced from Ireland's pastures; an Australia Pureblood Wagyu Chuck Tail Flap, a pureblood breed cut that melts in the mouth; Prime Corn-Fed Dry Aged Striploin from the States, which is dry-aged for 21 days, resulting in a deep flavour profile that offers a delightful contrast to the grass-fed and Wagyu selections. Mangalica Pork Tomahawk, the "Wagyu of Pork" is first sous-vide cooked and then perfectly grilled to achieve the ideal balance between tenderness and succulence. 
Melody of textures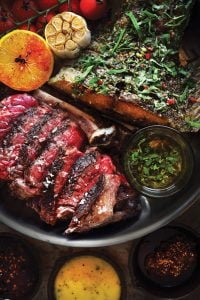 A steak dinner would not be complete without some Bedrock classics. The Mac and Cheese ranked amongst the best I've ever had. This Mac features a rich gorgonzola cheese sauce, infused with a house-made truffle compound butter, generously enveloping al-dente maccheroni tubes and topped with shredded parmesan cheese. Another stand-out side was the Mediterranean Zucchini: green and yellow zucchinis marinated in garlic oil, salt, and pepper before being delicately grilled. Toppings of olive tapenade, pine nuts, sun- dried tomatoes, and feta cheese make for a melody of vibrant textures.
A full assortment of sauces is presented with the platter featuring Bedrock Chilli Oil made with slow-cooked bacon, shallots, garlic, and dried chili padi, and the table's top choice. Other sauces included a classic Bearnaise sauce, a wholegrain whisky mustard and a red wine sauce adding a touch of sophistication.
 "Mangalica Pork Tomahawk achieves the ideal balance between tenderness and succulence "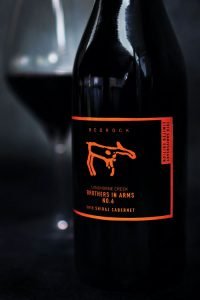 Speaking of wine, Bedrock collaborated with Brothers In Arms to bring its No.6 2019 Shiraz Cabernet ($16++/glass or $90++/bottle). While it boasts a bespoke label commemorating Bedrock's 15 years, it's all about the wine. This Shiraz and Cabernet Sauvignon blend complemented seamlessly with the wide range of food presented.
To end, we splurged on one of Bedrock's classic desserts, the Bombe Alaska ($24). This combination of raspberry white chocolate ice cream, butter cookies, meringue, and flambé with rum was the perfect finish.
Verdict: Bedrock's limited-time platters offer outstanding quality at an excellent price and mouthwatering flavours. Don't miss the chance to indulge as it celebrates its 15th anniversary. 
Bedrock bar & grill
 96 Somerset Rd, #01-05 Pan Pacific Serviced Suites Orchard, 238163
 bedrock.com.sg