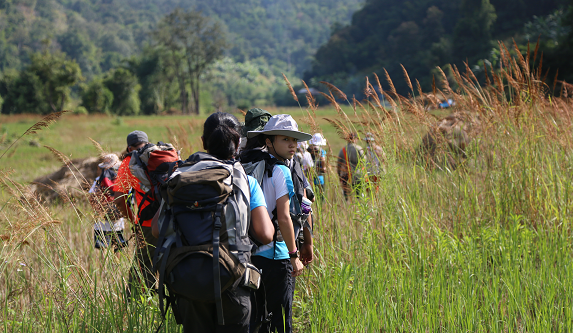 In the past decades there has been a growing movement toward Outdoor Education for both schools and businesses as we seek to develop character in our young people and cohesion within our teams. Adventure programmes have become popular with schools and are now a regular feature for most students at some point within their school year.
An aim of modern education is to develop the whole child and many schools opt for a "holistic" approach to fulfill this goal. For most schools, our motives for developing outdoor education programmes are not to instill camping, climbing, biking or kayaking skills, as interesting as they may be. The reality is that the vast majority of our young people are unlikely to need these specific abilities and competencies later in life. What we are aiming it is a much more loftily goal. By creating experiences in the outdoors we are striving toward developing a set of personal skills and qualities that are highly sought after in schools, universities, and the modern workplace. Resilience, self-management, and collaboration have become the hallmarks of adventure programmes around the world and are in demand now more than ever.
Outdoor experiences can ignite a passion within young people to challenge themselves, they can increase their resilience through trials that demand they maintain, recover, or improve their physical or emotional state and support resilient states of others around them. These can be times of self-discovery, self-expression, and satisfaction that are accelerating their personal and social development.
The educationalist, Kurt Hahn, thought that "expeditions can greatly contribute towards building strength of character. Joseph Conrad in Lord Jim tells us that it is necessary for a youth to experience events which 'reveal the inner worth of the man; the edge of his temper; the fibre of his stuff; the quality of his resistance; the secret truth of his pretenses, not only to himself but others.'"
It is within these challenges that we develop our character and personal qualities. The wilderness has been dominated through centuries of struggle, danger and discomfort. Arguably, it has now been conquered and the struggles of the past no longer exist. We seem now to miss the opportunities for growth that these struggles provided. We recognize the skills and qualities that individuals and teams developed through those trials and that are now no longer available in our confortable everyday lives.
We do not have the opportunity in our modern age to struggle within our environment. Our modern conveniences have made every attempt to mitigate the unpredictable and sometimes uncomfortable natural elements. We struggle when our ever-narrowing comfort zones are threatened with being too hot, too cold, too humid, or too dry. We see qualities emerge in students when they are in a different environments and faced with different stresses, well outside our typical everyday routines.
There is a special sense that one gets when remote and isolated in the outdoors. It is a sense of scale that provides a contrasting perspective from our daily confinement, surrounded by walls and tight spaces, and connected electronically to everything at all times. The experience in the outdoors is one of space and connectedness to nature. It is unfortunately an experience that is disappearing for most of our young people and is now usually accessed through programmes in Outdoor Education.
—
About the author
James Dalziel is the Head of UWCSEA's East Campus. Prior to moving to UWCSEA, James was the Deputy Head at the Canadian International School in Singapore and a special programmes coordinator with the Durham Board of Education in Ontario, Canada.
James has taught in a variety of educational settings including special needs classrooms and outdoor education programmes with Outward Bound. He has Masters and Doctoral degrees in Education from the University of Western Australia with a focus on the leadership and management of change within international schools.
Photo courtesy of UWCSEA