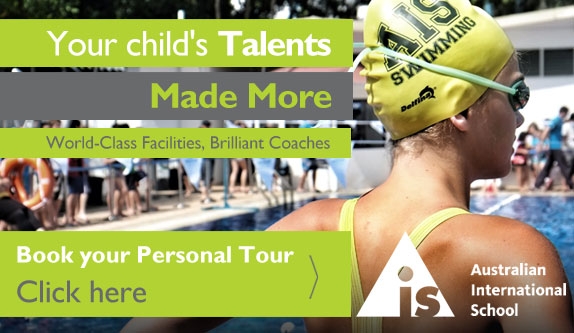 We all want our children to learn the right skills in order to become successful in their later lives, but all books and no play is definitely not the way to go. Studies have shown that organised sports and being a part of a team translate into boardroom success. Why? It's simple; they will learn invaluable qualities of Excellence, Respect and Friendship, and these will take them a long, long way.
To achieve Excellence, students need to get familiar with a well-balanced routine that encompasses sports and work. Sports instils the importance of discipline and self-confidence through the physical, mental and emotional training that they undergo. We also know that from the FORBES 500 lists, there is a high correlation between sporting ability and academic achievement, with many top CEOs and business leaders being part of their school sports teams from a young age. For those with young children, it is also proven that children involved in sports obtain better grades and have a higher probability of graduating from school.
As the saying goes, there is no "I" in team, and participating in sports has a unique way of fostering long-standing friendships and great intercommunication skills;—soft skills that are essential for future success. With increased opportunities for social interaction and bonding, children will learn superior verbal and non-verbal skills, and the intricacies of respecting others values and beliefs. Working with team mates toward a common goal (winning)allows sportsmen to truly hone this "language" while understanding the true meaning of teamwork.
Sports is a vital part of our DNA at the Australian International School (AIS). To help contribute to our students physical well-being, we have in place a well-developed physical activities program that is complemented by the student team, the Sharks. No matter which field of sport your kid has an interest in, from badminton to volleyball, AIS Sharks team coaches are part of the dedicated sports department will support athletic development. The focus they place is on the journey of learning, and not winning itself.
Our students also have the chance to participate in one of the most comprehensive international sports programs in Singapore, which will see the Sharks teams across all sports participate in global tournaments. Successful tours have seen our teams travel to the UK and Thailand and in the coming year Spain and South America. These tournaments promote cultural learning and interaction with the players not only playing competitive sports, but also participating in classrooms at the host schools to maintain academic as well as athletic performance.
Sporty kids make for happier kids, and happy kids in turn create happy parents! As we prepare our children to enter the increasingly competitive global circuit, it is important to balance mental, physical and psychological health, apart from focusing on the accomplishments of your child. Justin Teves, Sports Director at AIS says "Our sports program is dedicated to bringing out the potential in our players. Our dedicated team of coaches are specialists in their fields and we are constantly evolving our approach to give our students a truly global perspective on sports and athletics with the training and opportunities to match. This helps them achieve more both in the classroom and on the pitch, giving them an advantage as they progress through school and beyond."
To learn more head to Australian International School's next Open House event on Thursday, 14 August 2014. To RSVP call +65 6517 0247 or email admissions@ais.com.sg.
Australian International School
1 Lorong Chuan, Singapore 556818
Tel: (+65) 6883 5155
www.ais.com.sg