It is a universal fact that every parent wants the very best for their child, and it is not unusual to look for ways to boost their child's learning process to get a head start in life. There are three essential things that you can do to ensure your child's positive growth with regards to their learning.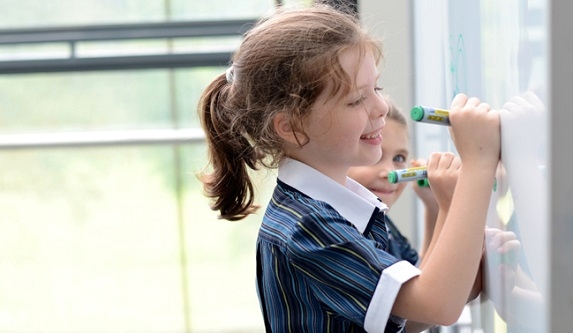 #1: Encourage your child to inquire when in doubt!
According to research, an inquisitive child always picks things up more quickly than his quieter peers. Richard W. Paul and Linder Elder, co-authors of Critical Thinking: Basic Theory and Institutional Structures Handbook, strongly believe that thinking and the thought process is driven not by the feeding of answers but by active listening and questioning.
This explains why you should provide your child with a nurturing and open environment so that they feel comfortable asking questions. The Australian International School (AIS) understands that encouraging this ethos can reveal different perspectives and widens a child's scope of learning, leading to greater cognitive development.
Our newly-opened Inquiry Centre provides your child with an exciting and interactive learning environment. During Inquiry Centre sessions, children spend time with their teachers, librarians as well as invited experts to explore areas of the curriculum, like science, geography and history through hands-on practical inquiry. Smaller and more engaging groups facilitate inquiry, allowing your child to absorb every bit of knowledge that they can.
#2: Encourage and support your child's creativity
We have come full circle in understanding that Music and the Arts are an integral part of any child's development. There is extensive research on how music connects and develops the brain in exceptional ways. Music education offers something to a child that is indispensable: the opportunity to explore their own creativity and apply this to all aspects of their life. AIS promotes creativity through its in-curriculum Arts program that encompasses Music, Drama and Visual Arts. The role of the music educator at AIS is to lead your child through a process of learning and understanding that is dynamic and inclusive. Using child-centred approaches developed by Carl Orff and Zoltan Kodaly, children journey with an adventurous and exploratory spirit, while they sing, dance and play. An emphasis is placed on the child's emerging singing, playing and composing in an environment that is safe and encourages exploration. Head of Music, Mr Simon Hughes says "Our aim at AIS is to ensure all children experience musical success at their own level, through aurally based classroom activities that develop their creativity".
#3: Give your kids a break!
Tonia R. Durden, an Early Childhood Extension Specialist believes that "a wide variety of play experiences is necessary in learning development, especially those that integrate sensory, motor, cognitive and social-emotional experience". Learning through play is something that we at AIS strongly believe in. We have built this into the curriculum to provide an opportunity for children to observe their environment at first hand, develop and extend their language and creative skills, interact with others, make decisions and solve problems. We also support our students' physical wellbeing in equal measure, channelling their seemingly boundless energy into fun and exciting physical education activities. Part of every morning is spent in our own large playground engaging in activities such as sand play, bike riding, climbing, balancing and ball games. Children love being outside and exploring so why not take them out for a stroll somewhere exciting around Singapore such as Gardens by the Bay, and encourage them to question and inquire about the fascinating things they see.
To learn more about our curriculum and school, you are welcome to visit during our upcoming AIS Open House Sessions:
• Thursday, 11 September
• Thursday, 9 October
• Wednesday, 26 November
Book a tour online, phone +65 6517 0247 or email admissions@ais.com.sg.