The 1st ANZA Scouts is looking for girls to join in the adventure, Rachel Landau says.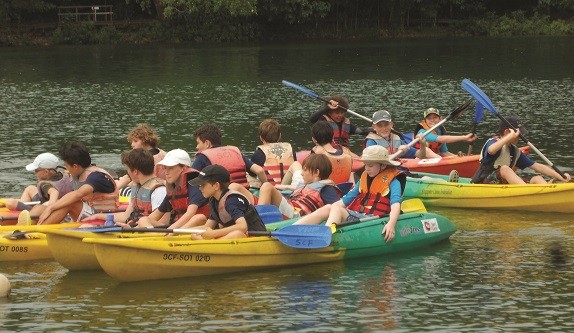 Scouts (age 10 to 14)
Scouts Australia has always been open to girls and boys, for many years 1st ANZA Scouts has only had boys. But things have changed this term, as we welcomed our first girl member in a very long time. A major reason for joining was to learn useful outdoor skills. Already she is making great progress and will soon be outdoing some of our longer standing boys!
We would love to have more girls join us, so any girls out there from the age of 10 upwards who want to show our boys how it's done, please do sign up for our next term starting in January 2016. The haze has restricted us a bit this term, as we had to postpone a number of outdoor activities – but it hasn't stopped us in our tracks. We have learnt knots, done small scale construction challenges – including one with spaghetti and marshmallows – and learnt basic navigation among our regular meetings. Our more experienced Scouts are taking an ever- increasing role in planning and organising events, as this is a big part of scouting.
At time of writing we still have a day hike on Pulau Ubin with a local flora and fauna guide, an introduction to scuba diving, an overnight camp and – working with ANZA Action– spending an afternoon with children from Melrose Home, giving them the experience of being a Scout for a day. This is a wonderful opportunity to engage with the local community.
Venturers (age 15 to 18)
So what happens when scouts pass the age of 14? Venturers do more advanced activities, and are going to be taking on bigger challenges and providing more service to the community. They also assist with the activities and training of the Scouts, and have now planned and run several sessions – including our recent navigation session.
Although Venturers work with a leader, they aim to become more autonomous, and are expected to largely plan and organise the activities they would like to take part in. Although it is an extension of scouting, girls and boys with little or no scouting experience are welcome to join the 1st ANZA Venturer Unit. Currently two of our three boys are using this as part of their CAS (Creativity, Activity and Service) for the IB Diploma. It is giving them time and experience across all three areas in an enjoyable way.
Rovers, the epitome of scouting (age 18-25)
Rover Scouts is the final section of the 'path' to adult life with a strong focus on community engagement and social inclusion. Rovering develops leadership abilities and mateship by empowering Rover Scouts to run their own activities. We currently have just one Rover who is also one of our leaders. Rovers is also open to ladies and gentlemen with no prior scouting experience.
Finally, our Leaders

We currently have three long-standing scout leaders, but with the expansion of our other sections, we are looking for more. Even with three dedicated guys, there are still times when family or work commitments can leave us shorthanded. Scouting experience or not, if you love the outdoors, working with children from 10 upwards and encouraging the Scout values, get in touch at scouts.1stanza@gmail.com.
The Scouts waiting list can be found on the ANZA website under 'Groups'. Our next term will start in late January, and we offer a free trial session to all those interested. Venturers, Rovers and Leaders may start any time. If you have any questions please email Rachel Landau on scouts.1stanza@gmail.com.