Your email address is now your username
All current ANZA members have accounts here, but we'd love for you to check and update your account details.
Start at anza.org.sg/my-account
To login you will need to request a new password, as we have not transferred any previous passwords.
If you don't remember which email address you had registered with us, please contact us so we can help.
About Our New Website!
Everything works on mobile
Everything you can do on this website now works on mobile phones and tablets. Get information, read the ANZA Magazine, buy event tickets, register for childrens' sports and adult activities.
New transaction system
We have completely replaced our membership management and transaction systems. Payments are now processed using Stripe and occur directly in the transaction page instead of being forwarded to an external payment gateway. It's much simpler and more secure.
We've also added American Express transactions.
Spouses can now have their own logins
Our old system only allowed the primary account holder to complete transactions which were restricted to members. Now you can add an email address for a family member and they will also have access.
Any Questions?
If you can't find an answer below, feel free to contact us with any questions.
Half Annual (six month) memberships are available only for renewing members. Members need to ensure that they remain financial members while they are enrolled in any sporting seasons.
Six month memberships are not available via the website. You will need to call the office on 6291 6301 to renew.
Yes, you can rejoin any time, but please note that if you or family members are playing in any sporting season, membership fees will be applied from the date of membership lapse, not the date of payment.
After you have renewed, please contact us if you believe that we've used the wrong expiry date. Our membership system defaults to renewing from the last expiry date.
Because the ANZA website now uses your email address to identify you, it is important to keep it up-to-date.
If you have lost access to the email address for some reason, you will need to contact the ANZA Office to change it. As we will need to ask some questions to verify your identity, you should do this by calling the office on 62237992 during Singapore business hours (9am-5pm, Monday to Friday).
You will need to contact the ANZA Office to confirm your recorded email address.
As we will need to ask some questions to verify your identity, you should do this by calling the office on 62237992 during Singapore business hours (9am-5pm, Monday to Friday).
No-one at ANZA knows your password.
If you need a new password you can get a new one by using the Request Password link on the My Account login page. Enter your account email address and the system will send you a new password by email.
If you want to change your password from the one that is emailed, you can use the Password Change link on the My Account page after you login.
You cannot change your password unless you are signed into your account. Use the system generated password that you were given to sign into your account. At the bottom of your 'My Account' page you will see the following:

This is where you change your password. If you haven't noted down the system generated password you will need to request another new password to enable you to sign into your account.
To renew membership you need to visit the My Account page and select the About tab.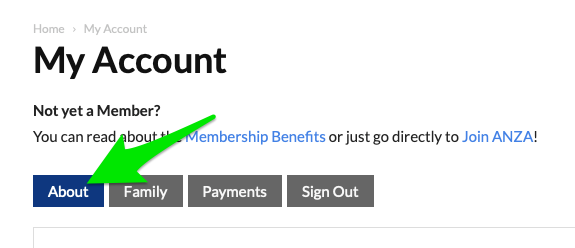 Then you need to scroll down the page to the button underneath the Membership information.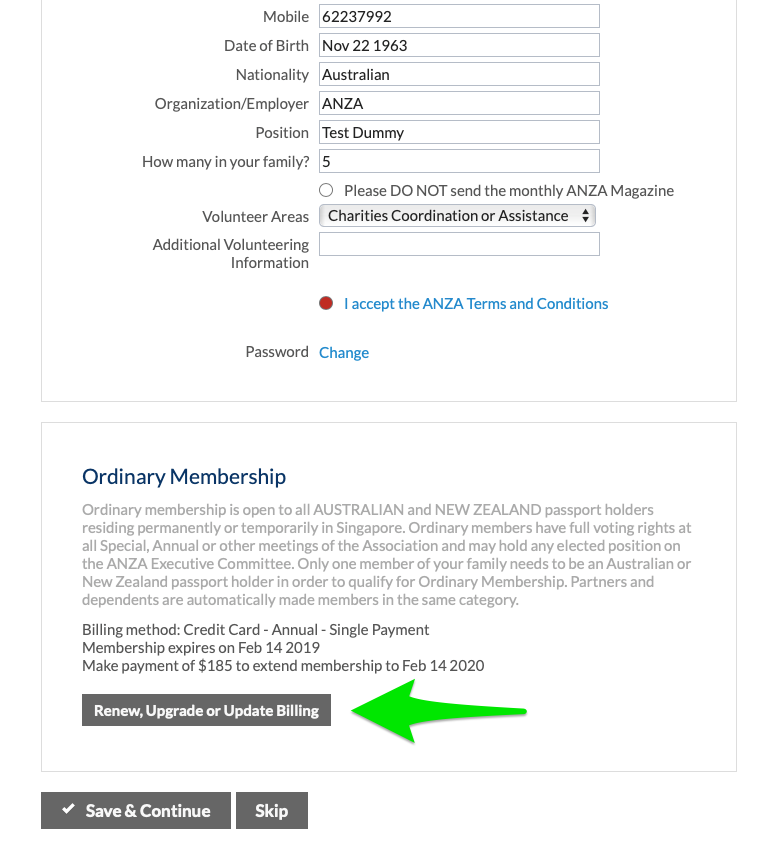 When you press that button, a form will appear to provide credit card details.
Unfortunately, the ANZA Cycling committee cannot help you with access to the website or with processing the payment. These services are provided by the ANZA organisation. Please contact the ANZA office (info@anza.org.sg).
Unfortunately, we do not offer partial year memberships
It can be found on your virtual membership card. This will have been emailed to you. Check your junk/spam inboxes for this card.
ANZA Cycling memberships expire at the end of the same month you joined in a given year, ANZA memberships expire exactly 12 months after you joined. Unfortunately, we cannot make them the same at this time. Larger disparities may be because you originally joined ANZA for a different reason and joined ANZA Cycling later.