Christopher Bloch gives a non-runner's recap of his maiden duathlon.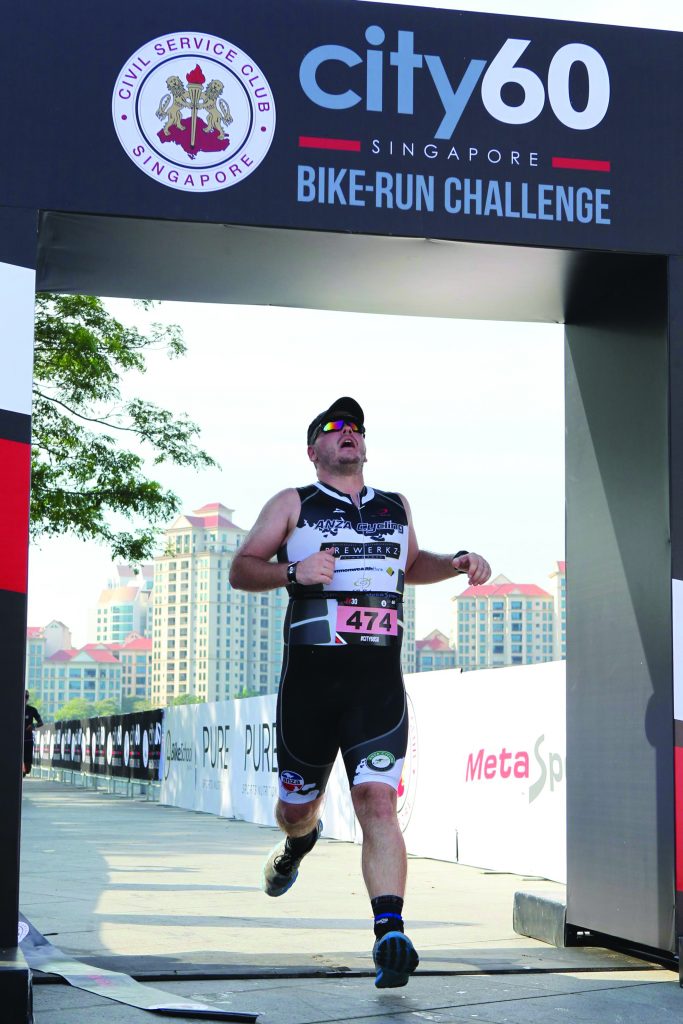 Nobody has ever accused me of being a 'runner' and to be honest, I know I'm not. I have been cycling for years, but running has never been my forte. Yet, I find myself on a perfect Singapore morning (i.e. not too hot or humid, yet), standing between the Kallang River and National Stadium on the starting line of my first ever duathlon – competing in the 30km category of the Metasport/Civil Service Club City60 Bike-Run Challenge.
After an old injury kept me in low-to-no impact sports for a decade, I resigned myself to staying out of the charity fun runs and 10kms that my friends were entering, and so my capacity for running dwindled more to the beer run variety. But after my wife raised the challenge to sign-up for a 5km earlier last year in Singapore (more than 10 years after my last 'competitive' run), I decided it was time to ease back into it.
At that time, a 3km run was a stretch, but within a few weeks, my legs remembered the rhythmic cadence and my breathing evened – though the profuse sweating in the Singapore heat may never disappear. I got myself around the course, and since then, have completed around half a dozen more 10kms. Hope was not lost. Confidence had been restored. All that good jazz.
Since joining ANZA Cycling back in 2016 and getting into a training regime with the club's group rides, plus some chatty hill training sessions, my abilities on the bike have improved tenfold. Completing the Tour de Barelang in Batam earlier in 2017 and putting my sights on a few other regional events, I have become more accustomed to the feeling of getting myself to the threshold on the bike.
But what next? A triathlon? Nope. No. Uh-uh. Not ready for that. How about a duathlon? Hmm… that could work. Yes. I could do a duathlon.
D-DAY
Fast-forward to the starting line, and with the horn about to blow, I remind myself to check my ego and accept that half of my wave will leave me in their literal and figurative dust during the first 3.5km running leg. However, I will stick to my pace, make up as much time as I can during the 23km bike portion, and then do my best to hold my position for the final 3.5km run off the bike.
I manage to stick to my race plan for the first leg. I gulp down my pride as I watch 20+ runners stretch out ahead of me, but I feel good as we round the 1.7km mark at Rhu Cross, and pick up the pace ever so slightly, coming back over the Tanjong Rhu Footbridge and into the transition area at Arena Park in 24th position, with a 5:22/km average. Not too bad.
[18:47.39]
My first ever transition goes as smoothly (read: poorly) as I could expect. I swap my running shoes and hat for clipless cycling shoes and helmet as quickly as I can, grab my trusty steed from the rack, and awkwardly click-clack down the pavement to get out of the transition area and ride. I am on the bike after a clunky 2:58.81 transition.
[21:46.20]
The closed 23km road course from National Stadium to the Singapore Grand Prix F1 pit lane and back has several technical corners and a 1km sprint section providing some additional competition within the race. With this being my chance to gain some ground, I set a consistent pace for the two laps and reel in a number of other riders. I keep setting my sights on the next City30 bib number and focus on catching each person in turn. My strategy works, and I pull into the transition zone after the second lap with a time of 40:27.67 and an average speed of 34.1km/hr, putting me in sixth place on the bike. Now, I need to hold on for the final run.
[1:02:13.87]
My transition back into the running gear goes more smoothly than the first and I am back in stride in under two minutes.
[1:03:55.58]
The last segment, known (for obvious reasons) as the 'run off the bike', is something the veteran ANZA triathletes have warned me about. "Your legs will feel like tree stumps" and "It will take 1km for your legs to remember how to run" were a couple of the warnings I received. Unfortunately, due to work and other commitments in the run-up to the race, I had not actually had the chance to practice a 'run off the bike' – whoops.
Sure enough, not having experienced it before, a cramp emerges in my left calf just as I leave the transition area, leading to a very amusing trot while I try to stretch and shake out the cramp without stopping. With only 3.5km to go, I push through and go for it – tree stump-legs and all. My main focus is to try to keep as few runners from passing me, but with a much steadier pace of 6:06 min/km, I end up watching a couple of runners elude me. Coming back over the Tanjong Rhu Footbridge, I push myself to the finish line, and pull in with a final run time of 21:22.74, putting me in 27th for the second run.
[1:25:18.32]
After catching my breath and picking up my finisher's medal, I shuffle over to the Live Results tent and print off my timing card to discover that I have managed to finish 11th. Very happy with the result, I treat myself to a complimentary massage and compression therapy from the sponsors and watch as the final participants came across the line.
If you told me a year ago that I would have competed in a duathlon, you would have garnered a few chuckles, but now I'm looking forward to the next one. Who knows? Maybe even a triathlon in 2018…
Interested in coming out for a ride? ANZA Cycling runs a Newcomers' Ride on the first Saturday of each month. Register your interest here.