ANZA CYCLING: Megan Kinder reflects on the annual ANZA Cycling Awards.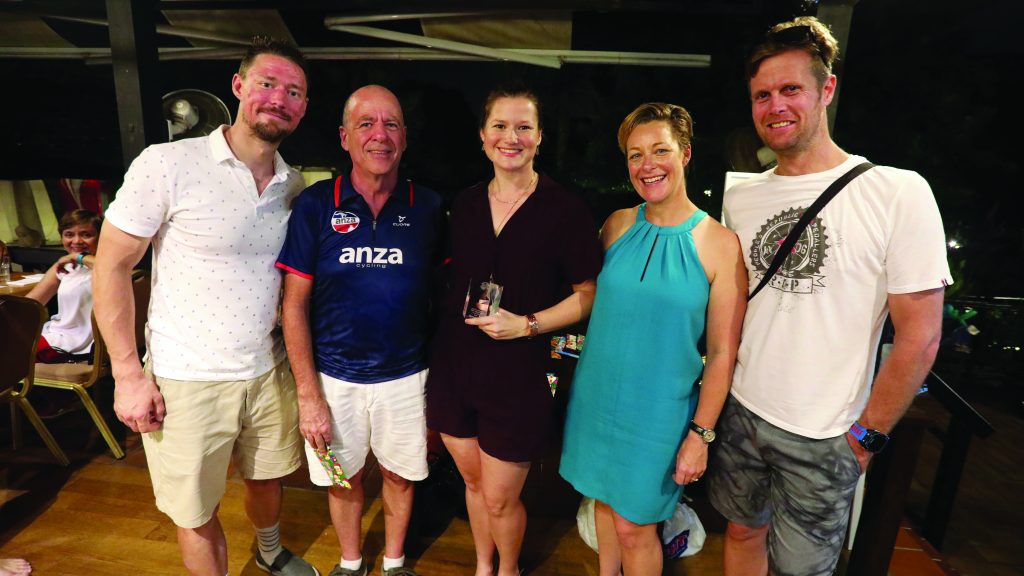 Over 100 ANZA Cycling members and their families attended the 2017 awards event, celebrating a record number of 53 nominees across the various categories. Not only do the awards cover the different event disciplines, but it also recognises those members who exemplify the values of both the sport and the ANZA group. Congratulations to all those who have helped make ANZA Cycling a great sporting club!
MTB CYCLIST OF THE YEAR
Female Nominees: Yin Xiao Wu, Liesbeth Kanis, Hilke Rode and Stephanie Lim.
Each of the nominees got down and dirty hitting the trails, going out with the weekly MTB rides and also taking part in various events. It proved too hard to isolate an individual winner so the award was given to two equally talented women.
Winners: Hilke Rode & Liesbeth Kanis
Hilke was placed in the top 20 in the women's cat at Cape-to-Cape, WA; whilst Liesbeth showed true determination by taking the yellow jersey and winning the Vietnam MTB women's category.
Male Nominees: Nick Richmond, Jonas Trindler, Marcin Szot, Sef Campbell, Arran Pearson & Chris Rawlings.
This was a tightly contested field with some fantastic results from all the guys throughout the year!
Winner: Marcin Szot
Marcin has been a committed and regular rider of the ANZA Cycling MTB weekly rides and always keen to hit the trails with other members of the club or on his own. Throughout 2017 Marcin raced in Poland, Australia, Singapore and Malaysia, in races ranging from one-day to multi-day events. He did a great job in the Cycosports Jungle Cross Series with podium results there as well.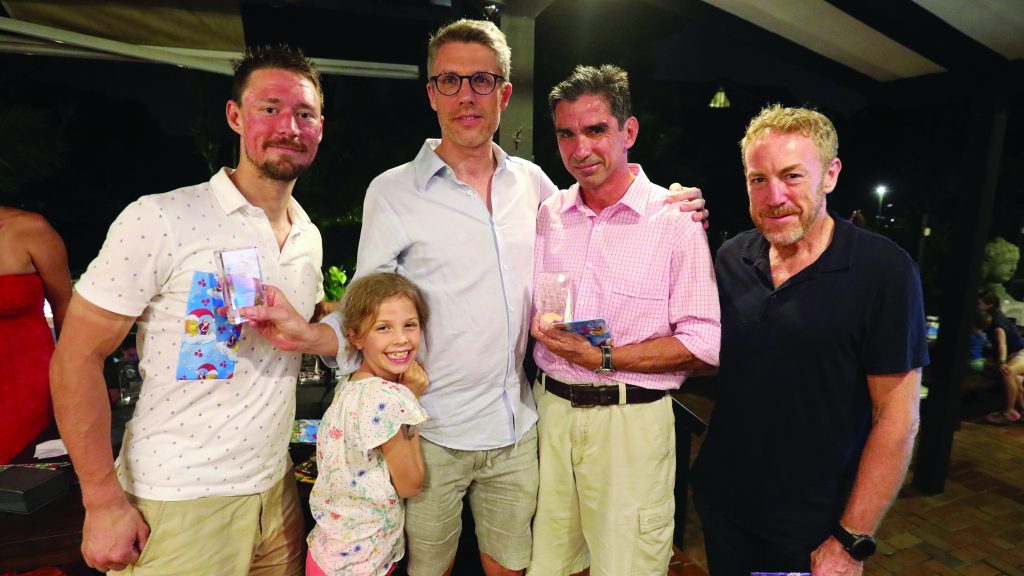 ROAD CYCLIST OF THE YEAR
Female Nominees: Lizzie Hodges, Vicki Goodwin, Shlomit Sorek, Andrea Ferschl & Gillian Hatch
Winner: Andrea Ferschl
Andrea's 2017 results included: 1st in GC, QOM in GC; 1st in ITT; 3rd in Stage 2 & 1st in Stage 3 in Tour de Phuket; 1st Tour de Barelang; 1st OCBC TTT; and 2nd in the 2017 OCBC Cycle series (despite missing the last few races). Her results also helped ANZA Cycling claim fifth place in the team category. Andrea has now left Singapore but it did not stop her from taking this award. In true ANZA Cycling spirit, she's now organising a 2018 offshore training camp in Spain for our members.
Male Nominees: Frank Raynaerts, Michael Koreneff, Steven Wong, Peter Williamson & Håkon Vestby
Winners: Frank Raynaerts & Steven Wong
Frank's results; 3rd in Stage 2 of the Tour de Phuket; 2nd in cat for Tour de Bintan; 3rd in Tour De Barelang (6 Bridges); 1st in cat Nongsa Challenge; and 7th in the 2017 OCBC Cycle race series.
Steven was 1st in Nongsa; 2nd in the 2017 OCBC Cycle series; podium in multiple Crit races and was also named Singapore's Mens' Veteran National Road Champion 2017.
TRIATHLETE OF THE YEAR
Female Nominees: Shlomit Sorek, Kim Bradley, Petro Kuiper, Donna McWilliams, Liz Reynolds & Rachel DuBois.
The women nominated in this category covered events including Ironman, Ironman 70.3, Ultra Marathon (Comrades), road cycling and running races.
Winner: Rachel DuBois
Rachel had an amazing year not only cycling with ANZA but in competing in the following events; Cairns Ironman (her 1st), Cebu 70.3 – Age Group 8th place; and Langkawi 70.3 – Team 1st place.
Male Nominees: Jason DuBois, Rob Kelly, Haytham El-Ansary, Scott Leadbetter, Trent Standen, Dan Fay & Colin O'Shea
Our nominees competed in countless Ironman, Ironman 70.3, Olympic, Sprint and Duathlon events around the globe. On top of that, there have been marathons run, road events raced and ANZA getaways enjoyed.
Winner: Jason DuBois
Jason competed in; OCBC TTT Sport Masters Duo (awarded 1st with Dan Fay); Cairns Ironman, Cebu 70.3 – Age Group 10th place; Langkawi 70.3 – Age Group 2nd place; Phuket 70.3 and then finished off the year with an excellent run in the Standard Chartered Marathon. Jason has also very fittingly just joined the Committee as our new Triathlon Director!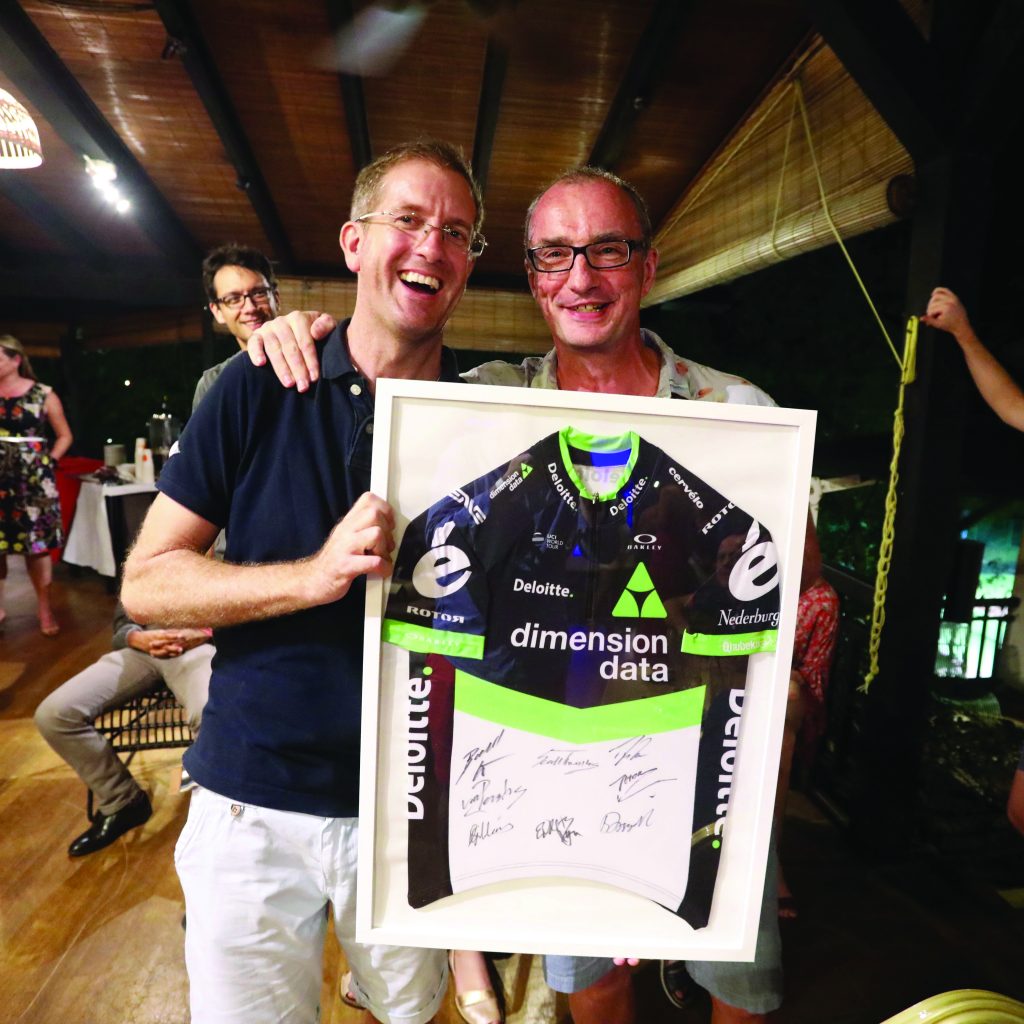 MOST IMPROVED CYCLIST OF THE YEAR
Female Nominees: Claire Scott-Bardwell, Lisa Archbold, Carmen Fay & Shlomit Sorek
All of our nominees participated in races throughout the year and also joined in on many
of the weekday and weekend rides.
Winner: Lisa Archbold
Lisa has seen great improvements on her endurance and speed on the bike. 2017 saw Lisa enter her first race, The OCBC TTT in which she, along with her team, finished 3rd. She has also taken on some longer rides with an ANZA Cycing trip over to Bintan and numerous RTI's throughout the year as well as appearing as a regular on the WC+, FFF and Kranji weekly rides.
Male Nominees: Ed Yue, Chris Hammond, Sofiane Behraoui, James Walls, Chris Bloch & Glenn Murphy
Each of these guys had come along leaps and bounds last year. Not only with skills, speeds and distances travelled but also in taking on new disciplines (triathlon and MTB).
Winner: Chris Bloch
Chris' speed, power and endurance all significantly improved throughout 2017 and he really made an effort to get into every aspect of the club and the sport. He competed in Duathlons, ridden the Tour de Barelang and is a regular on weekday and weekend rides as well as putting in great appearances at all the social functions!
OUTSTANDING CONTRIBUTION TO THE CLUB
Nominees: Mike Koreneff, Lizzie Hodges, Bruce Swales, Megan Kinder, Mark Onderwater & Trent Standon
This category was jam-packed with nominees who stepped up and made significant contributions to numerous rides, activities, trips and events throughout the year. A huge thanks to each and every one of these club members, who volunteered their time and enthusiasm, injecting a true sense of community and camaraderie into the Club, both on and off the road.
Winners: Lizzie Hodges & Mike Koreneff
Lizzie's tireless efforts to open up the world of cycling and racing to more women are both admirable and inspiring. Leading by example, Lizzie is always the first to sign up for rides and events and gently persuade those around her to also give it a go. As capable as she is of racing off and gaining glory, she's also incredibly attuned to imparting skills and encouraging those new to the sport and has been a frequent volunteer for the newcomer's Induction Ride as well as a great conduit between the club, the SCF and local race organisers.
Mike was incredibly active throughout 2017, championing local cycling events, organising club trips and volunteering to run skills workshops, in addition to racing his way to success in many events across the region. His phenomenal enthusiasm and his encouragement and support for those who are new to the sport have made him a truly outstanding club contributor.
CLUB MEMBER OF THE YEAR
Nominees: Mike Koreneff, Megan Kinder, Peter Williamson, Tim Rixon & Chris Hammond
Much in the same vein as 'Outstanding Contribution to the Club', this award recognises members who have gone the extra mile in making our Club the great cycling and social community that it is.
Winner: Chris Hammond
Chris truly embodies the spirit of the club, having been an incredibly active member since joining. He is a regular attendee of the weekly rides, covering both the morning road routes and the night-time MTB trails. Whenever he can, he joins the bunch for the all-important post-ride coffee! He's traveled on club trips, attended social drinks nights and club brekkies and competed in triathlon, MTB events and road events both locally and throughout the region. To top it off, he's a 'good all-round bloke' making him the kind of fellow everyone wants to ride with!
Interested in coming out for a ride? ANZA Cycling runs a Newcomers' Ride on the first Saturday of each month. Click here to register.