Two ANZA families introduce us to the four-legged members of the home that complete life here in Singapore.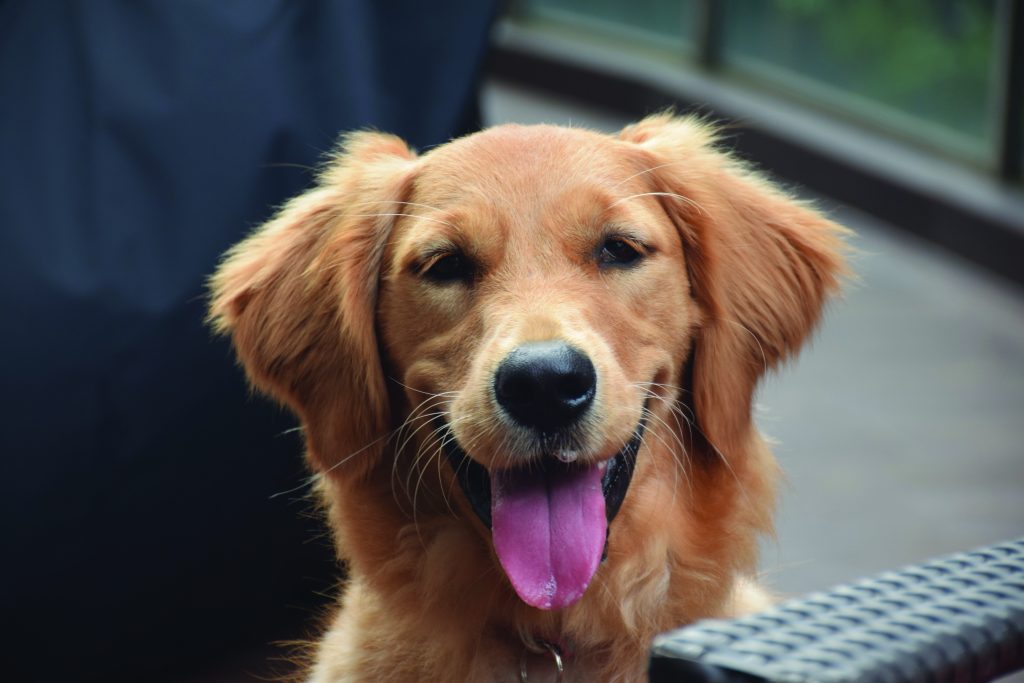 Georgia
Anna Vieusseux & Peter Tasevski, originally from Sydney, are the proud owners of nine-month-old Golden Retriever, Georgia.
"Having lived in Singapore nearly four years, we felt the final thing to feel truly settled in was to have a dog and so we looked for a puppy.
Georgia is incredibly loving and just so delighted to see us. When one of us is on the way back from travelling, we message the other in the ride up in the lift so they can film the welcome show she puts on. She's our shadow, following us about the apartment and is always curious, whether standing guard watching the comings-and-goings of Paterson Road from the balcony or playing Sous Chef in the kitchen.
We did so much reading up before we bought her and started training her from a puppy. Of course, having a dog in condo living is very different from the ease of just having a back yard like in Aus'. She did eight weeks of obedience classes at Sunny Chong, but she was brilliant from the beginning.
She doesn't chew anything! She has her own toy box and she picks out one toy at a time to play with, before selecting another one when she gets bored – but never a pair of shoes or the furniture!
She likes to lick our toes to wake us up, but she knows that it's only when the alarm goes off that it's 'get-up' time when she can have her morning pee and breakfast before we head to the office.
She has three walks a day; mornings and evenings with us and then with our helper – or her nanny – too! We did try to look after Georgia on our own, but our work schedules mean a lot of travel and in the end this worked out as a great option. We also tried out apps like Paw Shake – essentially Tinder for dogs – where you can find people keen to walk them, keep them company and feed etc.
We often go for walks down to the river with her crew like Parker the Mini Schnauzer, Louie the Toy Poodle and fellow Golden Retriever, Nina, where it's great for socialising – them, not us… mostly!
Sadly there aren't lots of dog parks, despite the abundance of greenery in Singapore so we only have a couple of places to take her for a real run. We often go up to the dog run at Bishan and then every fortnight we go to Tanjong Beach Club as she loves the sea. She quickly took to swimming and now just sits in the surf to cool off.
For us, having Georgia has been like Singapore Take Two – it's given our life here a new perspective and we explore the city much more – or at least in a different way – than we previously did. She's such a little celebrity when she goes out anyway, a total princess who likes the attention so there's always people stopping to pet her. She even has an Instagram account – @georgiagoldengirl_sg! Maybe her good looks and media potential could mean a couple of free bags of dog food?!"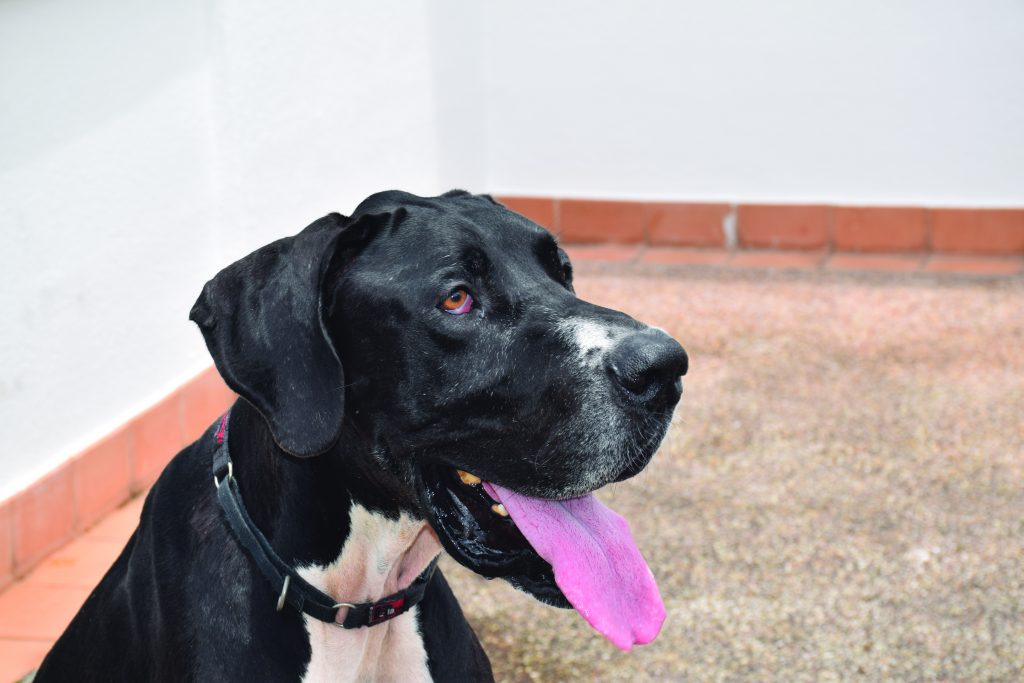 Henry
Melbourne-ites, Ana Carapina & Brett Pickens share their condo with Henry, a three-year-old Great Dane.
"It may be hard to believe, but our previous dog was a Pug. However, a friend of ours from Perth had a Great Dane and said what great condo dogs they are because they sleep so much – Henry packs in a good 18 hours per day – and don't need a great deal of exercise.
Despite his size, he is a total gentle giant who adores people. He loves to sniff, lick and slobber on them; he even forgets that he isn't a lap dog and tries to sit on them. Despite getting a little over-excited at meeting new people, he is incredibly docile with children. When our two nieces come to visit, he lies down and makes sure he is more at their level.
He is like a rockstar in our condo; everyone knows him and comes to say hello (I am completely ignored). Naturally down to his size, people can find him intimidating when we're out and about, but I always explain how gentle he is. We often get two reactions: sheer amazement where photos are requested as they've never seen such a big dog; or they cross the road. Little do they know he would sooner slobber you to death, than act tough. In fact, acting tough is just not something he is capable of as he is terrified of everything. Little dogs, thunder, lightening, geckos, plastic bags, snails, the mop and those green wheelie bins you find back in Australia.
He is very talented and able to remove and open a jar of peanut butter from the counter top and finish it, or unwrap garlic from the foil and devour that… suffice to say, he is now banned from the kitchen. He was also fond of stealing toilet rolls and un-rolling them throughout the entire house; thankfully he has outgrown that now.
His only downsides are the incredible amount of slobber he can produce and how it sticks to everything and that he visibly gets sad when people are afraid of him.
He cost us an absolute fortune to transport to Singapore, but we wouldn't have it any other way. He is a giant goofball who makes us laugh, and his unconditional love is second to none!"