GEMS World Academy (Singapore) organises the Young Technopreneurs Challenge.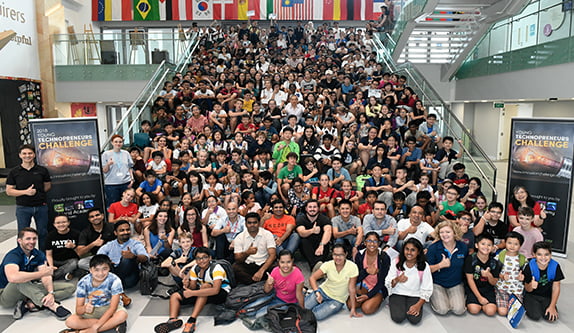 Over 350 students in 150 teams from international and local schools across Singapore presented their innovative ideas on Saturday, 21 April to address issues related to the United Nations Global Goals at the Young Technopreneurs Challenge, organised by GEMS World Academy (Singapore).
In supporting students to take ownership of the world they live in, the Young Technopreneurs Challenge encourages students to develop solutions related to the UN Global Goals.
Over the course of 3 months, students interacted with over 40 industry mentors and experts from companies such as Intel, Paypal and Nike. Together they collaborated on their ideas, developing skills in design thinking, problem solving and entrepreneurialism. By providing expert advice and mentorship, combined with skills development and training, the school hopes to empower students to become problem solvers, innovators and entrepreneurs.
Richard Henry, Head of School, GEMS World Academy (Singapore) said, "At GEMS, we believe that the hallmark of education is in preparing students for the future and being instrumental in making a positive impact on society. Through the Young Technopreneurs Challenge, together with the support from industry mentors, we wanted to create an environment that stimulates students to think beyond their textbooks with a global perspective and to be given an opportunity to turn ideas into creation."
The finalists were recognised by industry judges for their aspirations to change the world, solve major social problems, and push the boundaries of organisations and communities. These finalists competed for the grand prize of return flights and accommodation to the United States of America. In addition to the prize, the competition also offered a $10,000 funding, job shadow and access pass to Slush 2018. Runner-up prizes also include oculus rift headsets, mini-drones, Arduino kits / Micro:bits and Lego Mindstorm.
The Young Technopreneurs Challenge reinforces the four core values at GEMS World Academy (Singapore) which include Global Citizenship, Pursuing Excellence, Growing by Learning and Leading through Innovation. The school's curriculum focuses on real-world applications which combine collaboration, design, entrepreneurship and more.
For more information about GEMS World Academy (Singapore), visit www.gwa.edu.sg.
About GEMS World Academy (Singapore)
GEMS World Academy (Singapore) is an international school with students from over 60 nationalities. Their educators are passionate about helping children get ahead in life by providing quality education and real-world skill training. In collaboration with Junior Achievement (JA), which is one of the largest non-profit organization dedicated to inspiring and preparing young people to succeed in a global economy, they have come together to give children the opportunity to explore their true capabilities.