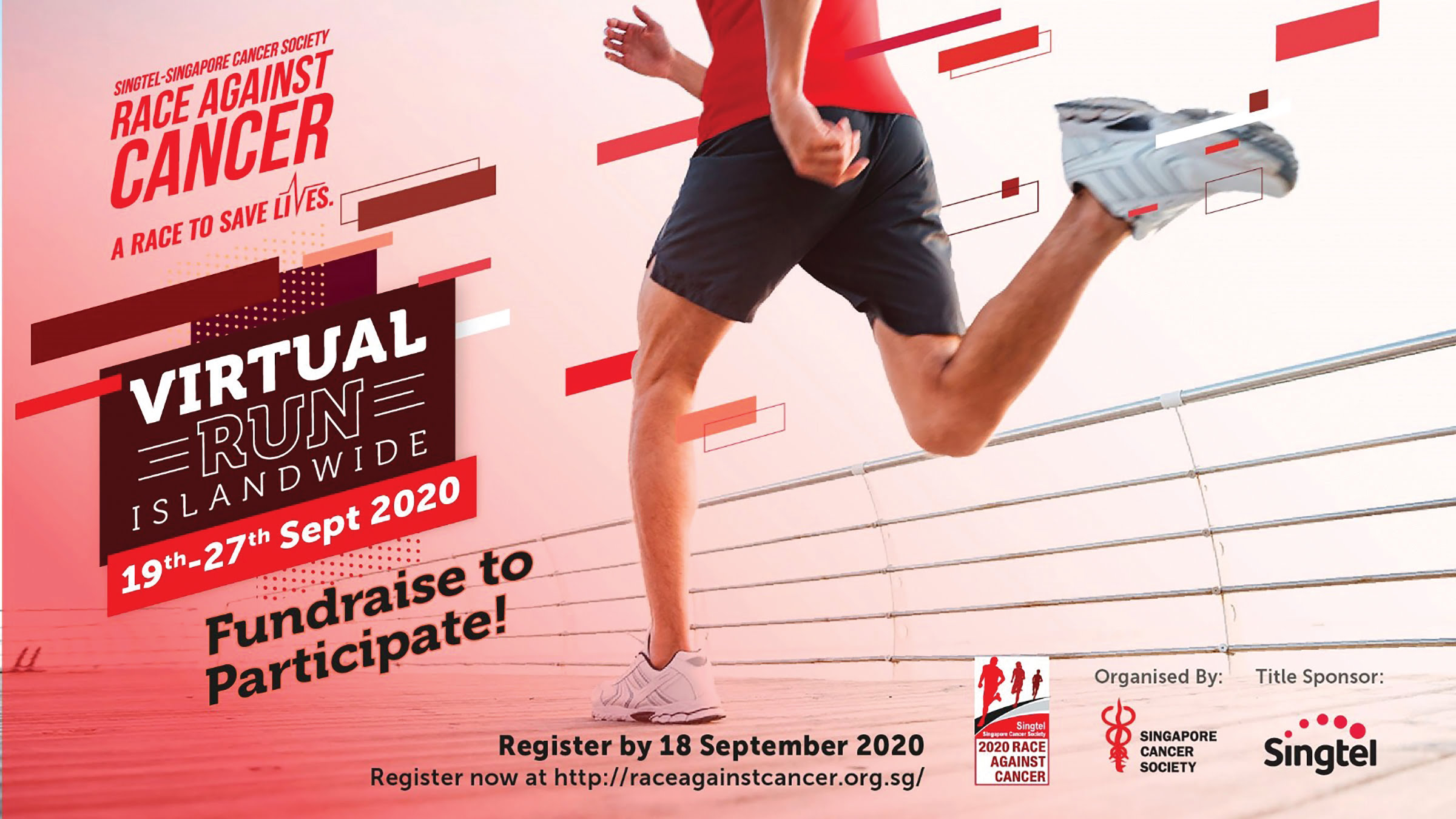 Join the Race Against Cancer
The annual Singtel-Singapore Cancer Society Race Against Cancer (RAC) will be conducted virtually this year. The race will feature 5km and 10km categories, with special 21km and 42km half-marathon and full-marathon categories. Participants must fundraise or donate an amount to complete a certain distance. They can rally their friends and family to support them and win prizes like the Most Creative Route, Best Dressed, Loyal RAC Participant, Best Fundraiser, and Longest Distance.
Participants can run their race distance at their own convenience, within the nine-day race period (19-27 September). Track the distance anywhere in Singapore by using a GPS-enabled app (STRAVA is the preferred app).
Funds raised will help drive SCS's programmes and services such as the SCS Cancer Care Fund, SCS Cancer Rehabilitation Centre, SCS Cancer Treatment Fund, SCS Help the Children and Youth Programme, and the SCS Welfare Aid.
"No one should fight cancer alone – this event invites people from all walks of life to join in the fight and run alongside those who are impacted by cancer," says Mr Ching.
To register go to raceagainstcancer.org.sg
Volunteering Opportunities
SCS's volunteers give their time and talents to help minimise the impact of cancer in Singapore. "They participate in a range of activities that address real needs at every stage of the cancer journey," says Mr Ching. "At the same time, by volunteering, they gain the opportunity to learn and develop a variety of skills, bond with members of their family or community, and make a lasting impact in the lives of others."
There is a wide variety of volunteer positions at SCS including:
Free Transport Services for Cancer Patients
Patients receiving chemotherapy may not be physically able to take public transport. Although SCS provides home-hospital transportation for patients, when the need increases, volunteers with their own vehicles are called upon to ferry patients undergoing chemotherapy to and from the various public hospitals in Singapore.
Distributing Supplies
Patients from low- or middle-income households may experience financial difficulties as treatment costs mount. Besides providing financial assistance, SCS also distributes daily necessities, which are purchased, packed, and delivered by volunteers to beneficiaries' homes.
Sprucing Up Homes
During this period, those impacted by cancer may require assistance in managing their daily chores and errands. Volunteers lend a helping hand by visiting and sprucing up patients' homes to help them maintain a hygienic and attractive living environment.
Knitting Hats
Hats can come in handy when patients lose their hair after chemotherapy. Volunteers learn how to knit hats, which are then distributed to cancer patients in various hospitals across Singapore as a sign of solidarity and support. ANZA Knitters are involved with this programme anza.org.sg/groups/knit-for-love
For volunteering opportunities visit singaporecancersociety.org.sg/get-involved/volunteer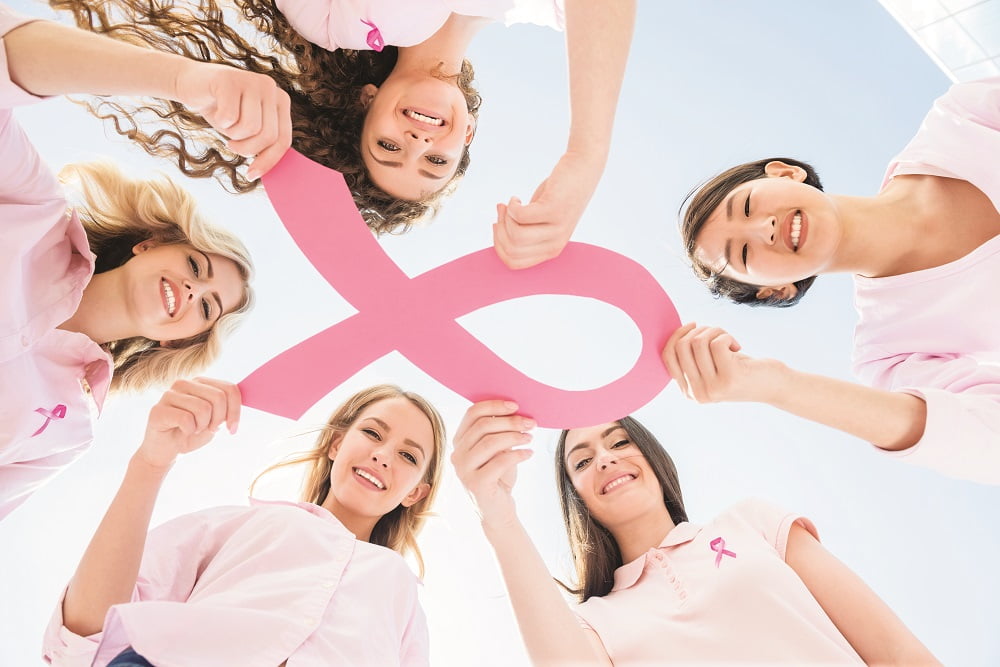 Breast Cancer Awareness Month
October is Breast Cancer Awareness Month, an annual campaign to increase awareness of the disease around the world. The chance of surviving breast cancer increases with early detection, yet only 2 in 5 women are up to date on their mammograms. From the age of 40-49 mammograms are recommended once a year. From 50, mammograms are recommended every two years. Self-exams are also key – with SCS recommending women should look for changes in their breasts from the age of 20, at least once a month.
Changes include:
– A lump that may be felt or seen
– Nipple discharge
– Change in appearance or direction of nipple
– Change in skin texture (i.e puckering or dimpling)
– Rash or crusting
From 1 Oct to 31 Dec 2020, SCS will be providing a $25 funding assistance for eligible women to undergo mammogram screening at participating breast screening centres island-wide. "We encourage everyone to participate and hope that this will empower women to take charge of their health," says Mr Ching. For more info go to singaporecancersociety.org.sg