If you're expecting a baby, it won't be long before you're given advice from friends and family who are eager to share their experiences. Turning to the internet for advice can also be overwhelming, with endless tips on what, when, and how much you need to buy. Fortunately, our friends from Pacific Prime Singapore have compiled a checklist of five essentials you need for your newborn.
1. A crib and baby bedding
Regardless of your planned sleeping arrangements, your baby will need a place to rest. If you're still deciding on the setup, a co-sleeper or bassinet cradle is a good start. You'll likely also have to buy a fire-retardant mattress, along with a quilted mattress pad, crib sheets, waterproof pads, and lightweight blankets.
2. Diapers
With an average of 70 to 90 diaper changes per week to start with, nappies are a must for newborns. While you can choose between cloth and disposable diapers, a changing pad, baby wipes, soft washcloths, and a diaper pail are other diaper-related essentials.
3. Bath supplies
You'll need a baby tub of some sort to bathe your baby. Popular types include sink insert baby bath seats, basin tubs, and convertible tubs. Make sure you're prepared for bathtime with terrycloth bath towels, washcloths, baby soap, baby nail scissors, a comb, and a brush.
4. Feeding equipment
The exact type of equipment you'll need will depend on whether you're breastfeeding your newborn, but you'll need bibs and burp cloths either way. While breastfeeding will require a breast pump and bottles, others will need to purchase formula, a measuring cup, and feeding bottles. A bottle brush, bottle warmer, and dishwasher basket are also highly recommended.
5. Insurance
As the risk of health-related conditions and health costs continue to rise, so does the need for newborn insurance. There are several insurance options for newborns, from standard health insurance to critical illness insurance. While the type of newborn insurance you should select is a personal choice that depends on budget and other factors, discussing your options with an insurance expert is a smart way to ensure your needs are met.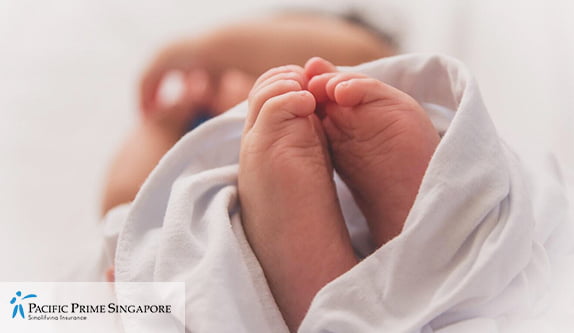 To learn more, check out Pacific Prime Singapore's 2020-2021 Singapore Maternity Insurance Guide. You can also contact Pacific Prime to compare health insurance for babies in Singapore or to receive impartial advice today.