From now until 15 August 2021, 28 of Singapore's best restaurants and bars in Singapore will be presenting innovative new dishes and menus,  so you can indulge in a fun dining experience at home. It's part of the #SAVEFNBSG movement, which started during the pandemic last year.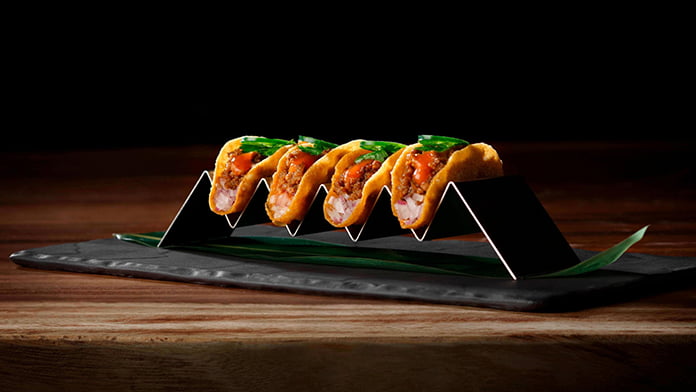 Akira Back Singapore
Indulge in reinvented flavours with modern Japanese restaurant, Akira Back Singapore. The restaurant presents a repertoire of bestselling and signature dishes, available for delivery and takeaway.
What's New:
Two Good to Share Menu, For Two ($137 nett): Stay in for a date night with a 7-course menu, inclusive of bestselling dishes such as AB Mushroom Pizza, Wagyu Tacos, Eggplant Miso, Ji-Dori Chicken, Brother from Another Mother, Crispy Pork Belly and desserts.
ATLAS – A Grand Lobby & Bar
Celebrating the great Art Deco lobbies of Europe and their rich culinary and beverage traditions. What's New:
ATLAS Favourites Bundle ($88+): Look forward to Pork Sausage Rolls, fresh Burrata, Sugar snap Peas, Black Garlic Pistou and a delicious Chocolate Salted Caramel Tart. Also includes a round of cocktails (100ml) such as Pêche Milk Punch, Baroque Pearl and the ATLAS Martini.
Beats Bites & Cocktails
Beats Bites & Cocktails is an Urban Contemporary Lounge focusing on providing the best experience relating to our live DJ's playing vinyl, contemporary classic cocktails and Binchotan wood fired bites.
What's New:
Wagyu Beef Jerky ($88 nett): Aged and made in house from scratch, it is paired with two Old Fashioned cocktails made with their rye spiced blend; and two Brewlander Hoppy Saison beers.
Brasserie Les Saveurs
Offering the finest of French cuisine, Brasserie Les Saveurs is the dining establishment of The St. Regis Singapore.
What's New:
The St. Regis Champagne Brunch ($212 nett for Duo Brunch; $282 nett for Family Set): headlining the St. Regis Brunch is an exciting line-up of chef's specials including Grilled Boston Lobster, Pan Seared Foie Gras and Seared Scallops, choice of sumptuous mains, cheese platter and dessert specials.
The St. Regis Afternoon Tea, For One ($59 nett): relish in freshly baked pastries, a classic three-tier stand of delicate sweets and an impressive selection of savoury canapés.
BTM Mussels & Bar
Inspired by chef and restaurateur Olivier Bendel's experience in being the first to expand and popularise Belgium's 'mussels and fries' restaurant concept throughout France, BTM Mussels & Bar celebrates the flavourful gem of the sea, showcasing its natural sweetness by preparing them in a variety of styles and flavours popular throughout Europe.
What's New:
BTM Famous Mussel Set, For Two ($88+): Select between five signature mussel recipes along with golden french fries, freshly-baked Tartes Flambées and Mousse au Chocolat.
BTM Famous Mussel Set, For Four ($138+): Select between five signature mussel recipes along with golden french fries, freshly-baked Tartes Flambées and Mousse au Chocolat.
Butcher's Block
Butcher's Block is an avant-garde wood-fire dining experience by Chef Jordan Keao, expressing the elemental affinity and finesse of wood-fire cooking. Discover the highest quality of produce translated through fire.
What's New:
Full-blood Australian Tenderloin Wagyu ($133 nett): Complemented with French sandy carrots burned in coals, classic mashed potato elevated with roasted bone marrow, smoked cream and shio kombu.
Luscious Norwegian King Crab Leg ($77.50 nett): Grilled over the fire and finished in butter. Enhanced with a béarnaise sauce made with smoked butter.
Endive ($18.50 nett): Expertly roasted over wood fire and dressed with a delicious herb aioli and crispy almond crumble.
CANCHITA Peruvian Cuisine
CANCHITA is a Peruvian-centric restaurant which celebrates the vibrant traditions, culture and gastronomy of Latin America. Helmed by Head Chef Tamara Chavez, the restaurant showcases a selection of Peruvian delicacies, alongside a beverage programme of Latin American wines and spirits.
What's New:
Ceviche Mixto ($28+): Crowned as the national dish of Peru, ceviches are commonly served at food markets together with fried ingredients. CANCHITA's rendition sees scallop, cooked prawns, and fish (depending on the catch of the day – usually snapper) marinated and served with Peruvian yellow chili (aji amarillo) tiger's milk, and topped with crispy yam chips, crispy calamari, and salsa criolla.
Arroz Con Mariscos ($34+): Typically found in Cevicherias, Arroz Con Mariscos is one of the most popular seafood rice dishes in Peru. Short grain rice is first cooked to a garlic pilaf then added to a sauce prepared with tomatoes, panca chili, and Peruvian yellow chili (aji amarillo). Thereafter, Parmesan cheese, crab butter, oregano, calamari, barramundi, and tiger prawns are added.
Lomo Saltado ($42+): Introduced by the Chinese immigrants who moved to Peru over 120 years ago, Lomo Saltado directly translates to "Jumping Beef", which symbolises the beef tenderloin being tossed in the wok. Beef tenderloin is cooked in a sauce prepared with dark soy sauce, butter, habanero chili sauce, red wine vinegar, onions, and tomatoes, and served with a side of thick potato fries
Cheek Bistro
In a nod to modern Australian restaurant, Cheek by Jowl, CHEEK BISTRO is its cheekier younger sibling by Chef Rishi Naleendra and his wife Manuela Toniolo. It flaunts a more playful personality, whether through its concept or vibe. Small or large sharing plates showcase familiar flavours but in exciting guises, such as with bold flavour combinations or unconventional executions.
What's New:
Cheek Classics, For Two ($128+):
Snacks: Cheese Bread, Comte Cream Cheese, Baby Popcorn, Smoked Miso, Puffled Millet, 2 piece Waffle (choice of Chicken Liver Parfait or Whipped Ricotta)
Two mains: Choice of Great Southern Pinnacle Striploin (180g), Broccolini, Bagna Cauda, Parmesan, or Barramundi (180g); Red Curry, Sakura Ebi, or Butternut Pumpkin, Curry Cashew Nut, Tuscan Kale, Spiced Pumpkin Seeds.
Cheek Favourites, For Two ($88+): o Snacks: Padron Peppers, Marinated Olives o Small & Large Plates: Buttermilk Fried Quail, Sriracha Mayo; Lamb Ribs, Burnt Eggplant Yoghurt; Red Snapper Fish and Chips, Tartar Sauce, Green Peas; Kale, Green Goddess, Hazelnuts.
Cheek Executive Lunch, For One ($42+):
Snacks: Two pieces of Waffles (Chicken Liver Parfait & Whipped Ricotta)
One choice of Main: Red Snapper Fish and Chips, Tartar Sauce, Green Peas or Buttermilk Fried Quail, Chips, Sriracha Mayo or Butternut Pumpkin, Curry Cashew Nut, Tuscan Kale, Spiced Pumpkin Seeds. All mains are served with a side salad of Kale, Green Goddess, Hazelnuts.
Dessert: Blueberry and Almond Crumble.
Colony
Colony presents a culinary journey through Singapore's heritage cuisines showcased across seven open kitchens.
What's New:
Braised Black Vinegar Veal Ossobuco ($38 nett): Executive Chef Massimo Pasquarelli presents a local spin on traditional Italian ossobuco, with a braised black vinegar veal ossobuco cooked in a brand-new Asian cooking tool – the ANAORI Kagugama Carbon Pot, made from a solid block of carbon graphite. The pot's thermal conductivity accelerates the ossobuco's cooking time by half, and its mineral qualities concentrate the natural flavour and juices of the ossobuco. Garnished with deep fried ginger, this dish will feature on Colony's new menu launching on 22 August 2021.
COOP by Neon Pigeon
A virtual brand of Japanese takeouts by The Dandy Collection, COOP offers variety, convenience, and value-for-money through dishes that showcase modern Japanese flavours and quality.
What's New:
Yakiniku Steak Sandwich ($19+): yakiniku beef slices are layered with caramelised onions glazed with tamari and dashi, cheddar, soy butter mushrooms, and crispy shallots, sure to send diners to delicious beefy paradise.
Selection Of Sando Burgers: Pork Katsu ($16+) with tonkatsu; New Zealand Cod Katsu ($16+) with wasabi aioli & tamari onions; Tofu Katsu ($14+) with agedashi sauce and mushrooms; Korean Fried Chicken ($16+) with gochujang, and carrot & cucumber pickles.
Rice & Salad Bowls: Miso Roasted Salmon ($18+), Yakiniku Wagyu Beef ($19+), and Smoked Tofu Katsu ($14+) are available.
Ramen Selection: Crispy Duck Confit ($17+), Sake Smoked Pork ($16+), or Soft Shell Crab ($17+), in a rich paitan broth.
Harry's – Boat Quay
Established in 1992, Harry's is one of the longstanding F&B brands in Singapore today serving over 1 million consumers every year, with more than 20 outlets across the island.
What's New:
Harry's National Day Platter, For Two To Three: ($40 nett): Limited time local inspired sharing platter to celebrate Singapore's 56th National Day. Comes with Prawn Paste Chicken Wings, Deep Fried Mantous with Chili Crab sauce, Chicken Satay and Otah Toasties.
Tiger Orchid Brew (1L draft beer pouch) ($25 nett): A full-flavoured black lager enhanced by the infusion of orchids that boasts light floral notes and a touch of citrus. The draft version of this special brew by Tiger can only be found at Harry's.
Harry's National Day Combo ($56 nett): A combination of the National Day Platter and 1L of Tiger Orchid Brew.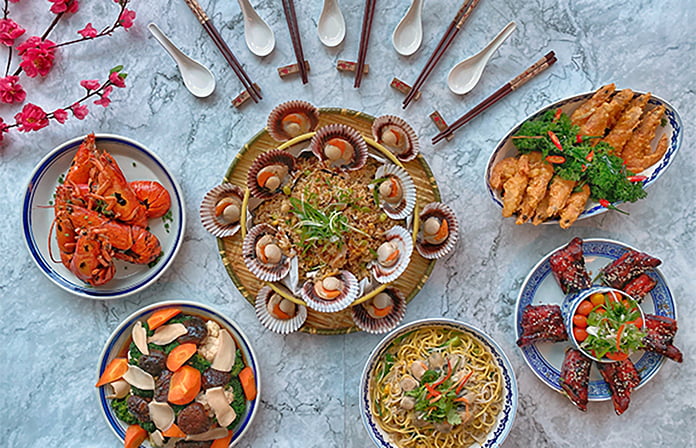 JEN Singapore Orchard Gateway
A vibrant, eclectic all-day-dining restaurant offering local specialties and classic international dishes.
What's New:
Cheesy Indulgence Set Bundle ($135 nett): Look forward to a mouth-watering feast with our Cheesy Indulgence Set Bundle, which includes all-time favourite dishes like Baked Boston Lobster with Garlic Butter & Cheese and Torched Grilled Half Shell Scallop with Mozzarella Cheese Sauce.
Go Local Bundle ($120 nett): Features a spread of delicious local delights which includes Chef's special Oyster Hokkien Mee with Boston Lobster, and Premium XO Sauce Garlic Fried Rice with Seafood and Half Shell Scallop.
East Meets West Set Bundle ($110 nett): Look forward to highlights such as Baked Creamy Sambal Boston Lobster with Cheese, Half Shell Scallop with Ebiko Japanese Mayo, and more!
JEN Tanglin Singapore
Fresh is best. Indulge in chilled, jet-fresh seafood or local signature home-style fare at J65.
What's New:
Enak Set, For Four To Six ($78nett): Savour signature dishes such as Ayam Goreng Berempah, Squid Sambal Petai, Telur Dadar (omelette) with Crabmeat, Onion & Chili, and more.
Tarragon Set, For Four To Six ($148 nett): Look out for favourites suchas Baby Lobster Thermidor, Marinated Lamb Rack with Garlic Sauce, Baked Norwegian Salmon Fillet with Tomato & Basil Coulis, and more.
Pearl Set, For Four To Six ($68 nett): Experience the wok-hei of Chinese cuisines with signatures ranging from Deep-fried Cereal Prawn, to Kung Poh Squid, and Chicken with Ginger, Scallion & Sesame Oil.
L'Entrecôte The Steak & Fries Bistro
At L'Entrecôte, the Steak and Fries Bistro focuses on the season's best steak doused in a legendary sauce, served with crispy, golden fries, and a fresh green salad with mustard dressing and walnuts.
What's New:
Couples and Family Sharing Sets ($138+ For Two; $250+ For Four): A spread of L'Entrecôte signatures, such as the House-Made Foie Gras Terrine, Pâté de Campagne, Trimmed Entrecôte Steak with golden Fries and Green Salad with Walnuts, Mousse au Chocolat and freshly-baked Mousse au Chocolat with Valrhona Pearls.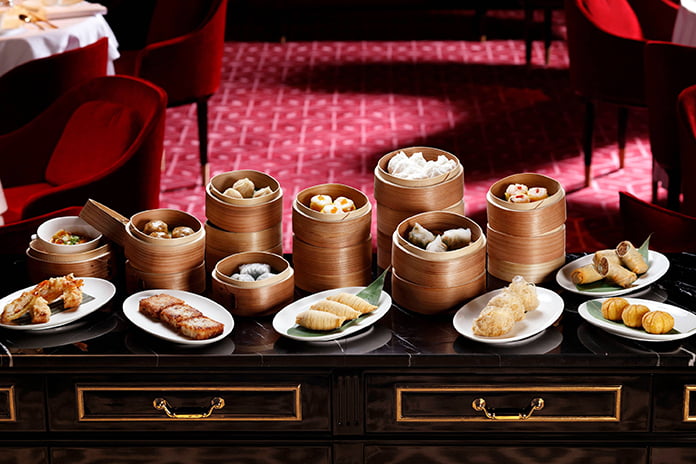 Madame Fan
Featuring bold and playful takes on traditional dishes, expect authentic, classic Cantonese cuisine executed with a modern finesse. Discover a new era of Chinese dining with cocktail pairing.
What's New:
Drink Sum Experience ($108 nett): A takeaway bundle of five dim sums and three bar to bottled cocktails. For the month of August, in celebration with National Day, enjoy dim sum with a local twist from Chicken Rice and Chilli Crab.
Miss Vanda by Labyrinth
Miss Vanda by Labyrinth was meant to be Restaurant Labyrinth's expansion into the casual Singaporean food space this year. Given the current climate, the restaurant was instead launched online, to feed guests at home.
What's New:
Sweet & Sour Pork Donburi ($18 nett): A Hainanese-western classic. Breaded in classic biscuit crumbs and deep-fried, the juicy Sakura Pork Collar is served with homemade Sweet and Sour Pineapple and Hawthorn Sauce and Edamame Peas with Scrambled Eggs and Rice.
Boneless Crispy Har Cheong Chicken Wings (2 whole wings) ($12.50 nett): Boneless Har Cheong Chicken Wings marinated for 24 hours with artisanal Har Cheong.
Cairnhill Steakhouse "Hainanese Style" 48hrs Wagyu Shortrib (200gms) ($48 nett): A tribute to Chef Han's late ah gong, who owned and operated the iconic Cairnhill Steakhouse, one of the first Hainanese steakhouses in Singapore. Premium steak accompanied by onions two-way, confit baby carrots and long beans, buttery mash potatoes and Hainanese red wine pepper sauce.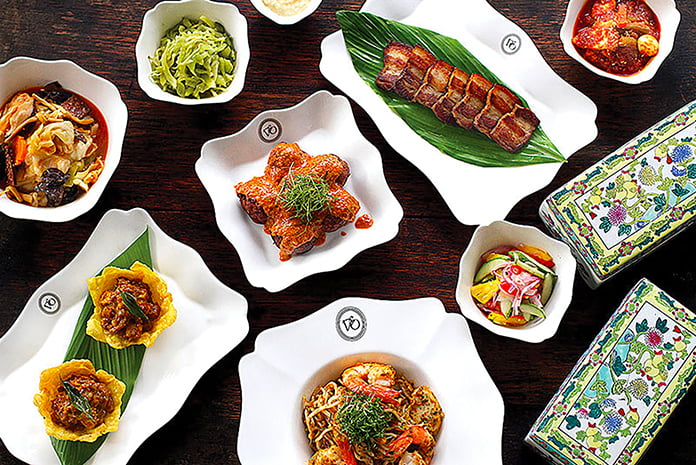 National Kitchen by Violet Oon Singapore
Celebrate Singapore's fine flavours at the National Kitchen by Violet Oon Singapore, in the iconic historical City Hall building now home to the National Gallery.
What's New:
Duet Set, For Two ($58+): Featuring a selection of 10 flavourful signature dishes for a delightful feast at home. Tuck into perennial crowd favourites like the fork-tender Beef Rendang, Ikan Goreng Chilli with a house-made garlic chill rempah and perfectly fried Sambal Eggplant, before ending on a sweet note with Kueh Beng Kah drizzled with coconut milk and gula melaka. ⁠ ⁠
Plant-based Petit Feast, For Four ($128+): The rich treasure trove of nature inspires a Plant Based Petit Feast where vegetables, herbs and spices create a culinary symphony of flavours and textures. Lemon grass, blue ginger, turmeric, kaffir lime, chillies, cinnamon and cloves lift the flavours in the menu to provide a lip-smacking feast.
Family Feast Menu, For Four ($128+): Tradition takes centre stage with this Petit Feast menu with grandma's favourites reprising in the refreshing salad of winged bean and browned coconut flakes in Kerabu Kacang Botol. It continues with a young jackfruit and chicken in a coconut spiced gravy, and Butter Fish with egg floss.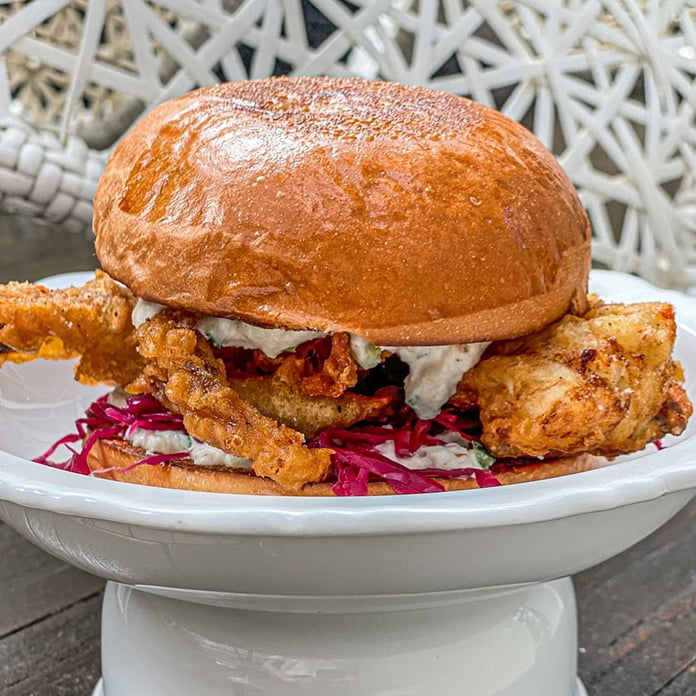 Open Farm Community
An impassioned restaurant hidden from the world in a little urban garden in the big city. The restaurant supports a large network of local and Southeast Asian organic growers, herders, food fanatics and general busybodies who are in the business of bringing culture back into agriculture. For the Feastival, Open Farm Community is working with Crab Lovers, a Singapore-based soft shell crab farm.
What's New:
Soft Shell Crab Sando ($30+): Whole Fried Crab, Crab Mayo, Pickled Red Cabbage and Fresh Cucumber on a Brioche Bun.
Crab Fries ($18+): Curly Fries Topped with a Load of Picked Crab, Smoked Chilli Yoghurt, Chives and Salmon Roe.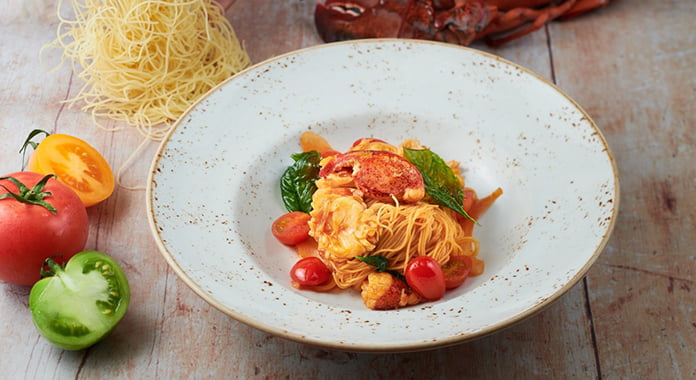 Prego
Experience the well-loved tastes of classic Italy, and a luscious ensemble of new signatures bursting with familiar Italian flavours.
What's New:
"Capelli D'Angelo" All'Astice ($27.82 nett): Angel hair spaghetti married with Maine Lobster, San Marzano tomatoes, parsley and chilli.
Prego Pizza ($25.68 nett): Ham, Mushroom, Tomato, Mozzarella, Cream, Parmesan
Rustica Pizza ($27.82 nett): House-Made Sausage, Pepperoni, Mushroom, Onion, Capsicum, Tomato, Mozzarella
Super Firangi
The Dandy Collection's delivery-friendly modern Indian comfort food of Super Firangi Rolls and Bowls, available from 26 July to 18 August. Expect a delicious selection of chutneys & snacks, Kathi Rolls, Biryani Bowls, and sweets.
What's New:
Bites Menu: Vegetable Pakora ($12+) with coriander & mint chutney; Samosas ($10+) of smoky beef or potato masala with mint raita; Dahi Vada ($12+), lentil fritters with tamarind sauce and curry leaf yogurt; Dhal Tadka ($12+) and Papads & Chutney ($10+).
Kathi Roll (from $18+) or Biryani Bowl (from $21+): Featuring charcoal smoked basmati rice. Vegetarian options include Baingan Bharta, grilled eggplants and Chana Masala. From the tandoor comes Malabar Grilled Snapper, Lamb Tikka and Fried Butter Chicken.
Desserts: Chocolate Gulab Jamun ($12+), gulab jamun balls filled with chocolate mousse, and served with rose crème patisserie, pistachio, and cardamom crumble; Mango Mousse Cake ($12+), a textured dessert of kesari, cream cheese, Alphonso mango, Alphonso Tea gel, raisins, puffed rice, and cashews.
The Bravery
The Bravery is a Muslim-owned establishment serving Allpress coffee and a whole day menu in the bustling Amoy Street area.
What's New:
Homemade Herbed Oven Baked Whole Chicken ($42 nett): Served with mushroom stuffing, sits atop a bed of roasted summer vegetables and potatoes. Perfect for the whole family to enjoy.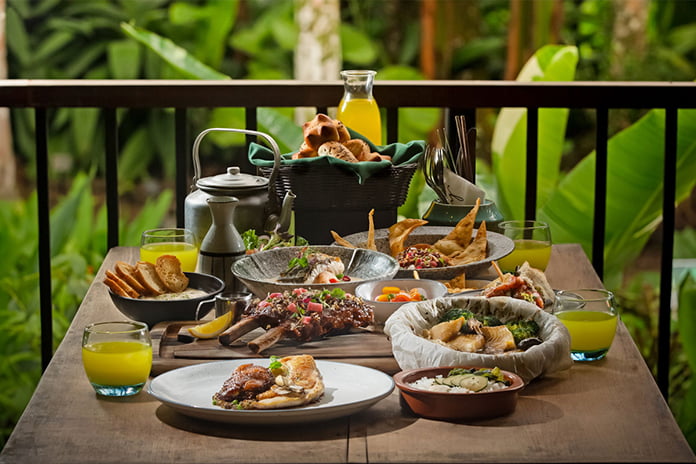 The Halia at Singapore Botanic Gardens
Nestled in Singapore's only UNESCO Heritage Site, Halia, which means "ginger" in Malay, has been serving up European cuisine with Asian influence since its opening in 2000. The restaurant was also recently certified halal, welcoming all Singaporeans to dine at the restaurant.
What's New:
48-hour Slow-cooked Beef Cheek (9+ mbs) ($44+): Originating from Australia, Blackmore Wagyu steaks are 100% full-blood Wagyu. Halia presents this halal-certified Wagyu in a 48-hour Slow-cooked Beef Cheek (9+ mbs). The beef cheek is cooked in its owned jus and served with pan-roasted heirloom beets, mash potato, asparagus and herb salad.
The Lounge at Riviera
Casual Mediterranean fare for sharing. Guests may wind down, relax and enjoy a casual meal of Mediterranean signatures for sharing at The Lounge at Riviera, along with wine from across the Mediterranean (including Lebanon and Greece) or creative cocktails. The Lounge at Riviera is the perfect location for fruitful business lunches, relaxed gatherings and unforgettable romantic evenings.
What's New:
Riviera's Mediterranean Feast ($158+ For Two; $288+ For Four): House-Made Hummus, Tarama, House-Baked Bread, Lamb Croquettes, traditional Moroccan Tajines Makfoul with Couscous and Riviera Dessert of the Day.
The Old Man Singapore
Helmed by Managing Partner Andrew Yap, The Old Man Singapore pays homage to Ernest Hemingway's Pulitzer Prize-winning fictional work, The Old Man and the Sea. In the spirit of Hemingway's ingenuity, each cocktail is an experimental concoction exuding a distinctly Asian touch, combined with culinary techniques to enhance classic recipes.
What's New:
#1917 ($42 nett): This bottled cocktail harkens back to Hemingway's time with the Red Cross spent among soldiers in easy camaraderie drinking whisky and beer. Monkey Shoulder whiskey infused with cheese wax, hydrated sous vide fungi and honey brine.
#1940 ($42 nett): Inspired by Hemingway's third wife, Martha Gellhorn, one of the great war correspondents of the 20th century. Mitcher's Sour Mash, sous vide ficus carica, and chocolate wine.
#1952 ($42 nett): Inspired by the pivotal year during which Hemingway wrote the draft for The Old Man and the sea in eight weeks. Casa Elemental reposado tequila, sous vide capsicum distillate, and Cointreau.
Tiffin Room
A part of Raffles Hotel Singapore's history since 1892, Tiffin Room continues to serve delectable North Indian cuisine. Savour authentic specialties presented by Chef Kuldeep Negi and served in iconic tiffin boxes. Experience interactive dining with tableside service by chefs, complete with freshly ground spices to enhance the occasion.
What's New:
Curated Menu, For Two ($86 nett): Featuring signature North Indian delights, such as Prawn Biryani; Bhuna Lamb Masala, tender lamb cooked with cumin in an onion and tomato sauce; and Tiffin Dal Makhani, creamy black lentils curry with tomato puree, ghee and spices; complemented with freshly-baked naans from the tandoor.
North Indian Dining Experience, For Four ($113 nett): Includes signatures like Murgh Makhani, corn-fed boneless chicken leg in tomato and cashew nut gravy; Punjabi Macchi Curry, seabass cooked with carom seeds, garlic and spices; and Prawn Biryani complemented with freshly-baked naans from the tandoor.
Vegetarian North Indian Dining Experience, For Four ($81 nett): Includes Paneer Angara Tikka; Baigan Nu Bharta, roasted aubergine spiced with cumin, garlic and onions; Tiffin Dal Makhani, black lentils curry with tomato puree, ghee and spices; and Vegetable Biryani complemented with freshly-baked naans from the tandoor.
藝 yì by Jereme Leu
Alluding to the fine art of Chinese dining, 藝 yì presents MasterChef Jereme Leung's artistic adaptations of provincial cuisine from across China with a contemporary approach, delivering refinement and sincerity.
What's New:
Curated Dining Experience, For Two ($105 nett): Featuring MasterChef Jereme Leung's culinary creations like Plum-Pickled Tomatoes with Crunchy Turnip & Sweet Vinegar, Crispy Prawns with Salted Egg Yolk, Sichuan Style Chicken with Peanut & Sesame Chili Dressing, and Chef Leung's Yangzhou Fried Rice.
Set Meal, For Four ($201.50 nett): Featuring MasterChef Jereme Leung's culinary creations like Barbecue Iberico Pork Char Siew with Roasted Pineapple; Tiger Prawns with Fiery Chili Pickled Sauce; Braised Beef Cheeks, Tendon and Oxtail with Sorghum Grains & Wine; and Wok-Fried Mee Sua with Seafood.
Ultimate Feast, For Six ($308.50 nett): Savour the ultimate feast for 6 persons showcasing MasterChef Jereme Leung's culinary delights like Honey-soy Smoked Mackerel with Savoury Pickled Cabbage, Barbecue Iberico Pork Char Siew with Roasted Pineapple, Hot and Sour Soup with Shredded Seafood, Crispy Prawns with Salted Egg Yolk, and Chef Leung's Yangzhou Fried Rice.
Yan Ting
Yan Ting, the St. Regis Singapore's signature Chinese restaurant, showcases exquisite yet hearty Cantonese fine dining that will allure palates to satisfy even the most discerning gastronomes. The restaurant presents cuisine that is faithful to the traditional cooking techniques of Cantonese cuisine, characterised by the immense diversity of ingredients used and the philosophy of bringing out the natural flavours of the freshest ingredients.
What's New:
5-course Set Menu, For One ($68 nett): Cantonese Classic Roast Trio of Soya Sauce Chicken, Honey Glazed Barbecued Pork followed by a hearty bowl of Double-boiled Bamboo Fungus Consommé, Three Treasures. The set also comes with Wok-fried Singapore Style Chili Prawns, Braised Mini Abalone & Spinach Beancurd, Seafood Fried Rice and Chinese Olives.
W Singapore – Sentosa Cove
Enjoy contemporary sophistication and live it up on tropical island paradise amidst the lush greenery and lively coastal setting of Sentosa.
What's New:
"All-star" Menu ($95+ per set): This menu brings the very best from W Singapore – Sentosa Cove's culinary masters. The 3-course menu showcases of signatures from The Kitchen Table and SKIRT, and includes the TKT Super Salad, followed by an Iberico Pork Tomahawk, fired to perfection on our parrilla grill. The meal ends with a Chestnut Hazelnut Streusel Tart.
Order on Chope here