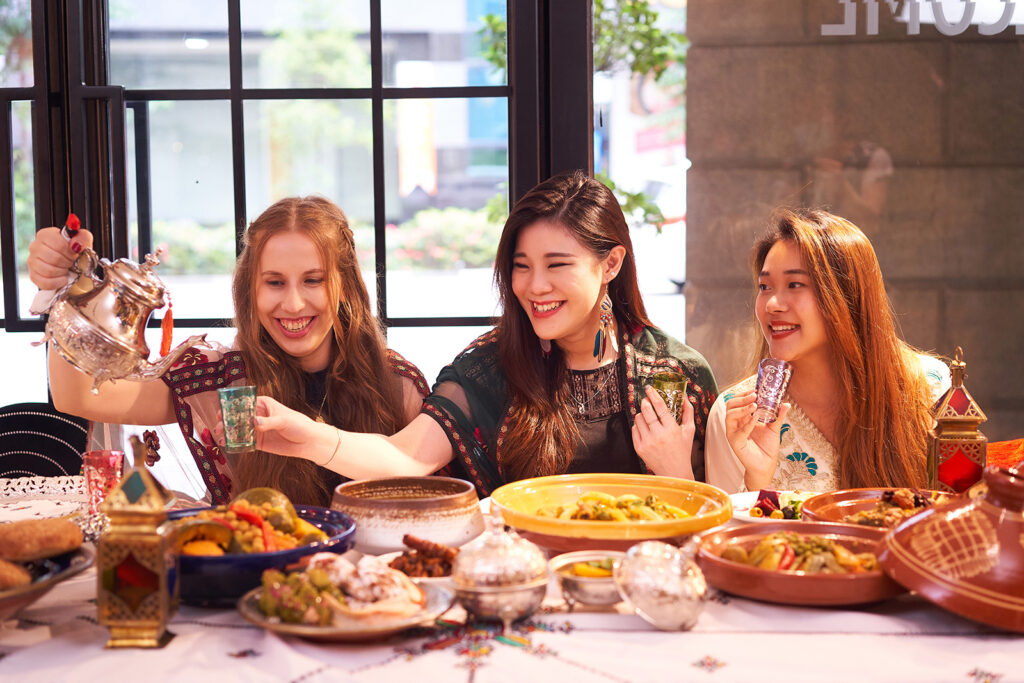 From 16 to 30 September, SO/Singapore's Xperience restaurant offers a glimpse of the kaleidoscopic beauty of Morocco. Its inviting dining area is filled with traditional colours, wares, goods, and the wonderful scents of Morocco's vibrant cuisine; there are two set-menus available: lunch (58++) and dinner (78++).
We previewed the dinner set-menu, enjoying a delicious assortment of dishes expertly highlighting the use of Middle Eastern and Mediterranean herbs and spices.
The meal started with the traditional Moroccan Salad, not a salad in the traditional sense, but a spread of small sharing dishes. Chef Sefia presented Taktouta – a delicious combination of bell peppers and tomatoes, slowly cooked with spices and herbs; Zaalouk, a bold dish of eggplant, tomatoes, garlic, olive oil and more wonderful spices; Foul Mcharmel, a tasty and spicy dish of fava beans; Barba Mcharmela, a zesty combination of beetroot and spices; Moroccan marinated olives – meaty olives spiced with harissa and a plate of fluffy Khobz, the staple flat bread of Morocco.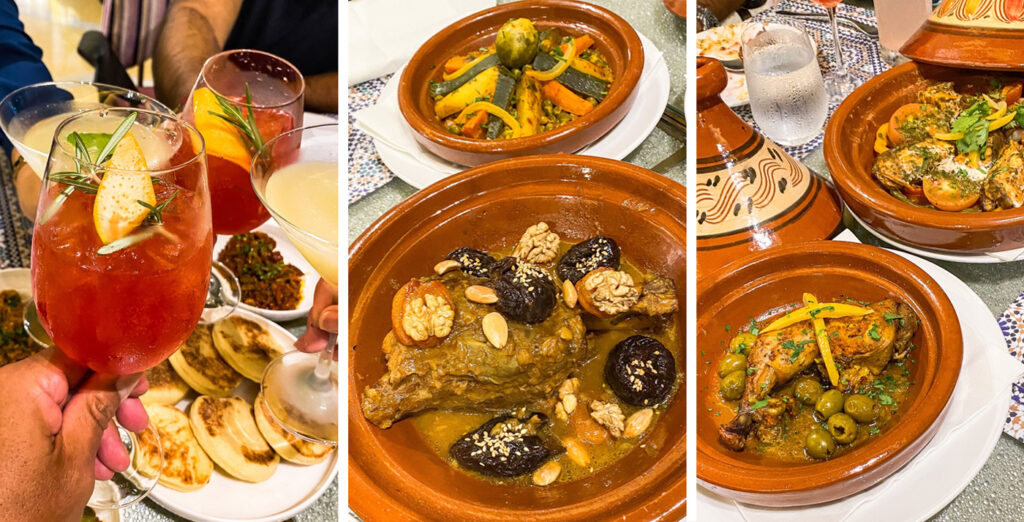 These scrumptious starters were followed by a bowl of Harira, a traditional soup prepared with lamb, chickpeas, lentils, and fresh herbs. Harira is an icon of Moroccan cuisine and is eaten all year around, especially during the holy month of Ramadan. Everyone at the table agreed this version was an all-around winner.
With the feast of flavours and aromas in full swing, we were served three different tajines, each one rich and distinct. Tajine Alhudar – perfectly cooked marinated Moroccan vegetables. Alhut Mcharmel – a delicious seabass and vegetable stew. Aldajaj Mqali – wonderfully aromatic chicken slowly braised with preserved lemons, spices and olives. And Allahm Bel Barquo – buttery tender lamb shank, simmered "long and slow" and combined with spices, prunes, apricots, almonds, and walnuts. This iconic sweet-savoury tajine is the quintessential example of the vibrancy and sophistication of Moroccan gastronomy.
We finished this delicious meal with a round of traditional Moroccan sweets. Kaab Ghzal – a crescent shape biscuit filled with almond paste, Ghoribat al jawz – a rich and chewy walnut biscuit, and Halwat Al Fustuq – a buttery pistachio biscuit.
This fun dining experience had our tastebuds dancing with the fragrant flavours that Moroccan cuisine is famous for.
VERDICT: In food-obsessed Singapore, chef Safia Aboutikab and Chef Hong Ding Zhao have put together a gastronomical experience reminiscent of a Moroccan "diffa"– feast. At a time when our passports are collecting dust, this collaboration takes diners around the world to honour Morocco's vibrant, exotic and sophisticated flavours.