SKAI  x Maison 21G Workshop 
SKAI, Level 70, Swissôtel The Stamford,178882
+65 6431 6156
skai.sg
We all know that the best things happen in pairs right now, so we were excited to hear that the swish SKAI Restaurant, located on the 70th floor of Swissôtel The Stamford, has partnered with luxury perfumery Maison 21G to bring scent and taste together in one unique and interactive experience. Nowhere else on the island does the very best of French bespoke perfume meet Japanese-inspired high tea, so we prepped for an exquisite few hours at the SKAI High Tea x Maison 21G Workshop.
The Maison 21G perfume workshop
The workshop begins with your nose, and is led by an expert perfume curator. First off, we answered an online quiz to identify our individual scent personality. Mine was the 'Social Influencer', a mix of Jazzy Jasmine and Ocean Odyssey (amazing because I really do have a soft spot for fresh floral scents!).
After mixing up the signature ingredients and having several sniffs of the other 35 decadent essences available to us, I added a splash of ginger to my bottle, the result of which was a phenomenal uniquely mix that was me! We were told that there are no wrong combinations in these workshops, and as each of the essences were 100% cruelty-free, and free of preservatives, GMOs, CMR substances or phthalates, they are kind to your skin and the planet too. 
The perfect scent can empower and uplift you says Maison 21G's founder Johanna Monange:
"Your signature perfume is so much more than a mere accessory. It is a true extension of your personality, a tool of seduction and confidence throughout key moments of your life, and the essence of your soul, said to weigh exactly 21 grams. As such, I believe that the scent of your soul should be unique as you are!"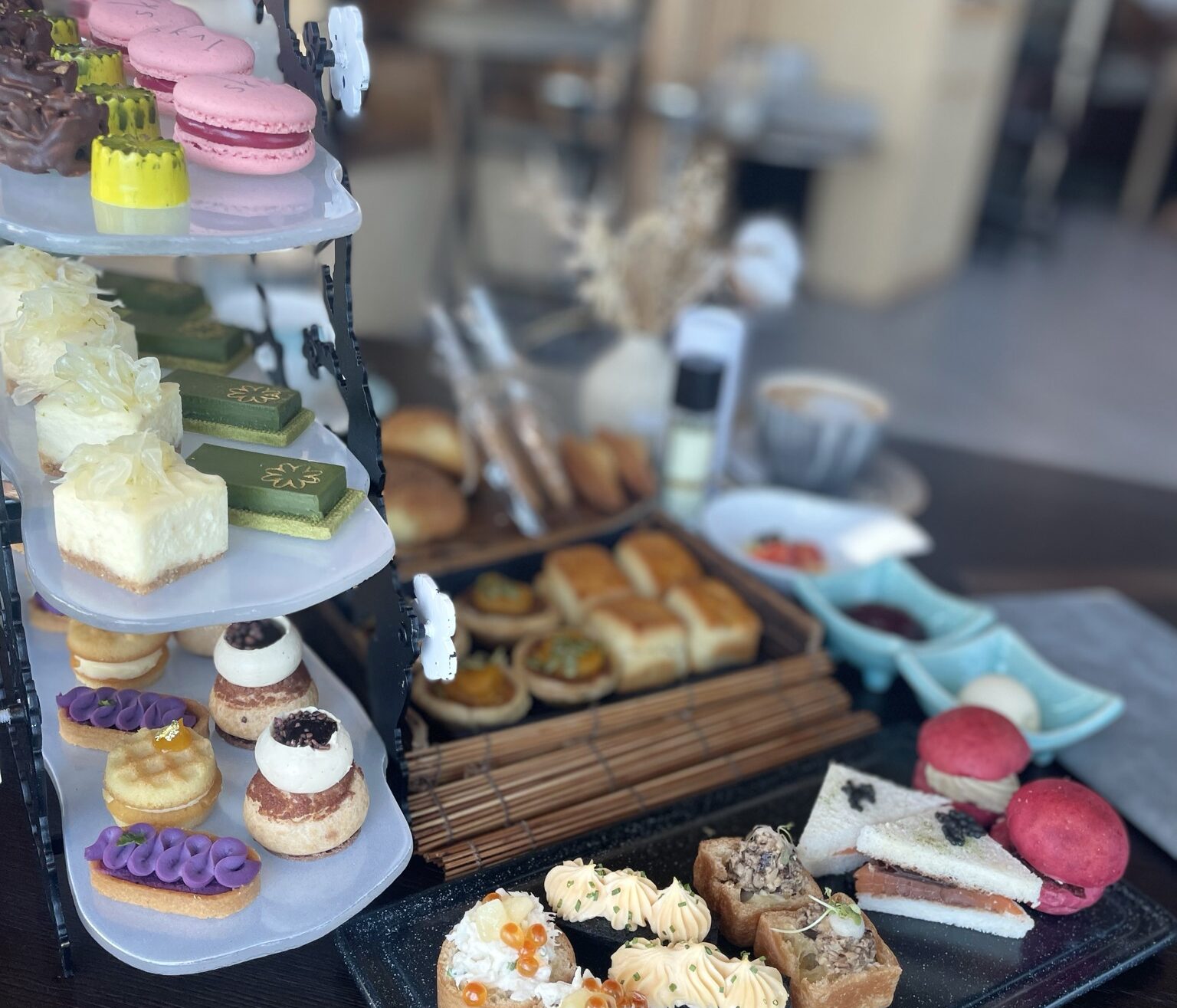 SKAI High Tea
Post-workshop, it was time to put another of our five senses to task: this time, our tastebuds. The elegant high tea at SKAI Restaurant takes place on level 70 of Swissôtel The Stamford and offers spectacular views of the Singapore skyline.
Smelling divine, we were presented with a selection of both traditional and Japanese inspired treats courtesy of the creative hands of Executive Pastry Chef Ming Choong and Executive Chef Paul Hallett's passion for fresh robust flavours.
Every morsel tasted as good as it looked with delicate sweet and savoury items such as crab crème fraiche (my favourite), ikura and pickled apple, and foie gras with shiso and beet buns. Traditional offerings such as eclairs, scones, tarts, mini sandwiches and macaroons were paired with coffee and teas curated by TWG tea specialists.
If you're looking for something special to do with your friend or significant other, book your own SKAI High Tea x Maison 21G Workshop here.
Cost: $178++ per person (with an optional free flow added on)
Time: 3pm–6pm Sunday to Friday