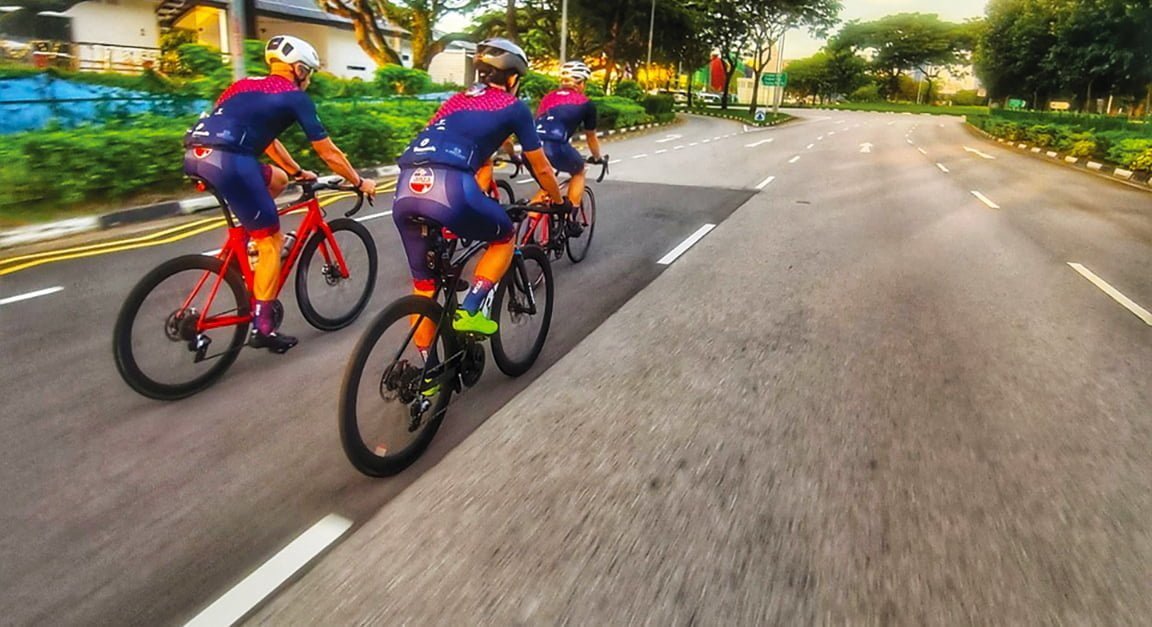 As a keen cyclist, it was the perfect time for Jock Hughson to arrive in Singapore in early 2019 when he could enjoy a year of training and racing with ANZA before Covid struck. Previously, he'd been working in Amsterdam and Qatar where he enjoyed training and road racing in both locations. "I'm an engineer and have moved between plant and office roles," Jock says. "In my experience, it's always possible to fit in cycling, you just need to be motivated and creative."
Jock is an Aussie who has been away from Australia since 2006. He admits that he was starting to really miss home when he landed in Singapore and found ANZA a great place to hear some Aussie accents! "I've met many friends for life on the bike and I'm looking forward to more adventures one day during the regional races in Thailand and Indonesia," he says.
It's his love of racing coupled with the sense of community that prompted Jock to seek a position on the ANZA Cycling Committee. As the new Cycling Committee Road Director, he sees great potential in developing the local racing scene and to this end, hopes to work in conjunction with the Singapore Cycling Federation (SCF) to make the cycling scene a little more available as well as affordable. 
As for his own personal cycling moment so far, Jock says, "That is a tough one, but what I really like is riding with and against good riders. In Qatar I got to ride with a shop team in the Tour of al Zubarah for three seasons and survived. I really like the emotional journey of training that culminates in a race – a combination of work-fear-exhilaration-relief!"
We're sure there'll be more of that to come in Singapore and wish him all the best in this new role.

Introducing our new ANZA Cycling Commitee Road Director, Jock Hughson
Wins, adrenaline & more fun than the home gym!
What went down at the Singapore Cycling Federation's TTT.
by Jock Hughson
JJ Hansell, Nicole Rondy, Mel Speet and Christina Tubb teamed up for the Women's Masters Quad and performed out of their skins to lock in first place. JJ and Christina shared, "After the nerves on the start line, we couldn't believe we were actually doing it. It was fantastic to see the team training kick in. There were great performances from Nicole who punched up the pace to ensure we were the first team into the third U-turn, JJ, who did a monster pull that avoided us getting boxed in on the final stretch, and Mel who welded us all together throughout the race. We finished with a sprint across the line with our friends at the SWTC, before sharing some celebratory bubbly at the end."
The Women's Open Quad was taken out by the incredibly strong team of Ewa Mejia, Angie Turner, Lucy White and Andrea Trindler. Competing in her inaugural race, Ewa commented, "I took up cycling earlier this year as an escape from a boring routine of home gym workouts. Being relatively new to the sport I was nervous before the event, but my three amazing, powerful, and ultra-fit teammates helped me overcome my nerves and made it all about teamwork." 
She continues, "The excitement and adrenaline made my heart rate jump up as soon as we were out the gate, but we settled into our formation quickly, ready to go flat out and smash it! We finished the first 5km southbound segment and approached the dreaded enemy – the first U-turn. My bike handling skills are still a work in progress, so we'd done lots of cornering in preparation. It paid off! Smooth in, steady out, we emerged tight from the turn to steamroll northbound. Midway through the segment, we caught up with our competitors, a group of strong triathletes called 'Steel Paac' who cheered as we overtook. The camaraderie and support was sensational. As we crossed the finish line we were over the moon to learn we placed first."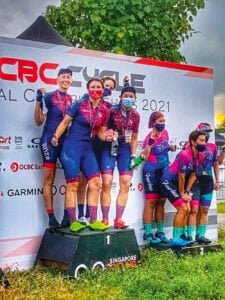 Cheering supporters
Katie Martin and Gillian Parker pulled together a last minute entry for the Women's Open Duo event and locked in second position. Gillian shared, "Despite spending plenty of time in the saddle, neither of us had raced before. Fellow ANZA member, Marco Mejia chaperoned one practice to help us cram for this, our maiden race, with a little tidying-up of rotations and pull-times and practising the much-dreaded U-turns. 
Nerves had taken hold by race day, and when the other teams turned up with their complicated-looking bicycles, we were properly afraid. As we hit the tarmac, we managed to relax and maintained a consistent speed over the next two laps. Some cheering supporters from the ANZA squad saw us over the line. We knew we were guaranteed a podium finish with only three teams competing, but were absolutely delighted to come in second, right on the heels of the winning team."
Solid and disciplined
The last ANZA team to hit the pavement was the Men's Masters, made up of Jock Hughson, Matt Bedard, Sander Mutsaers and Janus Dalsgaard. It was a tough job ahead. Our category was strong and fully subscribed with many of the other teams competing furnished with heavy TT artillery.
The nerves of the TTT reached their peak just before the start in the final seconds, but the boys rode a very solid but disciplined first leg with short 35 second turns at high intensity and headed straight into the back. We hadn't practiced the end turns but we carried good speed into the U-turn, formed no gaps and were straight back into line. The tailwind leg was nice, we kept it above 50kmph and could see some of the teams ahead that we started to reel in.
The second half was tricky. Kudos to Janus and Matt who were pulling stronger on the day. The third leg into the headwind was difficult and we could see others were suffering from the heat. We finished in fourth place, in a tough field where the first three were all on TT bikes while we were on road bikes. Now we're looking forward to next year!
There was also some great work by ANZA members Francois Balland and Steve Robinson who represented Allied World Racing in the Men's Open Duo with an incredibly dominating performance.
Congratulations to everyone who participated, doing both their club and our sponsors proud.