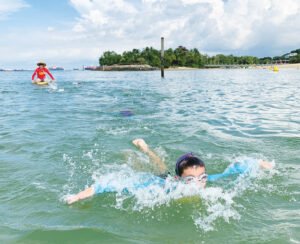 It's in our Australasian blood to spend the festivities by the beach. As much as backyard barbecues, pavlova and Carols by Candlelight are synonymous with the silly season, so too is time on the sand. There's literally no better place to spend the well-deserved end of year break than with family and friends beside gorgeous beaches and ocean water. However, as the fine food takes hold, your togs get tighter, and the Christmas cheer grows cheerier, make sure you always follow these safety rules.
Hydrate (& hydrate)
Heat stroke and sunburn are no joke. If you plan on staying out all day, make sure you're prepared. Bring a tent to keep the kids in the shade, wear a hat and a rashie (or t-shirt), and use a broad-spectrum and water-resistant sunscreen with minimum SPF30. It's also recommended to wear sunglasses to protect your eyes from ultraviolet (UV) light and prevent the risk of cataracts or other eye damage.
The only thing we want sizzling are the shrimps on the barbie and not the soles of your feet, so make sure you wear thongs when negotiating the hot sand. (Otherwise, you might end up doing the infamous tiptoeing-to-the-waters-edge-dance).
Also, bring water down to the beach in a large bottle that can be refilled. Many beaches have water fountains near the showers/changing rooms.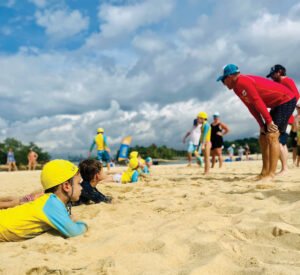 Swim between the flags
When the beach is patrolled, the safest place for a swim is of course right in front of the lifeguards – you'll spot them either in a tower or a sun tent. In Australia and New Zealand, it's safest to swim between the red and yellow flags. In Singapore, there are usually lifeguard towers on either end of the beach. As for unpatrolled beaches, don't go swimming by yourself or venture out too far from shore. It helps to have a good understanding of the potential dangers and to be able to recognise rip currents.
Know the dangers
Rip currents (or rips) are water currents that flow away from the shoreline toward the ocean very fast. They're a common hazard on most Australian beaches, with many people losing their lives to them. Keep your eyes peeled for these signs:
Deeper, dark coloured water with fewer or no breaking waves
Discoloured brown water and foam on the surface beyond the breaking waves
Rippled water and debris floating out to sea
If you get caught in a rip and feel yourself being pulled away from the shore, stay calm and turn on your back to float with the rip. Raise one arm, call out and signal for help.
Never swim against the rip; instead swim parallel to the shore or towards the breaking waves and let them carry you back to safety.
Beware marine life
While this doesn't apply to Singapore so much, Oz has a reputation for being home to the deadliest animals in the world – some of which live in the ocean. If your Christmas dips are taking place in the waters of Western and Northern Australia, take heed: if you get stung by tropical stingers, call emergency services or see the lifeguards immediately. If available, apply vinegar to the sting – some beaches have a little box with a bottle near the entrance.
Adhere to warning signs

Beachy issues to be aware of include rip currents, big swell, shallow sandbanks and marine animals. Signs at the entrance to the beach will indicate any potential danger happening that day. When any of these signs are up, swim with caution. Here are some important warning signs to familiarise yourself with: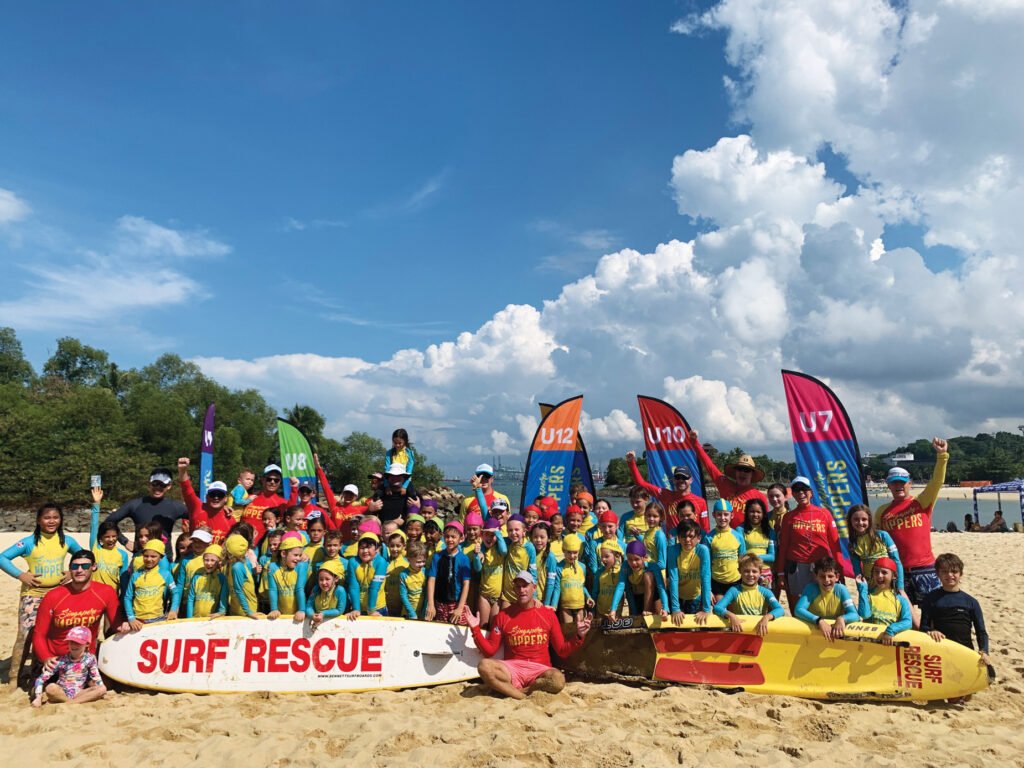 See you in 2023!
A big shout out to all our volunteers who went above and beyond for our ANZA Nippers throughout 2022. From our age managers and assistants, to doting parents and those. working tirelessly behind the scenes, thank you for your smiles and for bringing joy to the beach each week.
The past year has been nothing short of extraordinary for ANZA Nippers. We were able to increase group sizes once the restrictions ended, we had more children than ever keen to join the community, and we were able to organise the club's infamous barbecues and family events. Just like many of the things we missed during the pandemic, they taste that much sweeter now. We wish everyone at ANZA and the Nippers community a wonderful holiday season. Stay safe!
For press and media enquiries contact Kat at sgnipperscomm@gmail.com
Stay up to date with ANZA Nippers news by following us on @sgnippers or @SingaporeNippers
Source: www.royallifesaving.com.au Find more safety tips on their website