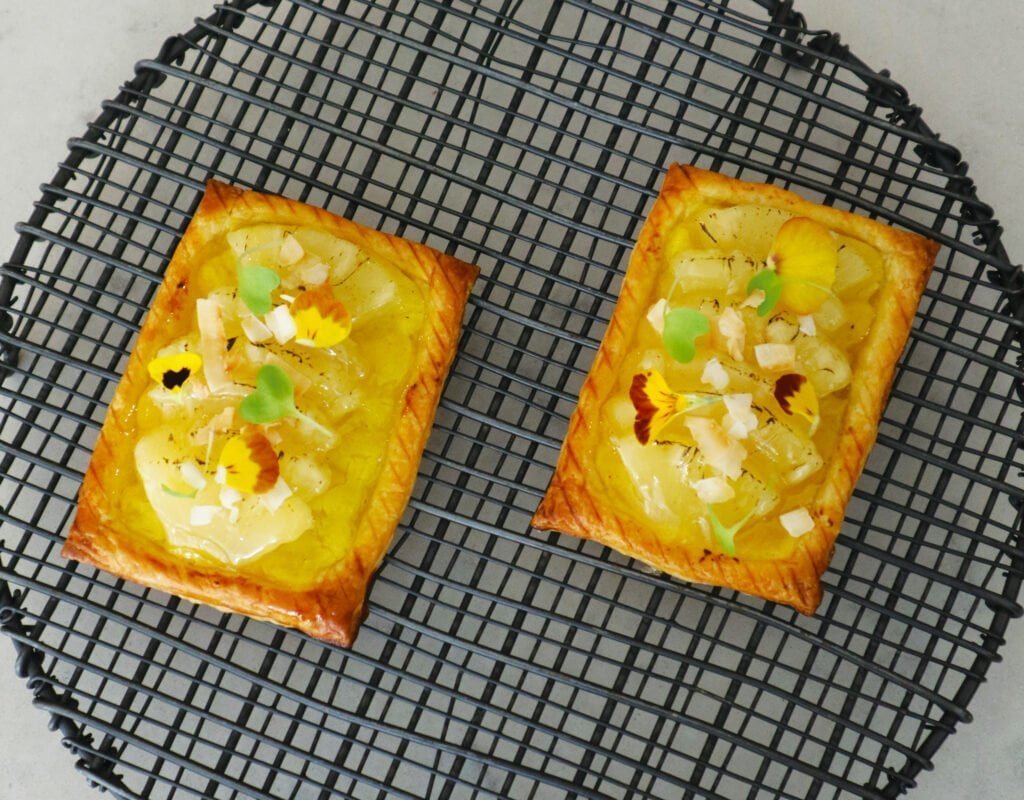 Chinese New Year is upon us once more, and what better way to celebrate than with a food recipe celebrating the best of CNY flavours? Our friends at Baker & Cook developed this Pineapple and Coconut Golden Galette recipe just for ANZA readers for this Lunar New Year of the Tiger. Featuring zingy pineapple, which represents wealth and good luck, this is a ubiquitous fruit during festivities and an auspicious gift for family and friends. When wrapped in pastry and glazed with apricot we think it tastes even better!
Rough puff pastry 
250g bread or strong flour 

1 tsp salt 

220g butter 

1 tsp lemon juice  

150ml cold water 
1. Place the flour and salt in a large bowl. Break the butter into small chunks (1cm x 1cm), add them gently to the flour, making sure not to break the pieces up.
2. Add cold water and mix until you have a dough mass. Use your hands to form a rectangle.
3. Place the dough onto a floured work surface and roll in one direction until you have a length of around 50cm x 20cm wide. 
4. Keep edges straight and even. Don't overwork the butter streaks; you should achieve a marbled effect. 
5. Fold the top third of the dough down to the centre, then the bottom third up and over that. Give the dough a quarter turn (to the left or right) and roll out to the same length. Fold as before and repeat a total of three times. Cover with cling film and let it sit for at least one hour or overnight. 
Creme Patisserie (make the day before)
4 egg yolks

1 tsp vanilla

Zest 1 orange

250ml whole milk

50g granulated sugar

20g cornflour

 
1. Bring the milk, vanilla and orange zest to the boil in a saucepan. While waiting, beat the four egg yolks together with the sugar and the cornflour in a mixing bowl. 
2. Pour the hot milk over the mixture while whisking the whole time. 
3. Return the mixture to the saucepan and bring it back to simmer, whisking until it thickens. Remove from the heat and allow to cool.
Egg Wash 
Mix together and use as required.
Apricot Glaze
100g apricot jam

4 tablespoons water
Place jam and water in a saucepan and bring to the boil. Strain through a sieve and brush on the tart while both the glaze and tart are hot.
Method 
1. Preheat the oven to 220°C. 
2. Gently roll your pre-made Rough Puff Pastry dough onto a floured work surface and make a square 33cm x 33cm, ensuring a thickness of 3–4mm. 
3. Cut the dough into 8cm x 11cm rectangles, using a knife to create small indents around the border for a little decoration. 
4. Pipe the Creme Patisserie cream in a zigzag motion into the middle of the dough, taking care not to cross the border lines. Top with 6 pieces of canned pineapple (1 pineapple ring is cut into 4).
5. Cover the border with pre-made Egg Wash and bake in the pre-heated oven for 18–22 minutes or at least until golden. 
6. Remove and cool completely.
7. Using a blow torch, gently torch the pineapple pieces then coat with the Apricot Glaze. Sprinkle with toasted coconut flakes and edible flowers.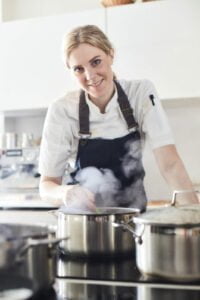 "This pastry is perfect for Chinese New Year as it reminds me of the golden ingot and the pineapple fruit symbolises wealth and prosperity. The all-butter crust of this pastry is crisp and complements the sweet and juicy burst of flavour from the pineapple chunks"
– Group Executive Chef Jenna White at Baker & Cook Group