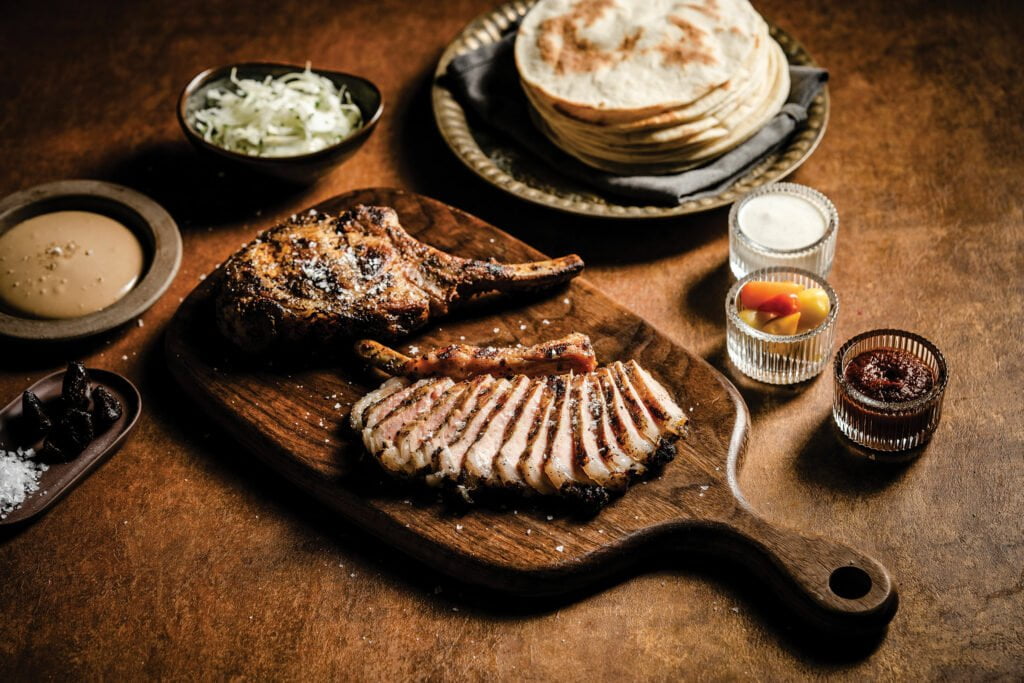 Aussie Chef Simon Bell takes the helm at the Fat Prince launching a refreshed menu to deliver the depth of Middle Eastern flavours in an elevated and contemporary fashion. Exceptional produce is expertly curated into delicious, light, innovative dishes.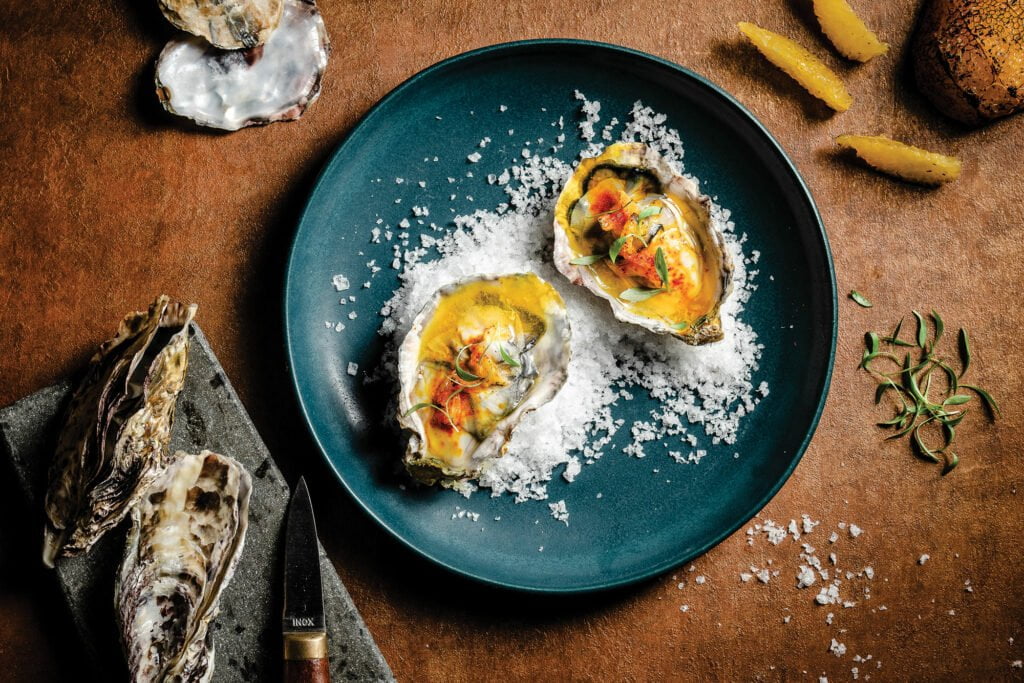 For those of you who (like me) have been wowed by Ottolenghi's rise to culinary fame and enjoyed recreating modern Middle Eastern food from his cook books, you're going to love the Fat Prince. The elegance, complexity and skill of Chef Simon is obviously well beyond what a humble domestic cook will be whipping up at home but the ethos of gathering around the table to break bread and share stories over plates of light, healthy and fresh flavours from the region are at the heart of the customer experience here.
Our tasting menu began with a Cannellini Bean Hummus seasoned with lime juice, garlic and salt and topped with roasted red peppers and lime served with pita croutons. This was a much lighter version of a traditional hummus made with chickpeas.
The plump, rather large Hyogo chilled Oysters from Japan were exceptional, topped with saffron infused charred orange juice, coriander cress, and charred orange segments. If you like oysters, be sure to try these.
Next up was a real treat, the Adana Kebab Tartare 2.0 is a recipe Chef Simon has evolved from an earlier Fat Prince favourite. Diced Wagyu Eye Round is tossed with Turkish pepper paste, charcoal oil, parsley, shallot and lemon juice, then served with cherry tomatoes and grated cured egg yolk, served with a house made buttermilk and rye cracker.
The warm Mud Crab comes in the shell, lightly seasoned with shallots, chives, parsley, olive oil, lemon juice, and salt served over a layer of hazelnut tarator.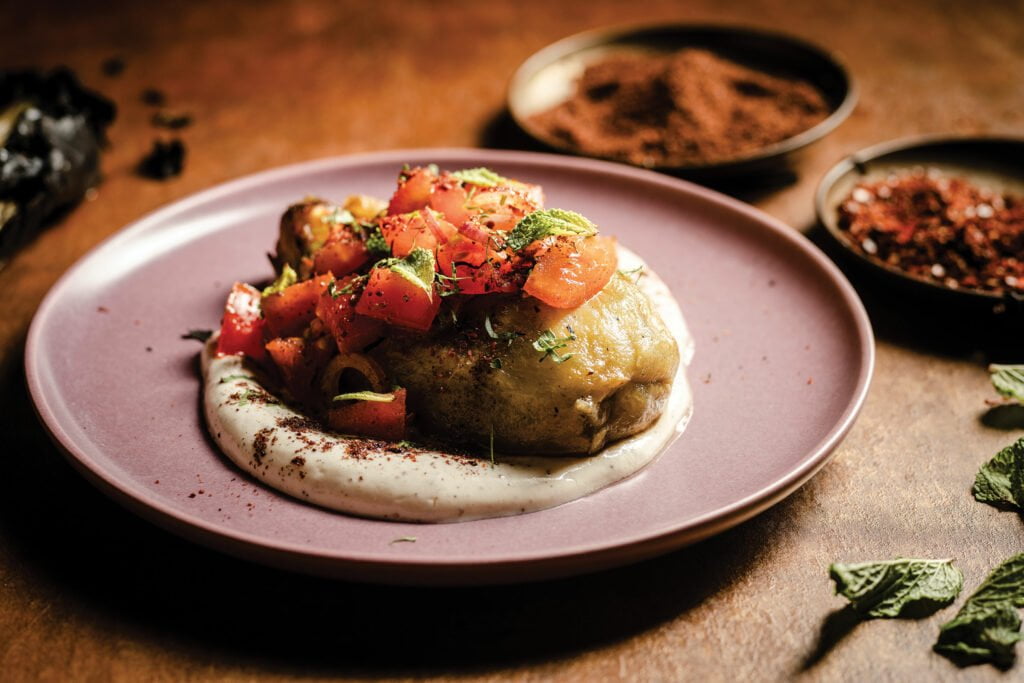 One of the menu highlights for me was the Pit Smoked Aubergine served with a base of yoghurt, tahini and 'fresh' harissa (think fresh salsa with a fabulous hit of spiced harissa flavoured tomatoes). The aubergine is cooked on hot coals (rather than over them) which immediately blackens the skin, forming a shell that keeps the heat and steam within the vegetable, softening the flesh. When ready, the aubergines are peeled then left to hang overnight in the pit oven.
For our main course we opted for the Pit Smoked Pork Ribeye rubbed in spice, marinated with yoghurt overnight and smoked lightly before being caramelised on the grill and served with fresh cabbage slaw, black garlic sauce and freshly made flat breads. This is a wonderful sharing plate where you tuck in and build your own flatbreads.
For dessert, Chef Simon gave a nod to his Australian roots with a delightful Rosewater Pav, the meringue of which is spiked with rosewater and peppered with sumac, layers of passionfruit curd and served with a sherbet like Fanta ice cream. We also squeezed in the Marscapone Knafeh, a kind of Asian Baklava. Kataifi (a type of Filo Pastry) is layered with butter, mascarpone cream cheese and drenched in a spiced gula melaka syrup, topped with a coconut pandan mousse, and roasted pistachios. Yum!
Bar Manager, Agnes Kuan has curated a unique menu of cocktails that gives equal showcase to full alcohol, lower alcohol and zero alcohol options. Long gone are the days where being alcohol free means being severely limited to a sweet sugar-fuelled soda or H2O. The offerings were fabulous.
VERDICT: Fabulous and delicious, Chef Simon marries modern Middle Eastern dishes with his contemporary Australian background.
The Dandy Collection owns and operates Fat Prince, Firangi Superstar, and Neon Pigeon in Singapore.
FAT PRINCE
48 Peck Seah Street, Singapore, 079317
fatprince.sg