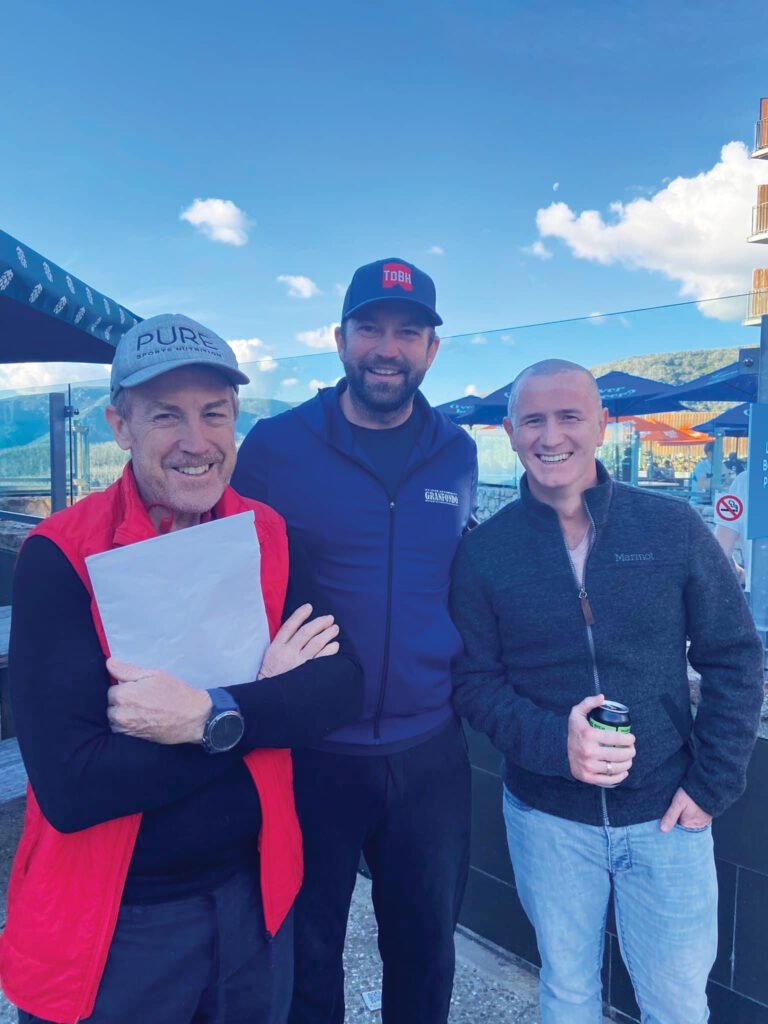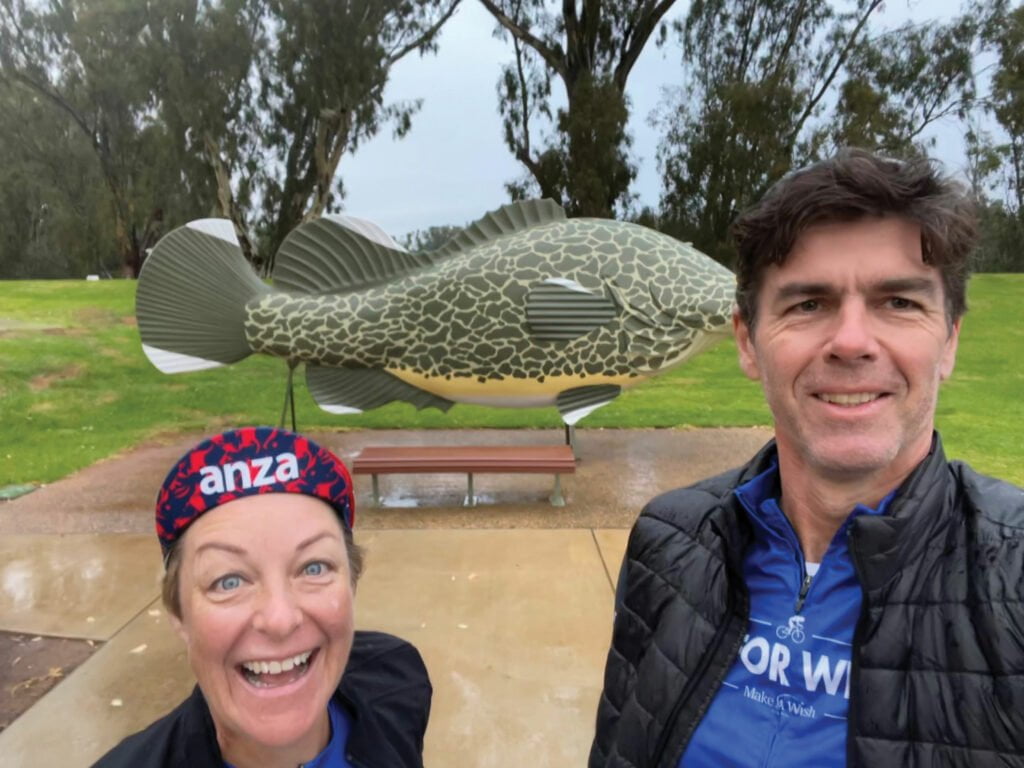 As travel options have become more viable and restrictions have started to show signs of easing, ANZA Cycling members have been delighted to be able to take our cycling routes slightly further than Changi and back recently. Several of our members took part in the Metasprint Series Aquathlon and Duathlon and the OCBC Criterium events as well as the Jungle Cross Offroad Duathlon, both in Singapore, which produced terrific results.
Away from the island's cycling routes, members headed down to Australia to meet with some ANZA 'ex-islanders' now based back in Oz to take on road and triathlon events. Haythem el-Ansary showed excellent form and came away with a 20 minute PB to finish Melbourne Ironman 70.3 in an incredibly fast 4h24m. Peter Williamson met up with Jason DuBois and Jesse Bridge who are now based in Victoria to tackle the gruelling 'Peaks Challenge', and Megan Kinder and Martin Phelan took on the 'Bay's Wish' (Make a Wish) Charity Ride, cycling 600km and 4000m elevation over five days, also in Victoria.
Plans are afoot for ANZA Cycling club trips to Thailand and Malaysia, hopefully with more to follow as the year continues and restrictions change. Check the club's Facebook page to discover more about these travel opportunities.
Starting young
At just age six, Elise Fontaine Tubb, took on her first ever race at the Singapore Criterium National Champs in February. We didn't get a photo of Elise in racing action, but we do have a photo (left) of her with her mum, Christina Tubb, who also performed very strongly at the event. Speaking afterwards, Elise said, "The race was fun even if I didn't win. I went over some bumps that felt funny. My partners fell but they were okay. After the race we had two ice creams and pizza. I would like to race again." We look forward to seeing Elise and many other future cycling stars taking part in more events over the coming months.
Chris Rawlings, our Off-Road Director, shares what's been happening on the dark side.
ANZA Off-Road cycling involves not only mountain biking but also gravel riding and cyclocross, all of which are going strong in Singapore. These disciplines have seen an explosion of participation in the last two years, since the start of the pandemic. I reminisce about the MTB rides I used to do around the Bukit Timah trails 18 years ago, when you may see one or two other riders! These days, the early bird certainly catches the worm for quiet trails, especially on the weekends.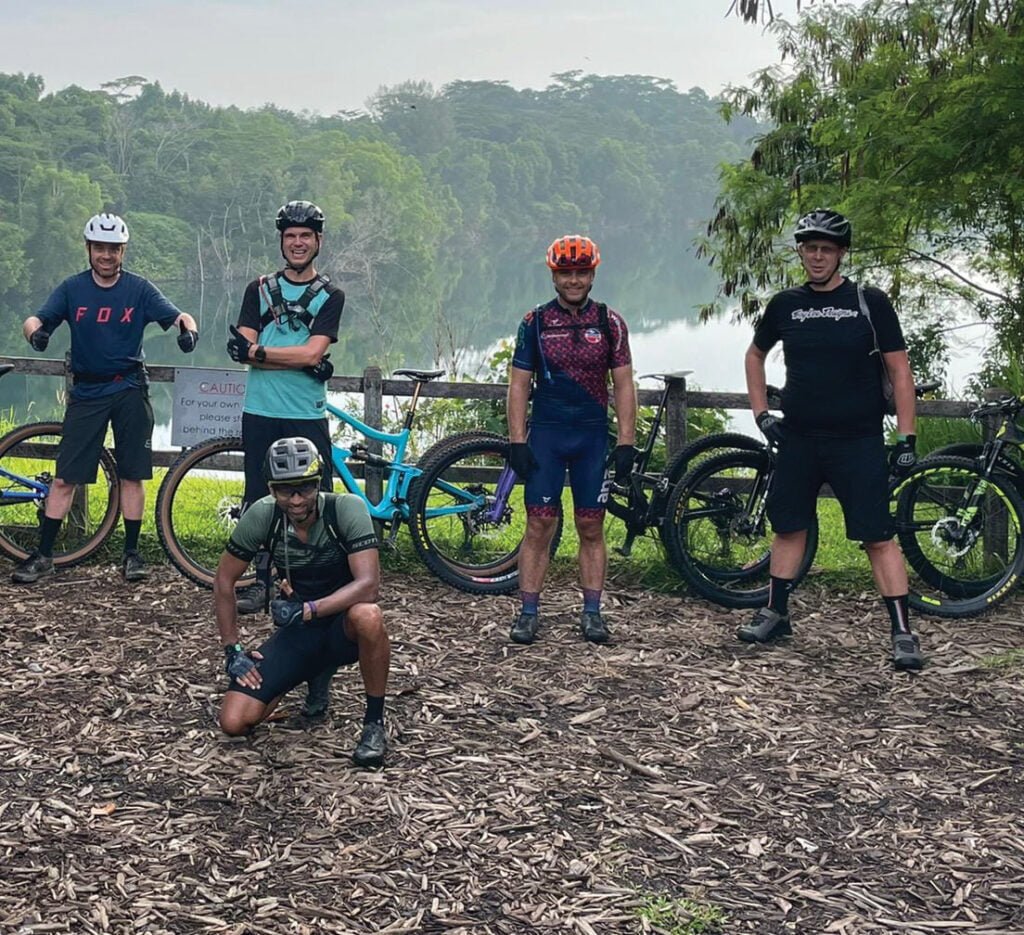 The regular ANZA MTB rides on Thursdays at 5.45pm and Sundays at 7am meet at the corner of Bukit Timah and Rifle Range Road for a few laps of the Bukit Timah and Chestnut trails. The pace ranges from steady to fast depending on who attends, but it's a no drop ride making sure that everyone returns safely for coffee or beers afterwards.
If you're looking to race, look no further than the Cycosports Jungle Cross series, held at the Centaurs rugby ground in the 'jungle pit'. The trails have been developed and crafted over many years to offer excellent smooth runs, drop offs and small jumps. The races include MTB, cyclocross and BMX, and range from elite to weekend warrior categories. Recently, two of our ANZA members placed first and second in the MTB category, which was a great achievement. If you want to get in some practice on the trails throughout the year, purchase a bike pass from Cycosports, which allows access at designated times every week.
For a change of scenery from the usual trails and a step back in time, head over to Pulau Ubin in the north west of Singapore. ANZA off-road groups often head there to ride the Ketam MTB trail which comprises blue, red and black diamond trails. There's also a myriad of great gravel routes on Ubin, perfect for all abilities and families. You can take your own bike on the bum boats or hire one on the island. A great way to finish a ride is with a prata and kopi in the local restaurants or a beer at Little Island Brewery in Changi Village. The ANZA crew can often be found at one or both of these establishments post ride!
If you're interested in trying off-road riding with ANZA Cycling, join one of the off-road introduction rides which run every few months throughout the year. They're advertised on the ANZA Cycling Facebook page and usually last 2-3 hours in Bukit Timah or on Pulau Ubin. No matter what your ability, there is a ride for you. We hope to see you out there on the trails soon!