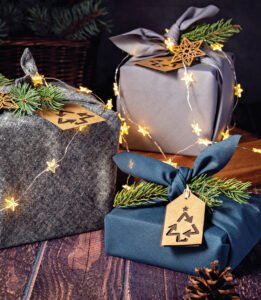 It's the most wonderful – yet also wildly excessive – time of the year. We party more, spend more and waste more in a bid to immerse ourselves in  celebrations. But making the festivities simpler and with more thought for the planet does not have to mean scrimping on frivolity. A gentler outlook can lead to increased creativity, smarter thinking and more care going into the entire holiday season. Here's how to do it.
All

 

wrapped up
Ditch the wrapping paper where you can and cover presents in fabric instead. Furoshiki is the beautiful Japanese art of fabric wrapping and we're here for it! Use leftover fabric, tea towels or silk scarves which can double up as an extra gift. Spotlight (spotlightstores.com) is your go-to for cuts of material, ribbons and ties. Alternatively, use this very ANZA magazine for wrapping this year – we'd be honoured!
Ban Bushy
Christmas trees don't always have to be the pine and bushy variety. Wooden trees look great and add a unique touch (and talking point) to your home. Crate&Barrel (crateandbarrel.com.sg) tend to stock some chic offerings, as do MUJI (muji.com/sg) when the season starts.
Keep it real
Real trees are more eco friendly than plastic ones, but going for one that's grown locally is a pretty hard ask in Singapore. An alternative is a getting a tree from Sing See Soon (singseesoon.com) which hails from a sustainable farm in Canada. Even better, they provide a Christmas tree disposal service once the festivities are over. If you prefer to go artificial, Mason (mason.com.sg) has a large selection of fakes, as do Christmas Trees (christmastreessg.com).
Do-good decos
Decorations add to what makes Christmas feel so special. For plastic-free alternatives to tinsel, try a festive garland or banner from Far East Flora Garden (fareastfloragarden.com). For a retro feel, thread strings of popcorn to decorate your tree. Not nimble with your fingers? Twinkly lights give a cosy ambience to any room. Hooga (findinghooga.com.sg) has a gorgeous selection. 
Light up
If you want candles, choose eco-friendly soy or beeswax varieties rather than paraffin. Specialising in soy candles, Sally's Room (sallysroom.sg) offers nine different scents; Mellow Over (mellowover.com) stock a fabulous range; and we're partial to a purchase from the lovely folk at Gratitude Shop (shopgratitude.com).
Easy advent
Invest in a reusable advent calendar. Etsy (etsy.com/sg-en) has well-priced reusables all set for 2022. Or lose the traditional cardboard calendar altogether and instead hang hand-wrapped daily treats from a tree branch as part of your decos. 
"In the week after Christmas, New Zealanders send 50,000 extra tonnes of waste to landfill"
Secret stuff
You're either super-organised and buying gifts in September, or having a Tangs-induced breakdown a week before the big day. Take unwanted stress out of shopping by considering a family Secret Santa; everyone buys (and receives) just one, high-quality, thoughtful present. 
Think local
Shopping at a local independent business scores you extra simple Christmas points. Design Orchard (designorchard.sg) and Independent Market (independentmarket.sg) are both excellent for SG-flavoured memorabilia for friends and family back home; Nana & Bird (shop.nanaandbird.com) and In Good Company (ingoodcompany.asia) are ideal for the fashionable types in your life; and The Social Space (thesocialspace.co) and Source Collections (sourcecollections.com) stock lots of sustainable goodies. Look out for the Christmas markets by Fairmarch (fairmarch.com), The Green Collective (thegreencollective.sg) and Crane (wearecrane.com) making a comeback this year. 
Play tag
Personalised gift tags add a special touch. Try Times Printers (marketing@timesprinters.com) and add dried flowers, strings and twine. Garden centres and markets will provide the foliage. 
Make memories
You don't have to opt for tangible presents. According to research by Science Daily, experiential gifts can result in greater happiness. For inspo, take a look at Singexperience (singexperience.sg) who offer hundreds of activities as gifts for all ages. Bungee jumping, seeing Singapore on a Harley, private yacht excursions and singing in a recording studio will all create lasting memories. And of course, you can't go wrong with gifting a family an ANZA membership which comes complete with all of our wonderful community activities (anza.org.sg/join-anza/#join).
"Aussies receive over 20 million unwanted gifts at Christmastime"
Out with the old
Clear your clutter in time for Xmas. ANZA Classifieds (anza.org.sg/life-in-sg/anza-classifieds/), HCSA Community Services (hcsa.org.sg) and Society for the Aged Sick (societyagedsick.org.sg) accept clothes, furniture and household supplies. Books Beyond Borders (booksbeyondborders.org) and Dignity Mama (projectdignity.sg/dignity-mama) take old tomes. Your secondhand items will perhaps take the pressure off of somebody else's festive season. 
Dine consciously
Food is such a huge part of the festivities (see our recipes on p36), but with it comes tonnes of wastage. In Australia, a Melbourne University study found that 40 per cent of food purchased for the celebrations ends up in the bin. Here's how eat more mindfully:
1. Plan well
Use a shopping list to avoid impulse purchases and ask guests to bring something specific to reduce double-ups.
2. Repurpose leftovers
There will always be some leftovers (brussels sprouts, we mean you!). Get creative in the kitchen, or donate to  The Foodbank Singapore (foodbank.sg)
3. Choose low-impact foods
Considering the kinds of food we eat (meat and dairy has the highest food footprint, poultry is lower) doesn't have to mean sacrificing the ham or trifle, but taking a more conscious and gentle approach. 
4. Look to Oz
Australian consumers are snapping up festive gift boxes of what they lovingly call 'wonky' but fresh fruit and vegetables from social enterprise Good and Fugly (goodandfugly.com.au). Every purchase comes with a cooking demo designed to reduce food waste, so check them out if you're overseas.
Statistics source: Unwanted gifts, nationalstorage.com.au.Landfill waste:  sustaintrust.org.nz. Melbourne Food Waste, channelnewsasia.com