In the early 19th century, Indian people migrated to Singapore, bringing their customs and cultures, including regional food. Today, there are five main Indian communities here, plus smaller ones, totalling approximately seven percent of Singapore's population. Tamils and Malayalees, originally from South India, form the two largest communities, respectively. From North India are Punjabis, Gujaratis and Sindhis.
INDIAN NEW YEARS
Observances include spring cleaning, harvest-thanksgiving, family reunions and wearing new clothes. For many, waking on New Year's Day to sights of auspicious items is a highlight; a picture of a family deity, a lighted lamp, harvest produce like rice, vegetables, fruit and coconut.         
Some start the day having oil-baths for body purification. Many families attend religious services, receiving blessings for the year, then visiting relatives and friends. A popular fresh plant in celebrations is bitter neem, a reminder that in life there are both sweet and bitter experiences to be accepted.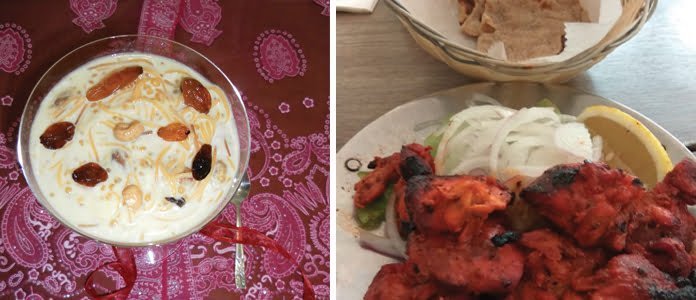 INDIAN CUISINE
Indian food is vegetarian and non-vegetarian, also South Indian and North Indian. Various religions include some differences, such as not eating beef or pork and avoiding alcohol. South Indian cuisine features rice and really hot dishes, whereas North India favours wheat flour (bread) and mild, spicy dishes.
FESTIVE DELIGHTS
Vegetarian fare takes centrestage in New Year celebrations. Biryani (saffron rice cooked with vegetables, chicken or mutton) will be on many festive tables.
Sambar, a favourite SOUTH INDIAN vegetable curry, has lentils, veggies, herbs, spices and coconut. Kaalan (Malayalee vegetable curry) is usually served with yoghurt. Chapati (thin, flat, unleavened bread cooked on a griddle) is enjoyed with curries and vegetables. Olan, a subtle curry, uses white gourd, black-eyed peas and coconut-milk. Rasam (spicy soup), chutneys and pickles also feature. For dessert, payasam (milk-based, sweet, thick, porridge made with rice or vermicelli, nuts, sugar and fruit) is popular. Coffee is a firm South Indian favourite, also coconut-water.
From NORTH INDIA, tandoori cooking reflects Punjabi cuisine, including chicken, fish, vegetables and bread. Sarson da sag (mustard-greens) is well-known for its buttery taste. The Sikh community  appreciate the langar-community-kitchen in their gurdwaras or temples, where complimentary meals are served. Pretzel-shape fried jalabi sweets, soaked in syrup, are common. Steamed savoury cakes, dhoklas, made from split-pea batter are a Gujarati favourite. A traditional Sindhi sweet, tayri, rice-based, is traditionally served with festive meals. Kulfi (ice-cream garnished with pistachios) is a much-loved treat. Masala tea is popular, also the yoghurt-based beverage lassi. 
Where to indulge: Some of our favourite places in Singapore for Indian cuisine
Tamil dishes
Muthu's Curry 138 Race Course Road, 218591
63921722
Malayalee (Kerala) dishes
Swaadhisht
47 Chander Road, 219546
63920513
Punjab tastes
Punjab Grill
The Shoppes at Marina Bay Sands #B1-01A, 018972


66887395

Gujarati (vegetarian)
Shivam Restaurant
87 Syed Alwi Road, 207666
 69082966
Sindhi tastes
Kailash Parbat Restaurant
3 Belilios Road, #01-03 Hilton Garden Inn, 219924


68365545