Chances are you've already dined at CÉ LA VI: you know – the upscale restaurant at the top of the iconic Marina Bay Sands building, and the place that everyone recommends you experience for excellent food with a view. The thing is, CÉ LA VI is so darn good that once you've been, it becomes a go-to for expats for any a multitude of occasions in Singapore. Family in town, cocktails with the girls, a romantic dinner, a reminder of how lucky we all are to live on this incredible island – this is the place for it!
This means that to maintain its outstanding reputation, CÉ LA VI needs to keep its food game strong. Which is why we're invited to taste the new refreshed menu exploring Asian flavours by Executive Chef Maksym Chukanov.
Using his passion for Singapore's rich cultural heritage and vibrant flavours, Chef Maksym has crafted his interpretation of the country's favourite dishes, while also taking things up a notch with vegetarian, gluten-free and vegan options that retain exceptional locally-loved flavours. There's also much dedication to sustainability: ethically sourced ingredients such as MSC-certified seafood, organic eggs, and free-range chicken are used alongside edible flowers and leaves from local social enterprises and urban farmers, Edible Garden City and Nosh Produce.
Punchy & comforting
But let's dive into the dishes. The new menu features a range of highlights, and we start with one of them, Japanese Amela Tomato, which involves no bog-standard tommies. Japanese Amela tomato is from Shizuoka prefecture, Japan and named the highest grade of all sweet tomatoes. Their sweet flavour balances out sweet and salty umami richness in one bite, and the consommé and basil oil, garnished with borage and summer savory top it off nicely. This is a hard act to follow!
Kinmedai, Chef Maksym's interpretation of Singapore's famed Laksa keeps the bar high.  The Kinmedai fish is served with edible crispy scales on top, in a bed of laksa sauce, topped with ginger flower and a drizzle of prawn oil. The laksa sauce of belachan, chilli, tomato, shallot, and aromatics including lemongrass, ginger and laksa leaf, are punchy and comforting, and don't leave you feeling too full.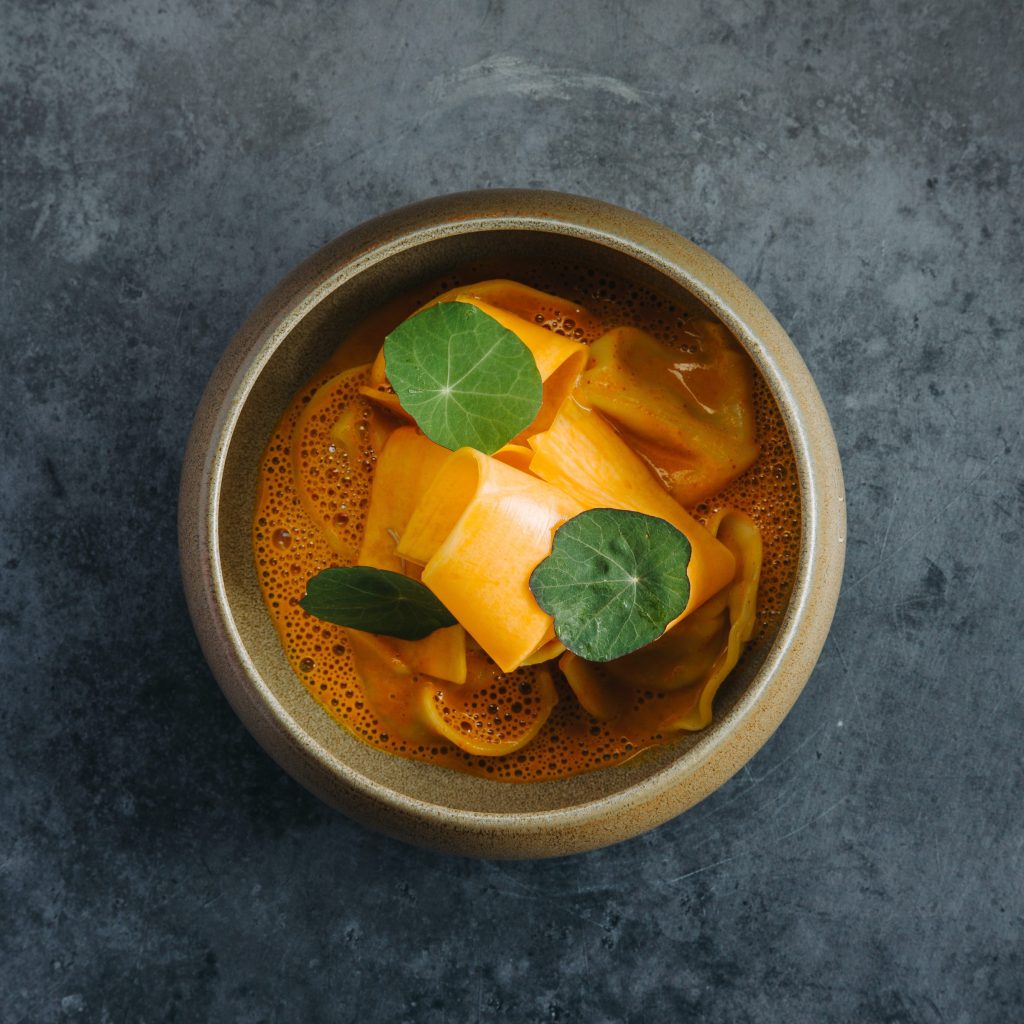 Vegan, dairy-free and nut-free soft wanton-skin Ravioli packs in a filling made from Japanese pumpkin, leeks, and garlic and comes served with a flighty curry foam and pickled pumpkin. Stanbroke Black Angus Striploin is grilled over charcoal and served alongside port wine jus. We also sampled some of the best mashed potato in Singapore to date, CÉ LA VI's Miso Mashed Potato which is made from yellow miso, milk, butter and potatoes, and garnished with spring onion and fried shallot. Smash, it was not.
Completing the meal perfectly was gluten-free Chocolate Miso, constructed in rock-like formations and topped with roasted macadamia ice-cream which presented a slight toastiness. And, in our opinion, you can never go wrong with an Ice-Cream Sandwich. Cream ice cream, rippled with mango puree for balance, encased in a Tuile (super-thin wafer cookie) with a lime gel for a final punch was a satisfying closing act.
VERDICT: Inventive and memorable food with excellent dedication to those looking for exciting vegan, vegetarian, and gluten-free options. This is one restaurant that does not rest on its laurels and likes to keep dining interesting. Our tip: don't wait too long to sample this menu as reinvention is everything, but hey, c'est la vie.
1 Bayfront Avenue Marina Bay Sands, Hotel, Tower 3, 018971. celavi.com