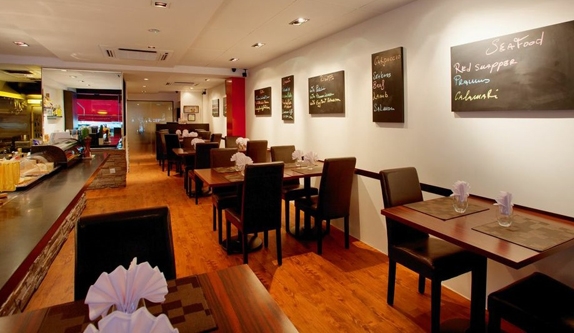 BUKIT TIMAH: Located in the leafy Hillcrest Park enclave, is Italian gem Fratini La Trattoria. Though a relatively new restaurant, chef–owner Gabriel Fratini is no newcomer to Singapore.
Having first set foot here in 1988, the amiable chef wowed diners at Sheraton Towers Hotel for several years before opening his Neil Road restaurant and also marrying Singaporean Hwee Leng. Uprooting to Europe with their children in 1998, Mr and Mrs Fratini recently returned here after a 15-year absence, much to the delight of their fans.
The multi-talented chef – also a linguist, exhibited painter and published poet – is passionate about cooking.
After ascertaining diners' possible dietary restrictions, the chef heads to the kitchen while diners enjoy a fuss-free environment, anticipating the shared delicacies to come.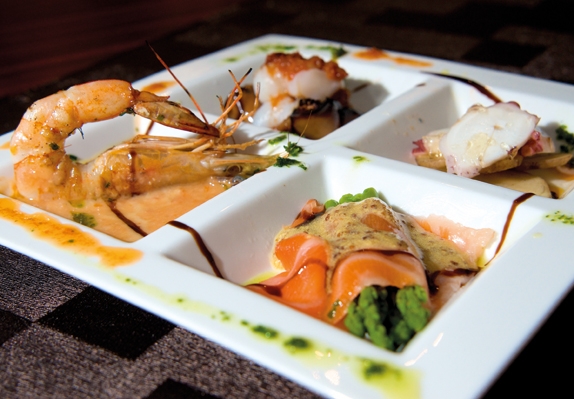 Depending on fresh daily produce there might be a sharing-platter holding raw salmon with grilled capsicum, scallops enhanced with cheese, and plump prawns with crunchy cabbage. Italian black rice, with each grain its own master, accompanies slow-cooked shin beef which melts in the mouth. Fried chicken balls filled with mozzarella cheese and dressed with mustard sauce are winners for their soft, sharp tastes combined with contrasting textures.
Another favourite during my midday meal with a friend was ravioli parcels enclosing pork and cheese, reposing nonchalantly in a pool of attractive green pistachio sauce; delightful. Paired with colourful seafood pasta, the visual effect was, as Gabriel himself commented, 'an early Christmas'.
Dessert comprised silky smooth panna cotta, tipsy tiramisu and a memorable – for all the right reasons – chilli chocolate tart.
For the wine selection, diners may happily leave the choice of tipple to Gabriel or Hwee Leng with her graciousness and ready smile.
Set lunches start from $45++, with set dinners from $85++ per person. Make a reservation and try for yourselves.
Fratini La Trattoria
10 Greenwood Avenue
Tel 6468 2868
facebook.com/fratinilatrattoria
Born in Adelaide, Raelene Tan is an etiquette consultant and food & travel writer. She has authored four books and has been a regular guest on radio and television.
View our listings for Bars, Restaurants and Cafes in Bukit Timah