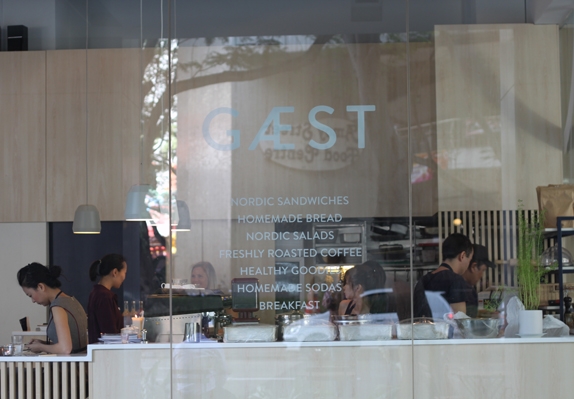 TANJONG PAGAR: If you are a true-blue sandwich lover, like me, and find the range in Singapore generally less than exciting, you may like to try one of the newest kids on the block.
Opened in December last year, Gæst makes great Nordic-style sandwiches, as well as a soup and salad of-the-day. On my three visits (so far!) the lunch crowd comprised a good mix of customers eating in or buying takeaway.Great bread sets the scene.
Take your pick from freshly-baked wholemeal sourdough or Danish rye for the four different sandwiches – potato, salmon, chicken, or pork.The potato sandwich ($13) has salt boiled potato, lemon and salt marinated leeks, hazelnut and rye crunch, pea tendrils and smoked mayonnaise sitting between two rounds of perfectly sliced bread.
The pork sandwich ($14) is a crowd favourite with its superbly roasted pork and crackling, orange marinated red cabbage, parsley, red apple and mustard mayonnaise. This is a wonderful combination of tastes and textures.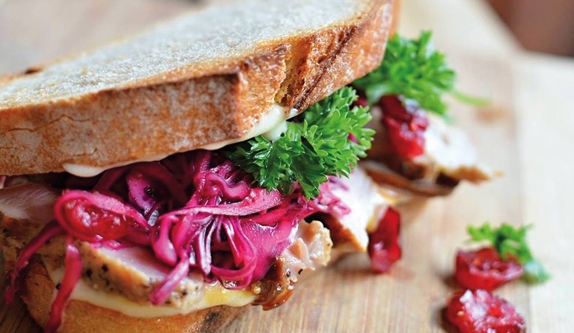 Coral-hued cold smoked salmon is accompanied by honey with apple pickled beetroot, rocket and horseradish cream, to make a hearty nutritious sandwich ($15).
For a seriously rich creation, the Valrhona chocolate brownie is luxurious. Pair it with freshly roasted coffee for an uplifting treat.
Homemade sodas include lemon with thyme, and also elderflower with rosemary ($5 each).
Weekday breakfast from 7.30am is healthy and light (muesli, eggs and more); sandwiches take over from 11am, and Nordic-influenced pizzas with sourdough base enliven the evenings. Weekend brunch had additional items to suit lazy moments.
It may be confusing to locate Gæst; it is on the corner of McCallum and Telok Ayer Streets, opposite Amoy Food Centre.Gæst's tiny indoor eating area, overseen by Kim who is of Scandinavian–Asian heritage, is complemented by al fresco seating. His bantering with regular customers shows that they really feel like guests at Gæst. facebook.com/gaest.singapore
Gæst
21 McCallum Street,
#01-01 The Clift
Tel 6634 0922
Born in Adelaide, Raelene Tan is an etiquette consultant and food & travel writer. She has authored four books and has been a regular guest on radio and television.
View our listings for Bars, Restaurants and Cafes in Chinatown