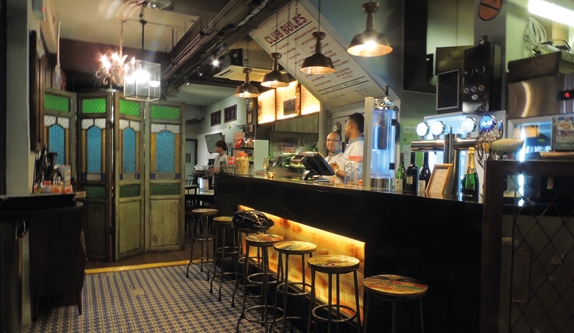 TIONG BAHRU: Much has been made of the rapid gentrification of Tiong Bahru, with new cafes, bakeries and eclectic shops seemingly popping up on a monthly basis. With headlines like 'Tiong Bahru so Hip it Hurts' gracing the pages of local papers, it's clear that there's some anxiety about the area losing its historic old-world charm in favour of trendy eateries and boutiques.
Some businesses have been making a special effort to cater to the area's longstanding residents as well as newcomers, such as Two Face Pizza & Taproom – which trades as a traditional kopitiam by day and a pizza place by night. Just down the road, the newly opened Tiong Bahru Club Singapura has a similarly broad appeal.
Diagonally opposite the Tiong Bahru Market, The Tiong Bahru Club Singapura makes a clear effort to celebrate the history of the area – and not just in its name. Heritage-style décor meets a menu that fuses local and western items, with club signature dishes including Kampung Fried Rice ($8.80) complete with silver bait, Truck Stop Fried Chicken ($12.80) served with house-special sambal, and Okra Fries ($6.80) – a nice twist on the humble French fry.
Beers on tap include a range of Hofbräu beers (Dunkel, Weisse and Lager) as well as Asahi Dry – all $12 a pint, and $10 a pint during Happy Hour (5–7pm weekdays) – and an impressive range of bottled beers (including Coopers Pale Ale and Best Extra Stout) and ciders. The owner, Jerry Singh, also happens to own specialty Chai tea company and café Chaiholics – which explains the extensive range of teas on offer, for those interested in something non-alcoholic.
The Tiong Bahru Club Singapura
57 Eng Hoon Street, #01-88
Tel 6438 0168
[Photo: Jane Leung]