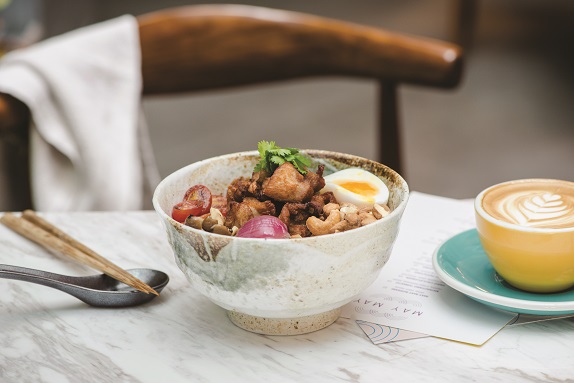 Asian fusion newcomer May May is a great spot for a mid-priced lunch in the CBD, says Sara Lewis.
Opening late last year, May May has been welcomed with open arms by the CBD lunch crowds who know a good lunchtime deal when they see one.
Nestled in Tras Street, May May offers modern Asian fare, fusing elements from a number of Asian cuisines with Western ingredients. During the day, this means a selection of rice bowls ranging from Red Chilli Chicken with caramelised onions and toasted cashews ($15) and Beef Rendang with kaffir slaw ($16) to the incredibly tender and moist Braised Pork Belly ($16), Butter Poached Cod ($18) or the token vegetarian option of Grilled Miso Aubergine ($12). Topped with a soft centred egg and some with pickled lotus root, the rice bowls resemble little works of art – even more so with the option to switch the rice for quinoa (for an extra $2). For an extra $3, you can upgrade to a lunch combo complete with a salad and a drink.
Come night-time, the menu stretches its legs into more diverse territory, serving up entrees such as the Indian-inspired Fried Cauliflower with chat masala, pear and tamarind ($14), the May May Bossam (thinly sliced pork belly, $12) or the succulent Double Fried Chicken with BBQ sauce ($16).
As far as mains go, vegetarians may be a little disappointed with the meat-heavy selection, though carnivores will surely delight at the likes of the Seared Wagyu Ribeye served with a crispy rice patty and seaweed salsa verde ($32) or the lighter option of Lobster Noodles ($28) topped with lemongrass, kaffir lime and a creamy coconut broth.
Dessert options are simple, with the option of Sweet Potato Mousse ($12) or Black Sesame Mochi ($12), both with savoury undertones that complement the main meals nicely.
Friendly service and an elegant but inviting contemporary interior top off the overwhelmingly pleasant experience of eating at May May, which can be commended on the delicate and intricate flavours it manages to deliver at incredibly reasonable prices. It keeps some good company on Tras Street, but May May stacks up against the competition and will hopefully enjoy a good long stint in the area.
May May
65 Tras Street
Tel 6221 4698
maymay.com.sg