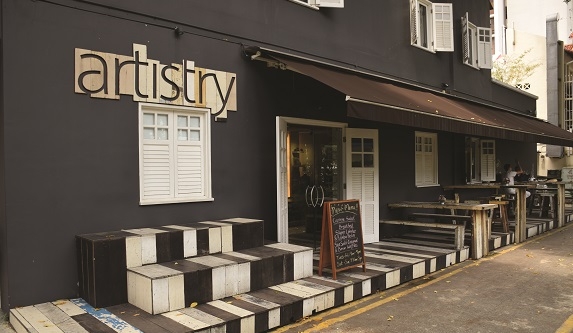 The first part to grab your at­tention is the black and white wooden porch out front almost resembling piano keys. You'll notice the large communal table in the middle with the same pat­terns. There are pieces of international and local art adorning the minimalistic walls – which change frequently – and separate seating scattered around and out the front. Artistry is a bit of cool breathing space in the sometimes packed streets of Haji Lane and Arab Street. Small music gigs, spoken words and events run during the week.
Serving local coffee and soft drinks from New Zealand's All Good Organics – like the fiery Gingerella ginger ale ($6). There's a great handful of craft beers and ciders to try as well, and their twist on the mojito ($12) uses a sweet pandan syrup instead of brown sugar.
The main menu serves up breakfast until 5pm – from eggs on toast to potato hash – and some salads and pasta dishes too. Their selection of cakes includes a deep red velvet cake ($7).
Artistry Space
17 Jalan Pinang
artistryspace.com