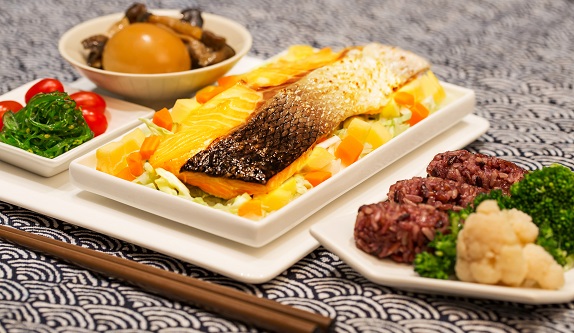 Run by a botanist and a nutritionist, it all started when co-founder Dionis Chiua wanted to watch her diet and lose weight. After losing over 20kg, she became a nutritionist. Together with co-founder Charles Ng – who also works as a skin consultant – they both cooked meals meticulously, ensuring everything was clean, healthy and beneficial to their health – with no additives. Thus, the guilt-free fast food restaurant Lean Bento was born.
The menu says it all – almost literally. There's a list of calories, protein, carbohydrates and fat content, as well as the assurance that every meal is under 500 calories.
Yam noodles replace egg noodles, and the white rice of your usual bento is replaced by multi-grain nigiri-shaped rice. The protein sits on a bed of fresh cabbage, egg and carrot, with sides of broccoli and cauliflower.
Alkalinised water is used to make the coffee and matcha tea, and an ioniser to clean the vegetables. Charles says because everything is gluten-free and Halal certified, it's made things hard to find a lot of choice for supplier, but 'the extra effort is well worth it'.
The chicken, grinded to a mince, seasoned and shaped into the type of patties you'd find in a bento box, led me to ask about the stigma behind shaped chicken – like you would for a chicken nugget. Charles understands, reminding me how the Japanese bento is about the level of care and thought into everything, from flavour to presentation. Grinding the best meat allows for controlling every single thing that goes into the patty. 'From marinara, parmesan and honey mustard, we want to give a nod to the Italian, Australian and American flavours in our chicken,' Charles says. The sauce used on the Shoyu salmon is a honey soy sauce. 'Most sauces are so sugary, and is what adds a lot of calories', Charles says. The honey gives the sweetness without unnecessary added sugar.
The chocolate chip muffins, which are nut and wheat-free, are warm, soft and good enough to fool someone that there's no added sugar.
Lean Bento #02-02 The Arcade
Raffles Place