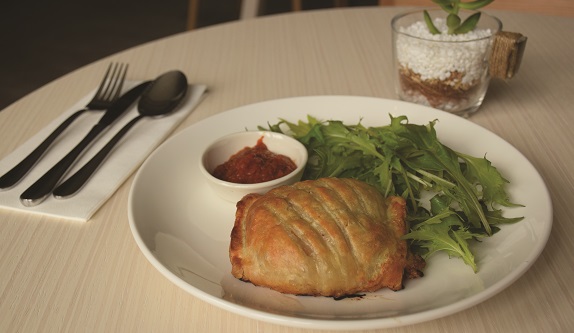 The Keong Saik area is getting a lot of attention lately, with a stretch of new restaurants and bars popping up. Nearby the co-working space The Working Capitol is Luxe, a Sydney brand that started as a bakery in 2008 and is now spreading its wings into Asia with its first restaurant in Singapore. Sydney's celebrity chef Chui Lee Luk has created an Asian twist to Luxe's menu.
During the day the marble-coloured walls, light wood grain tables and minimalistic furniture offer a cool lunch space, both visually and physically – even the water glasses look like the bottom half of a wine bottle. The long bar would suit after-work drinks, and the front has a waiting area with soft leather couches and magazines when it gets busy. The kitchen has a big glass window, allowing most customers a place to leer if food is taking its time – which I found out, does.
Ordering the sausage roll ($18) with only six people in the restaurant has an upfront 25-minute wait. The pork and fennel roll was incredibly juicy, with a crisp, flaky pastry and a tomato sauce on the side resembling a slightly tangy bolognaise sauce. The size of the roll however was smaller than my wallet, and for that price tag, you're not getting your money's worth – the handful of rocket leaves on the side filled half the plate.
The menu isn't big, with six entrees, six mains and sharable bites when having drinks. The Keong Saik fried chicken ($18) too was crisp and juicy, with the spicy squiggle of tangy orange chilli padi aioli sauce on top of the wings a nice addition. The price is quite steep for what you're getting, making this feel like a Surrey Hills restaurant – where most of your time is spent working out what you could have bought at the supermarket and made at a fraction of the price.
I didn't try a main dish, though they offer grilled barramundi, prawn spaghetti and 'wild weed pie' – wild spinach pie with fennel slaw. There's an interesting list of cocktails as well, like the Rum Fresh – with white rum, pinapple gum and hibiscus water. The restaurant does serve up great coffee, making it a good spot for meetings – sourced from Sydney-born coffee roaster Toby's Estate.
Luxe feels trendy, with great interior design and friendly staff, though the business needs to consider that price is also a key factor here in Singapore.
Luxe
Keong Saik Road #01-04 Tel 6221 5615 luxesydney.sg