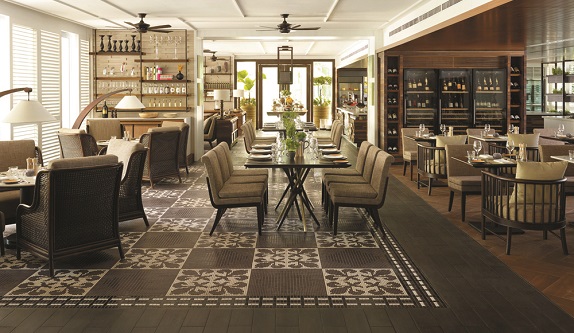 In the lush green tropical gardens of Shangri-La Hotel Singapore, near the swimming pool and waterfall with its koi pond, The Waterfall restaurant serves de­liciously hearty Southern Italian dishes in a family style atmosphere. Whether seated in air-conditioned comfort or al fresco near the pool, service is warm and friendly.
My family and I enjoyed a memorable evening, with the toddlers amongst us choosing home-made spaghetti with tasty meat and tomato sauce. All our ap­petites were enhanced by the presence of colourful Italian tomatoes in various dishes, bursting with flavour and juici­ness – try a light and refreshing salad with a citrus dressing to awaken taste buds. Tagliatelles à la bolognaise was especially good with a wonderful balance of flavours accompanying the al dente noodles.
Roast suckling pig was easy to eat with its simple – yet elegant – presenta­tion of tender rolled pork slices served with aromatic rosemary potatoes. Steak from Australia was well-marbled, tender and succulent, and married well with a side salad – while pan-fried fish set atop grilled vegetables oozed with freshness and 'feel-good' tastes.
Desserts include sinfully rich tiramisu and signature torta caprese with its choc­olate and almond content; however most of us finished with cool Italian gelato in various flavours.
The house wine is stored in a wooden barrel and served in a porcelain jug for a nice rustic touch.
'Bon appetito!'
The Waterfall
Shangri-La Hotel Singapore
22 Orange Grove Road
Tel 6737 3644
Image courtesy Shangri-La