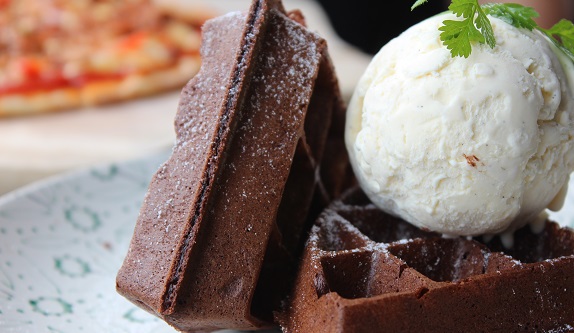 Chocolate waffles
Until the opening of Coney Island, Punggol wasn't seen as a drawcard for weekend visits. Being one of the northernmost points of Singapore, Whisk and Paddle was a pleasant surprise when discovering it near a fried chicken chain and a prawn fishing establishment – standing out as a bit of a welcomed sore thumb. Outside the cafe appears to be a mixture of a covered outside family cafe on the right, and a relaxed indoor bar on the left.
The location offers a great view of Punggol Serangoon Reservoir's mostly untouched greenery. Sitting on the outside table to a panoramic green landscape, there's plenty of covered space to seat groups and families.
There's a kids area to keep fidgety young children entertained, and a darts machine inside for a cooler place to wind down. In a sense the place is trying to cover all bases, and I assume the vibe becomes a little more energetic as the sun goes down – there's a bar just across that looks to be more of a party place.
The menu offers tastes from thin crust pizzas and pastas to bar bites and desserts. The pulled pork pizza ($18.80) on a thin crust was cheesy, with a mild tomato paste as a base.
Waffles can be made with your typical batter, or chocolate for an extra dollar. With a Movenpick vanilla ice-cream scoop on top, the chocolate waffle ($10.80) was crunchy and made with a good batter – though was only half of what would've been a whole waffle.
The drinks list includes a few varieties of beer, wines by the glass and bottle, as well as cocktails of their own – including a Yee-Haa ($16), which consists of Asahi beer, tequila and lemon. Since this was a feed before a walk in the sun, the green apple juice ($6.50) was refreshing to sip on while staring at the river. Finishing off the lunch with a smooth latte ($5.50) was a nice touch, sitting back on the chair and soaking in the atmosphere.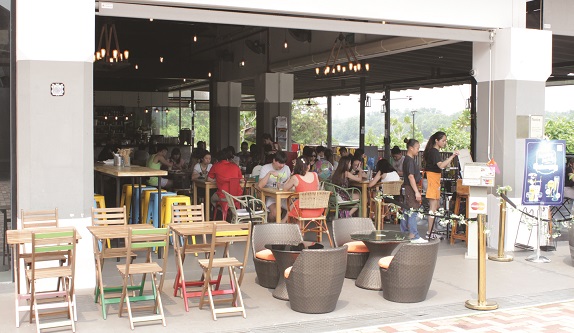 The outside dining area
Whisk and Paddle 10 Tebing Lane
Tel 6242 4617
whiskandpaddle.com.sg