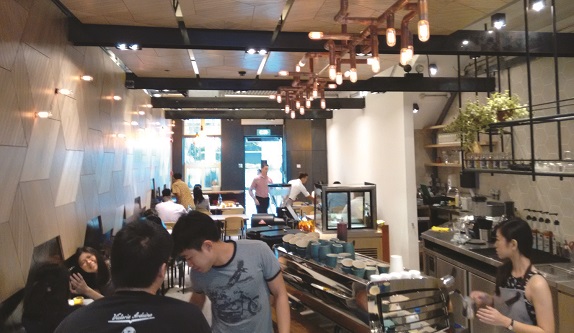 There's good reason to be cautious when trying out a new place during this phase Neil Road is having – well-dressed casual eateries selling overpriced plates. Patterned walls, jagged copper pipes for lights and a mixture of wood and white colours match the modern-day cafe look.
Taking into account the neighbourhood's price range ascent, there's range in the food available – delhi chicken sandwiches and chicken rice donburi to beef ragu pappardelle. The pulled pork grain bowl ($18) – with quinoa, bulgar wheat and pearl barley – came with furikake baby corn, red cabbage and apple slaw, grilled zucchini slices, roasted butternut squash cubes, cherry tomatoes and mushrooms. The pulled pork grain bowl is tender, and the meat falls apart like a relaxed fabric. The quinoa was cooked right, the grilled eggplant and cherry tomatoes grilled just enough to not be dry and rubbery. The cubed butternut squash was soft and sweet, and there's a very light dressing on the red cabbage and apple slaw.
My Ethiopia Kochere Dumerso filter coffee ($6.50), supplied by 2° North Coffee Co here in Singapore, is mild enough to comfortably drink with no additives like milk and sugar. If you're not one to drink a coffee straight, there's a lot to discover going au natural.
The dark chocolate sundae ($14), is a bit expensive for a dessert, but serves enough flavour to savour. Served in a small enough bowl to not feel like you've ordered a tall American sundae, is the sinful side after such a fresh lunch. The dark chocolate ice cream is soft-serve smooth, enough to fool you into thinking you're eating a heavier mousse.The drizzled passionfruit curd is a nice, sour kick that tastes better than it looks. There's a sprinkle of popping candy on top that occasionally pops between bites. Hazelnut crumbs and honeycomb pieces bring a crunch, with flowery meringue bites and whipped cream softening the blow. The raspberry purée keeps mostly to itself at the bottom for a sweet finish.
The Populus Coffee & Food Co
146 Neil Rd
Tel 6635 8420
thepopuluscafe.com