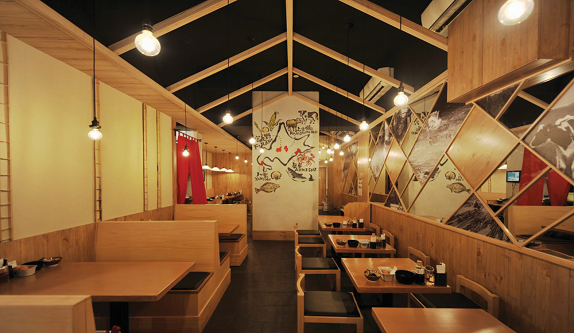 The brighter version of your usual Japanese restaurants – there's the typical bright wood furnishing – this after-work izakaya has rock music playing at lunch. The compact kitchen to the left has three chefs managing to deal with the lunch rush in their small workspace. The smell of the soup from other tables during the wait stoked the flames of hunger.
The suggested choice on the small menu is the Kikiage Tempura Soba ($12) –freshly made soba noodles (buckwheat flour) and naturally derived soup stock, with a rectangular slab of fried tempura made with chives, baby shrimp and carrot. Served in a gigantic bowl, the almost disintegrating tempura on top melts into the hot broth, giving a mix of a crispy crunch and a slippery slurp with each bite. The amount of noodles is up to each individual, with a choice of 100, 200 or 300g of noodles – free of charge for any choice. I should've went for 300g.
Dinner's menu includes a larger menu of sashimi, sushi, grilled seafood and salad.
Hokkaido Izakaya 95 Tanjong Pagar Road Tel 6221 7118
hokkaidoizakaya.sg
IMAGE COURTESY: HOKKAIDO IZAKAYA