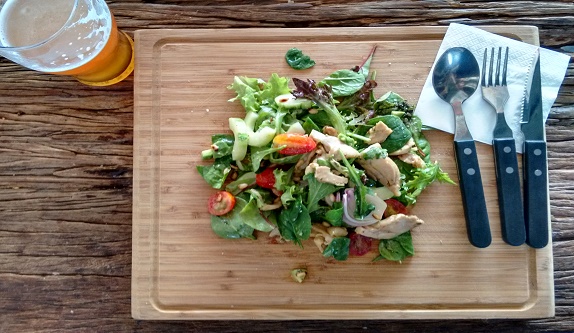 If you're planning to cycle around the east coast of Singapore, keep pedalling up to Changi Village. Anchored near Tekong Seafood, the laidback microbrewery is positioned at a key spot in the village – with a view of Changi Creek Reservoir.
While this place has been open since July last year, the microbrewery's location has been the only cause of "I'll get to it some other time". Costs for this amount of space closer to the centre of the city would have made everything a whole lot more expensive – and it also gives a cooler vibe, more a Margaret River-esque out-of-the-way feel that makes a microbrewery just a little bit more special.
Little Island Brewing Co serves up its own beers in the vessels inside – you might catch one of the employees checking the levels. Nearby said vessels is a row of taps with touchscreens. Drinks are poured yourself with prepaid cards purchased at the counter in $10 tiers. While it leaves the drink-pouring process in your hands, you can have the opportunity to try all the beers on tap if you wish – without ordering a half-pint for each one. You can also watch the cents trickle away as you pour.
From all of the drinks available on tap – including imported British ciders, and wine on tap – I tried the Whiter Shade Pale Ale ($2 per 100ml). This was a tasty, hoppy brew that went down a treat, given the heat. The Sister Golden Ale ($2 per 100ml) was light and slightly fruity. For fans of roasted barley, the Black Magic Irish Stout ($2.40 per 100ml) has a subtler malt taste than most stouts.
The brunch and dinner menus offer a mixture of Western dishes and pub grub – there's a smoker in the kitchen that cooks up a 15-hour slow-smoked brisket in a sandwich or Balinese pork ribs. The brunch deal ($15) offers a mains dish, along with a free coffee, tea or soda – the homemade (non-alcoholic) ginger beer is fiery and delicious. The chicken salad, while not a massive serving, is a refreshing treat after an 18km-long cycle.
Come to think of it, cycling after drinks is not the best idea, so best enjoy the nearby park before heading back.
Little Island Brewing Co 6 Changi Village Rd Tel 6543 9100
libc.co