Australia's finest classical performers are coming to Singapore, Gerard Ward finds.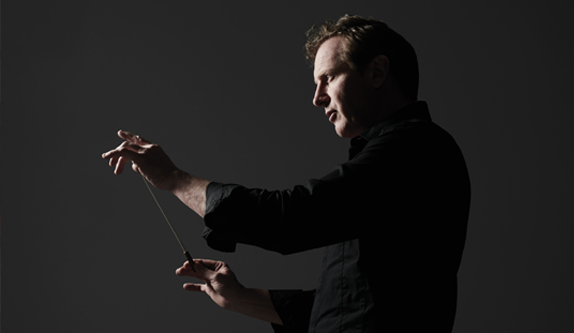 With quite a history in classical music – his uncle being Charles Mackerras and being a descendent of Isaac Nathan – Artistic Director and Chief Conductor Alexander Briger is banding some of Australia's best musicians together for the upcoming Australian World Orchestra concert. We ask the recently appointed Officer of the Order of Australia how he managed to pull together a dream team of players from 53 orchestras worldwide.
Can you remember what first introduced you to classical music?
Originally it was the violin, which I started at the age of six. At the age of 12 I started to take violin very seriously and practice all day long and that passion for music quickly turned to conducting – also at the age of 12 – after I saw my uncle, Sir Charles Mackerras conduct in Sydney.
Was there a particular song that made you want to be part of it all?
Gustav Mahler, Symphony No. 4, Third Movement! That was the exact piece I heard my uncle conduct with the Sydney Symphony Orchestra. I was so moved by it that I thought there and then: 'That's what I want to do – control this music like my uncle is!'
Coming from Australia, What was it like to study and conduct around the world alongside players in Europe, where classical music has more prominence?
I must say it can feel quite overwhelming. Australians are doing so well everywhere, but there is the feeling that we are a long way away and that we are generally unknown as classical musicians, so we have to work extra hard to get there. Thankfully Australians are very well liked around the world for our personalities and humour!
Did you feel you needed to prove your worth to everyone coming from Australia?
Absolutely. There's the feeling overseas that Australians don't really know much about classical music. I presume because we are such a young country without the cultural history of Europe, and that we're so far away from Europe and the US, that we really have to prove ourselves to different nationalities. Just because we come from Australia, doesn't mean we don't understand Mozart, Beethoven or Puccini!
How hard was it to convince Australia's best to come together, given they were all over the world?
It was the simplest thing on Earth. There wasn't one player who didn't want to do it and we had all been talking about it for decades beforehand. It just needed someone crazy like my sister and I to organise it!
Can you explain a little more about how the AWO has changed over the years?
It grew enormously almost immediately. The standard was so high that word spread quickly. Firstly we had top international conductors want to come to Australia to perform with us and then we signed partnerships with the likes of the Sydney Opera House and the Australian government fell in love with the concept as it shows the world what Australians are capable of culturally.
Any hints on what to expect at the Singapore show?
It's our 5-year anniversary and we are making it all about Australia – like the first year. We have a great programme of Boléro by Ravel, Tchaikovksy's Fifth Symphony and a magnificent new piece that we have commissioned by leading Australian composer Elena Kats-Chernin, a concerto for eight double basses – a world first, and should be a thrilling new work.
Last question, what's got to be one of your all-time favourite pieces to conduct?
Mahler's Ninth Symphony – it's enormous and so incredibly emotional.
The Australian World Orchestra will perform on 1 October at the Esplanade Concert Hall. Tickets are on sale now.