What started as a great way to meet new people in Singapore has become a great cause for those going through life-changing chemotherapy, Gerard Ward finds.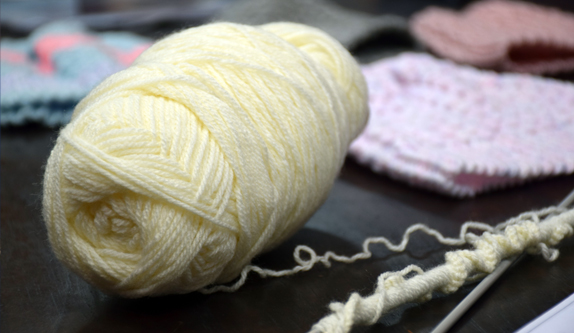 Sitting in a session with knitters Kim Wilson, Virginia Soh, Andrena Gardiner – along with two new members who've never been here before – with a pile of perfectly-knit beanies on the table, I could only imagine how many weeks it would take to knit a whole beanie. I'd later find out with enough focus, one could produce a whole beanie in a day/
The Knit for Love project was started by cancer survivor and volunteer Madam Lyn Ee in 2014. While getting her chemo treatment, she would pass the time by knitting – something she was taught when she was younger. Passers-by would notice, asking where she was selling her completed knitwear. 'If you've been to the hospitals here, they're freezing,' Virginia says. 'If you're under the weather and losing your hair, it's worse.'
It was when Lyn got in contact with the Singapore Cancer Society that the Knit for Love initiative began gaining traction. ANZA Action's Rae Moller managed to get our members involved with the initiative, and on the third Friday of every month at the ANZA office from 10am until noon, a dedicated group of women get to mingle with others while working on the instructions Lyn Ee created to make a beanie.
Groups of volunteers around Singapore are knitting beanies for chemotherapy patients – many suffer hair loss during treatment. Kim explains that participating hospitals will give those who are going into chemotherapy for the first time a beanie. 'There's about 1,000 new cases of cancer in a year,' Virginia says.
After a few dozen beanies are completed by the group, they're delivered to the Singapore Cancer Society to check that they're all up to scratch. Afterwards, they're given individual bags with a personal message from the knitter. 'You can put a greeting, like "best wishes" or "hope all's going well" and you sign your name if you wish,' she says. 'It is absolutely the sweetest, it's lovely.'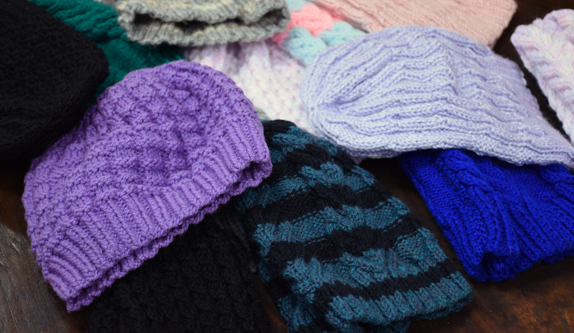 Each beanie follows exact directions laid out by the Singapore Cancer Society.
'It's my understanding that the people that go into chemo for the first time, they are given a beanie,' Kim says. 'The biggest thrill of all is to actually see someone walking down the road – and we know the patterns off by heart – and see someone with one. You want to go over and say hello, but you don't.'
Outside of the meeting in the ANZA office, Kim and Virginia – who are on their third year with the initiative – talked about the times they would work on a beanie. 'When the rugby comes on…' Virginia begins, moving her hands as if to knit.
'I'm not as adventurous as you,' Kim replies. 'If I'm watching the rugby I think I have to work on a junior one. The husbands are going "Go All Blacks" and I'm going "I dropped my bloody stitch",' she laughs.
Between the two of them last year, they knitted over 100 beanies. 'We know the pattern almost off by heart,' she continues. 'It's very easy to multitask. If it's the wrong stitch you automatically know.'
What has given this group another benefit for members is its introduction to Singapore for newbies. Sitting together with long-time residents gives first-timers to the country a fantastic source of information about the city. 'Generally the knitters have come from word of mouth, like "I know a friend who knows a friend who knows…" type of scenario,' Kim says. Two new knitters during this session had only been in Singapore for less than six months. 'They actually didn't know anybody until they came upstairs,' she says.
These meetings have created friendships, with the knitters often going out for lunch afterwards, exploring what the city has to offer. Because of how involved ANZA members can be with charities, it's another opportunity to find out what other initiatives people are working on.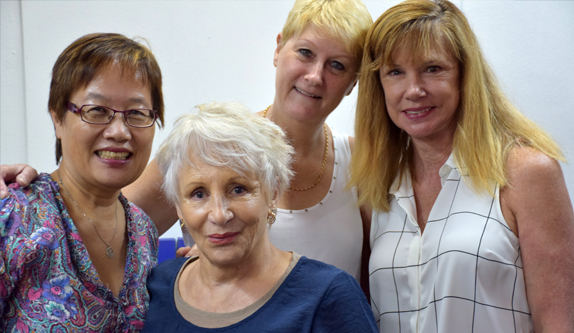 Virginia Soh and Kim Wilson with Andrena Gardiner and first-time visitor Judy.
The initiative has also allowed those who are currently experiencing cancer either for themselves or within the family to talk to others about it. 'Quite a lot of us have lost people – myself included – to cancer, so you want to help out,' Kim says. One of the previous members who moved back to Wellington has continued her knitting in New Zealand, donating her beanies to the Wellington Cancer Unit.
'When Lyn started this, she said she was teaching people from across Singapore, mainly locals who go to learn knitting,' Virginia says. 'They could be someone who just wants to know how to knit. There's someone who actually themselves is a cancer survivor, or a relative or family member, and apparently it's a good avenue for opening up, telling the person next to you about their experience. Whether they're a cancer patient, or someone they know, it's a conversation opener. It's also good therapy for a lot of people who come.'
For anyone feeling like giving this a go, Kim and Virginia encourage knitters of any – or no – skill to come to the monthly meeting. If you can, bring 4mm knitting needles and some 8-ply acrylic wool. The beanies use acrylic wool because it's cooler than wool, and easier to wash. 'A lot of people don't know how to wash wool properly,' Virginia says. 'Acrylic can be just be thrown into the washing machine, no problem.'
Knit for Love meets on the third Friday of every month at the ANZA office at 47A Kampong Bahru, 169361, from 10am to noon. Email anzaaction@anza.org.sg for more information.