Gerard Ward dines in the CBD for traditional Italian cuisine.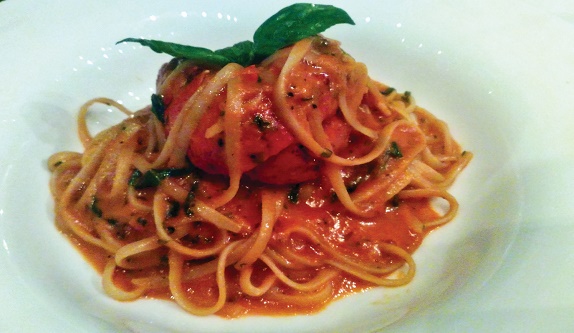 The sprouting of restaurants around Telok Ayer has resulted in all sorts of cuisines – moving from the straightforward single cuisine to fusions and modern spins on traditional food.
Taking the time to pick one flavour seems like being retro nowadays. The need for hearty Italian fare called, and for this we visited the quaint 40-seater Italian restaurant along Stanley Street known for its modest atmosphere – paintings adorning the white walls – service, and of course the food.
We were dining before Ladies Night commenced – sure, it's a risky move to have a quiet dinner on a night like this, but the need for a good dose of carbohydrates at night time overruled that worry.
Four freshly baked mini-rolls of bread came out first – the bread is always a weakness for me at dinner, and it takes strength to remember to not fill the stomach with carbs before a plate of carbs come along. Without butter or olive oil to dip, we instead deconstructed its roll form into pieces to eat while the steam still puffed from its fibres.
The appetiser was Polpette Della Mamma ($26), baked pork meatballs, cooked in a slightly spicy tomato sauce with curds of chewy mozzarella cheese. There were hints of mint with each bite of the soft meatballs. The toasted bread that came with it was a bit tough, but the leftover tomato sauce helped turn it into an edible spoon.
Spaghetti Neri ($30), black squid ink spaghetti with a hefty amount of crab meat in a spicier, tangier tomato and basil sauce, was not overpowering. Usually squid ink makes for more a visual addition than flavour, adding that extra bit of saltiness, and there was no need to reach for the salt shaker.
The Linguine All'astice ($32), classic linguine pasta with lobster tail in fresh tomato sauce and marjoram herb, was the favoured choice.
For dessert, the Semifreddo ($14), frozen Zabaglione soufflé served with amaretto sauce, blackberry and strawberry on top, felt like a sweeter icecream with crumbled biscuit bits in the middle.
The shot of homemade limoncello as an aperitif, delivered from a decanter the length of an arm, was a sweet finish. Made with vodka, lemon, and a nice amount of aniseed, the liqueur felt gentle enough to be ordered as a double and sipped slowly into the night.
Waddling out back into the rain, it was becoming a tempting proposition to stay in, but the guilt of two pasta dishes and a dessert meant walking to the MRT to get a few calories burnt before bed.
Pepenero 14 Stanley St Tel 6222 5808 pepenero.sg