Just a little more north from Seminyak is a nice place for some peace and quiet – and beaches – Lee Carsley says.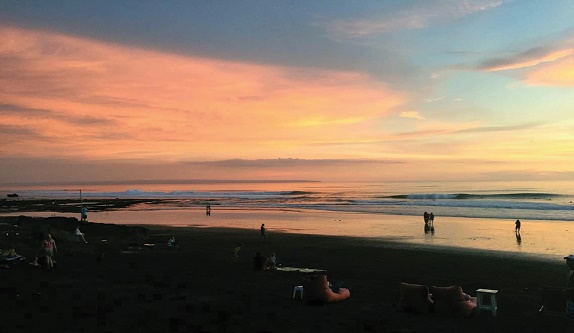 PHOTO COURTESY: LEE CARSLEY
When Bali took off in the 1970s, all my friends had it on their 'must visit' list. Some more than once. Except me. I waited until I was 35; my daughter was two years old, and hated every single minute of it. Kuta and its drunks – the beaches with their pollution, seeing rice paddy fields one day then the mess of multi-storey resorts the next. Food quality, the list was endless – what was right with it? Nothing. But recently, one of my girlfriends decided to call it home for a few months, and then another one moved permanently. I knew I was going to have to visit – why, oh why?
I moaned, bought my plane ticket, and my friend found a villa just up the road from her house – she lived in Canggu (pronounced chan-goo), close to Pererenan Village. On the way to the villa I found out my driver turns out to be a former five-star Bali resort Front of House Manager, and the occasional manager of the villa in which I stayed.
Stunning – the villa, that is. The home of a French family, it had been extended with six more villa-style rooms. Mine had an uninterrupted view over rice paddies to the ocean. I could hear water buffalo calling. My friend drops in and says: 'Hire a bike.' While we are waiting, we have a swim in the saltwater pool, and a cup of really good coffee.
Canggu is arguably one of Bali's most progressive and culturally fascinating areas. It's actually a series of villages, each with their own beaches. The main thoroughfare runs along Jalan Raya Canggu – which lies parallel to the beach, but around 4-5 km inland from it. It's crazy Bali busy.
From east to west, running down from Raya Canggu to the beach, are four major roads. None of them directly connect with each other, but there are goat tracks, shortcuts and tiny one-lane roads between them. No traffic. Peace.
Having really only found its name on the tourism map over the past few years, there is an undercurrent of cool that characterises Canggu. Here's a handful of things I witnessed during my time there:
• 'Smart casual' yoga sweatpants and/ or the new-hip breed of surfing lycra as everyday clothing. Everyone does yoga, including the guy with the multiple piercings on the Deus Ex Machina custom Harley who stops every day at the Canggu intersection to pick up his dandelion coffee. Whilst the rest of Indonesia goes shopping in pyjamas, Canggu steps out in 80's aerobics wear.
• It's rare to see a shaved face on a man. We are not certain how the nearby Dorsey's barber shop is ever going to suceed
• If you see a face without a nose ring, it looks odd. Where did this strange, nose ring-less alien come from?
• Happy Hour at Old Man's beach café has made the beer garden hang cool again. Bintangs for less than $2? Show me the way.
• $2 lunch at a local warung (shop) is considered an appropriate setting for a hot date – and the warungs are all pretty good, each having an Indonesian food speciality.
• Kids and adults ask for gluten-free bread and dairy-free ice cream – and get it.
• A car tipped off the side of the road is just another morning. There might even be some water buffalo being used to pull it out.
The beaches are great – better if you are a surfer. They feel clean, even with the black volcano sand on most of them – but there are still rip tides, so the pool at your villa might be a better option for lazing. The fruit and veggie juices at Old Man's are all the sweeter, as you watch very fit surfers – male and female – head up for a wash-off before chowing down on an acai breakfast bowl. Eating out is a relatively simple affair, with some of the best food being available for lunch (roti canai at the Canggu junction across from Deus is great, as is Red Salt).
It does not have miles of gastronomic grazing like Seminyak, and for the most part, closes up around 10pm – unless you can find a home party. But all the goat tracks and small roads hide culinary gems that you must try. You need the bike.
Accommodation is mainly villas, and the rates are reasonable provided you are not on a budget or a backpacker. For $70 USD a night, we had our own massage area, outdoor bathroom, a balcony for guests entertaining – as well as breakfast.
Laid back, and, dare I say, retro hippy, Canggu is the getaway place in the island of getaways. Some of my friends say it reminds them of Bali when they went in the 1970s. But do yourself a favour, experience it before the rice paddies give way to construction sites. Bali is not good at sustainable development.