Get a taste for Singaporean flavour at this lively hawker centre, Carolyn Beasley says.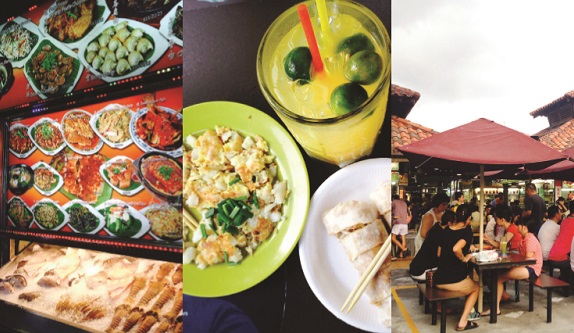 Many expats in Singapore love their local hawker food. But there's one hawker centre that's famous among Singaporeans and frequented by only a handful of locally based expats. Welcome to the popular Chomp Chomp Food Centre.
The wok smoke is laced with chilli, and it creates a mild eye sting. Like all the others, I'm wading through Chomp Chomp prowling for a table. About to admit defeat, I spy my kids waving excitedly. They've performed a manoeuvre known as 'the hover' and pounced onto a large table upon it becoming free.
The table is on the decking outside, the ultimate smoke-free seating position. Beside the prized table is a banner, which trumpets: 'Chomp Chomp Food Centre – Singapore's Favourite Hawker Centre, 2011 and 2012.'
This unassuming hawker centre of 36 stalls in Serangoon Gardens is swarming with locals, and its favoured status is clear. While there are other hawker centres just metres away with tables available, it's Chomp Chomp that has the name as well as the history.
A delicious plate of prawn wanton noodles arrives on the table and the vendor wipes her hands on her apron as she explains: 'Our family has been working this stall for over 50 years. We took over from my husband's parents 40 years ago. Our stall started as a cart in Kensington Park Road and we moved here in 1972 when the centre was built.'
Many other stallholders have stuck around too. Mrs Tan and her husband bought the family sugarcane juice business 20 years ago. She declares: 'Chomp Chomp is the only place in Singapore you can get a one litre bucket of sugarcane juice!'
Massive as the sugarcane juice is, the real star here is the BBQ seafood. Try the quirkily named shellfish dishes of gong gong (pearl conch) or sambal la la (clams), both at $10-$15. For a quintessential taste of Singapore, the BBQ stingray packs a spicy punch ($10-$20). For the non-seafood eater, the carrot cake (which is neither cake nor carrot) is a winner at $3 – it contains steamed cubes of rice flour, radish and an omelette-like egg.
The BBQ chicken wings ($1.20 each) are: 'By far the best in Singapore, especially with this chilli sauce.' The stall assistant enthuses with wide eyes and profuse head nodding: 'My boss has stalls all over Singapore and everyone knows they're the best!'
To serve more of its famous dishes, Chomp Chomp stays up late, one of the main differences to other hawker centres. It opens at 5pm, and the dedicated stallholders churn out the fare until 1.30am, when other vendors are tucked up in bed. By midnight the place is still humming, with partygoers sharing plates of smoking seafood and a large Tiger beer on their way home.
But tonight, it's early and I notice a family standing beside our table. The mother stares at me expectantly and I realise I'm getting 'the hover'. Our time on this table is up, and as I eye the dregs of all the legendary dishes, and the hoards that are waiting, I now understand.
Chomp Chomp is not just about the food. It's about traditions, continuity, heritage, and of course, the food.
Chomp Chomp Food Centre is at 20 Kensington Park Road, Serangoon Gardens, 557269.